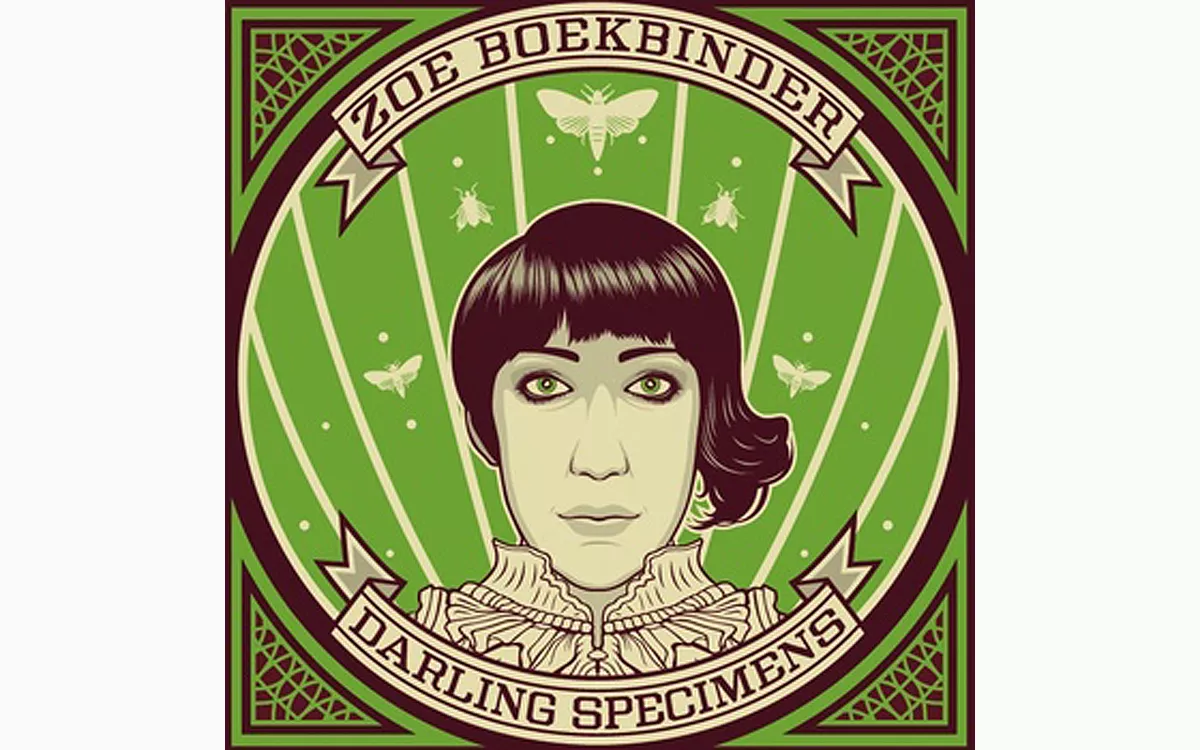 By Zoe Boekbinder - Extropian Records
Darling Specimens
It's apparent that Oakland-based singer-songwriter Zoe Boekbinder comes from a theatrical background. In 2005, she started performing with her sister Kim as one half of a cabaret duo, Vermilion Lies. However, since her 2009 solo release, Artichoke Perfume, Boekbinder has slowly grown from her vaudevillian and musical theater influences, without losing her thespian roots altogether. Boekbinder's sophomore release, Darling Specimens, hits upon an impressive melding of cabaret influences with a folk-pop sensibility creating a minor breakthrough.
Using East Coast-based songwriter and multi-instrumentalist Shenandoah Davis as her producer and collaborator, Boekbinder created a collection of smartly written pop-folk songs that allow her excellent vocal range to reverberate over quirky yet subtle arrangements, loaded with eccentric texture. This marks a deep contrast in tone, approach and songwriting craft from her debut, which was almost too blatant and direct with its loud circus horns and heavy East European folk influence.
"Make A Mess" opens Darling Specimens with layers of cascading vocals, a technique often used by fellow Oakland artist Merrill Garbus (better known as tUnE-yArDs), accompanied by a sole trumpet, a toy xylophone and a washboard. It serves as a good entry point, displaying Boekbinder's ear for complex, deceptively simple melodies that appear easy to hum along to but are nearly impossible to actually sing along with. While it would be interesting enough to simply hone this singular sound (like the Afro-beat of "Gravity"), for Boekbinder it's only the beginning.
"Serrated Spoon" marks another shift from Boekbinder's past repertoire. Her quivering vocals possess an odd mixture of Antony Hegarty (of Antony and The Johnsons) and the neo-vaudevillian legacy that vocalists like Tiny Tim represent. The haunting singing saw mirrors the vocals, with brilliant counter-point from plucked cello and violin. Perhaps it's also a credit to producer Davis' background in classical composition that brings in slight orchestral touches to the mix of these songs, creating an added dimension. The early '30s, Gene Autry-esque cowboy-pop of "Artichoke" seems to float on a bed of Davis' "watch-spring" texture. A slow-downed hip-hop beat is combined with an Andrew Sisters-like chorus for "Gravity," with the songwriter's often-fatalistic lyrics, stating, "I don't want to be remembered for the worst I've ever done." Along with "Serrated Spoon," the elegant "Salt Water" exemplifies how Boekbinder (and Davis) finely arrange a sophisticated piece, while keeping it minimal.
Darling Specimens is a refreshing surprise by Boekbinder, a singer-songwriter who, like Merrill Garbus, approaches musical genres as something meant to blur, thus expanding the definition of pop. She has successfully carved out her own genre, a type of "parlor pop" that there is no real standard for -- intriguingly standing out on its own.