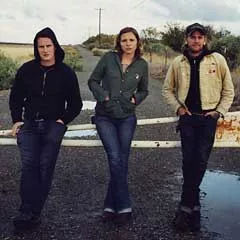 So much was right about Thursday night's Devil Makes Three show at the Eureka Theater. The fact that the show sold out -- 850 tickets! That it was all ages. The appropriateness of the venue -- restoration underway, but not complete -- for a band that delivers a new twist on old-timey. Most of all, the music and how the three-piece filled that cavernous room and the hearts of their fans with songs new and old.
Years ago, Devil Makes Three played their first Humboldt County show at Muddy Waters. They packed the house. Arcata fell in love with the twangy, stringy, raucous, tattooed kids playing ragtime with the abandon of rock-and-roll and the forcefulness of early punk -- this was before everybody was doing it.
Over the years, they played Muddy's again, did a couple shows at the 330 Club, and had a number of appearances at the Jambalaya -- all of which typically sold out. But for all the love, some fans noted what appeared to be growing pains, complained of lackluster performances. Hopefully those folks showed up at the Eureka Theater show, because guitarist/frontman Pete Bernhard, stand-up bassist Lucia Turino and guitarist Cooper McBean brought it and brought it big.
In previous shows, the modus operandi emphasized fast and loud, as if they felt obligated to work their fans into a dancing frenzy. It was great. Hearing the jacked-up versions of "The Plank" and "Tow" definitely serves as an adrenaline infusion. But even better was the confidence with which they slowed down, sped up, brought it back to a midway point throughout Thursday night's show. DM3 owned the place, with the audience as the proverbial putty.
They played several tracks off their new album, Do Wrong Right. These new songs sound enough like their old songs -- quick and clever lyrics, bouncing-yet-grounded beats -- to please fans who might rebel at too much deviation, but sparkle with enough originality to further seduce fans who might be displeased with too much of the same. That's a tough line for any band to walk. Devil Makes Three navigated it easily, however, and if you listen to the stories those songs tell, it's easy to believe they've come up smiling from worse situations.
The crowd sure does love those stories, too. Every song from their earlier albums was accompanied by heartfelt singing along. Yes, they played "Old No. 7," "Bullet" too. How much fun was it to whoop and holler and belt out the lyrics with the 849 other people in the Eureka Theater? Really, really fun. The kind of fun that is the whole reason to go out and experience good bands live. So good that as soon as the encore -- sing it now, "I want to feel the blood rushing through my veins" -- was finished, I wanted to race home and listen to all their albums all over again.