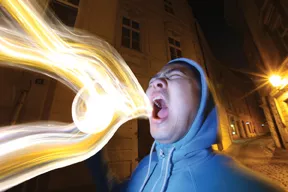 Mochipet. Photo by Lichtfaktor.
We caught up with David Wang, aka Mochipet, in Miami where he was performing at the 25th annual Winter Music Conference, a big deal in the mushrooming electronica/dance music world. Where does Mochipet fit in?
"I'm all over the place actually," he notes before detailing the myriad sub-categories blooming in electro-dance music. "In the beginning it was just dance music, then more ambient experimental stuff came in. Dance music fractured into dubstep, breaks, fidget, electro-house, whatever you want to call it. I kind of do a mix of everything. I think I have ADD musically. I can't really adhere to one thing too much."
His entrée to electronica was the computer his Taiwanese dad bought him when he went off to college. "I started writing electronic music -- it was pretty rudimentary stuff. This was back in 2000, so the technology was like semi-minimal. There was very little RAM, very little memory, so you had to use minimal stuff to make a lot -- whereas now it's pretty much limitless -- you can do whatever you want."
In high school he'd played guitar and drums in metal bands and jazz bands, but this was different. "It's less real time. When you're playing an instrument, it's like you and the instrument at that moment, whereas with electronic music, it's pretty much all nonlinear, so you can work on a specific part, put it together, then put another part together. You're constructing something piece by piece as opposed to creating something on-the-fly."
Of course playing his electronic music live requires some on-the-fly improv. "It's like being a DJ I guess," he figures. "I have a lot of pre-made parts in my computer that I can trigger -- they fit together, you can stack them on each other. It's like DJs, but with 20 different songs at once. Depending on the crowd, I'll go one way or another -- each show is different."
Different in what way? Find out Saturday when Rebel Bass Collective presents Mochipet with S.F. dubstepper Siren and DJ T-dUb at the Arcata Theatre Lounge. (For more of the Mochipet interview follow the link from the Hum online.) Here.
My songwriter FBF (Facebook Friend) Morgan Magpie Corviday messaged me a reminder about the Sisters with Strings show Thursday, April 1, at the Arcata Playhouse with "The Vintner's Daughters (Melody Walker's all-girl string band) and The Singing Nettles (my all-girl string band) -- 9 women, 8 acoustic instruments, lush layered harmonies, folk/Americana covers and originals (5 songwriters between us)..." Melody describes it as, "a night of femme-folk and girlie-grass." (Is "girlie" politically incorrect coming from a woman?)
Also on April Fool's Day, another femme-centric event: KHSU continues celebrating its 50th year with a Thursday night series at Humboldt Brews, each show showcasing the music of the station's local programs. The Monster Women, The Brendas and Mister Moonbeam (not female, a one-man-band) theoretically connect to Mad Dr. Matt's Alternative Therapy, Boy Wonder's Hot Circles (Saturdays, 7-9 and 9-11 p.m. respectively) and The Buck Calhoun Show (Wednesdays 10-midnight).
The jammy crowd will be at the Jambalaya April Fool's Day for Seattle rockers Flowmotion, celebrating the release of a new CD, Ghost Pepper, produced by Scott Colburn, who also worked with Arcade Fire and Animal Collective. What does Flowmotion sound like? The name says something: They have a cool flow. The new music reminds me of San Francisco-style psychedelic rock of the '60s, but pulled into the 21st century (and that's a good thing).
Still more foolishness Thursday as DJ Rudi Bega and DJ Knutz do battle at Toby and Jack's.
"John Lee Hooker Jr., the son of a 20th century blues legend, stands at the crossroads of a new era for blues with a confidence and mastery that will only intensify an already superlative family tradition. Boogie on!" so says Tom Mazzolini, founder of the late great San Francisco Blues Festival. John Lee Jr. has played the Riverwood a few times, but has not ventured up to NoHum before. He hits the Jambalaya Friday with local blues legend Buddy Reed opening the show followed by The Uptown Kings (of Blues Jam fame), then JLH Jr.
Are you ready for an African reggae weekend? First, on Friday at the Ocean Grove it's Shashamane International, a crew of reggae/dancehall DJs and MCs from Kenya (and NYC), plus Oakland's Black Love Sound and Humboldt's own Rude Lion Sound.
Saturday at the Red Fox Ishi Dube's Tuff Riddims presents an African reggae blast featuring Paapa Wastik and The African Foundation from Ghana, whose music reminds me of Lucky Dube gone dancehall plus Youssoupha Sidibe and The Mystic Rhythms Band, led by a fine kora-player from Senegal, Senegalese SoHum resident Elhadji, and Bobo David of Sizzla's Judgement Yard posse, who is not from Africa, rather from Jamaica.
The Invisible Children Benefit Saturday in HSU's Kate Buchanan Room offers music by Children of the Sun, WoMama and Blue Street Junction, all for a good cause: support for the abolishment of child soldiering in Uganda. Organizer Victor Reuther, president of the HSU Invisible Children Club, explains, "Our goal with the event is to raise awareness and financial support for mitigating the longest running war in Africa. For the last 24 years, children have been violently abducted and forced to fight in a rebel militia known as the LRA (Lords Resistance Army). All proceeds from the benefit will go to a NGO called Invisible Children, and will be spent towards ending this terrible atrocity."
On a somewhat lighter note, Where's Queer Bill and Aunty Mo's Lounge are hosts for the No Moe Mo's Massive Closing Down Party Saturday night. That's right; Eureka's only specifically gay nightclub is calling it quits and going out with a bang. They'll have DJ Ninja spinning with "special guests," and cash prizes for "best dressed Ho" and "best dressed Aunty Mo."
The next Monday Night Budget Rock at the Jambalaya brings Seattle's Lesbian, and no, it's not an all womyn band -- it's four metalhead dudes with tats and a vocalist who sounds like Satan. According to Holy Mountain (their record label), "the name Lesbian evokes pure, sexually charged freedom -- and that's what rock music is all about." They're joined by Snail, a stoner doom band, also from Seattle, and DJ nHate.
Friday at Humboldt Brews, it's a resurrected edition of Play Dead with keyboardist Mike Emerson up for the occasion plus globe-trotting drummer Danny Montgomery and the regulars: Doug Shernock and Don Berry on guitars, and Danny's longtime friend Gary Davidson on bass. "Danny, Mike, and I have been playing together for a couple of decades," notes Davidson, "starting with Fred and Joyce in the Whole Enchilada, then touring the states and Europe in '94 with Christine Lakeland, JJ Cale's musical partner. Fact of the matter is Danny and Mike talked Play Dead out of retirement to play this gig; maybe we'll do it again, maybe not. But it truly is a family reunion of a chosen family, if you know what I mean."
When guitarist/multi-instrumentalist Tim Reynolds isn't busy playing stadiums and mega-festivals with the Dave Matthews Band, he hits the road with a trio, TR3. That band plays Saturday at Humboldt Brews.
While attending the Oregon Country Fair a couple of years back Grateful Dead drummer Bill Kreutzmann met New Orleans neo-voodoo bluesman Papa Mali and knew he had to play music with him. Add in keyboardist Matt Hubbard from Willie Nelson's band, and a rotating bass player, and you have 7 Walkers, a funky band mostly playing new songs co-written by Dead lyricist Robert Hunter and Papa Mali. The tour that brings them to the Red Fox Wednesday, April 7, has an added bonus: the supremely funky bassist George Porter Jr. from The Meters. Laissez les bon temps rouler!