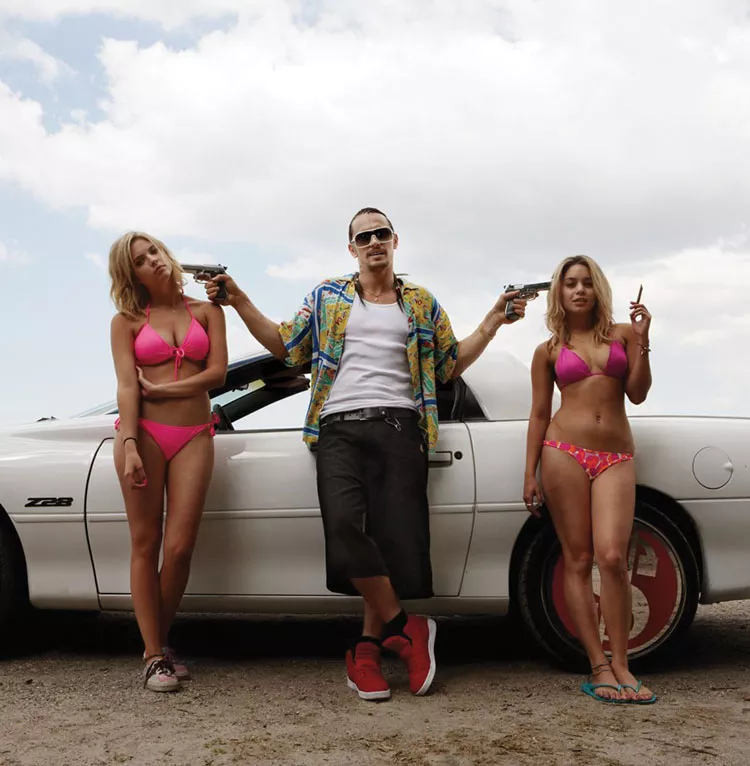 Misogynistic male fantasy or biting social critique? Whatevs, pass the Cuervo. Ashley Benson, James Franco and Vanessa Hudgens in Spring Breakers.
Reviews
SPRING BREAKERS. I've never been tempted to watch a Harmony Korine film twice. He floored me with the raw teenage sexuality of 1995's Kids, which he co-wrote, and disgusted me with sociopathic images in 1997's Gummo. I can acknowledge the artistic expressions and powerful messages of his films, but then it's time to pick myself back up and try to restore my faith in humanity.
Korine's latest, Spring Breakers, runs in the same vein. It's a montage-filled, violence-fueled story about four college girls and their criminal exploits leading to and through a Floridian spring break.
Faith (Selena Gomez), Candy (Vanessa Hudgens), Brit (Ashley Benson) and Cotty (Harmony Korine's wife, Rachel Korine) escape the banality of college by taking a trip to the sunny, hedonistic beaches of Florida. To fund their escapades, three of the girls rob a local diner and convince the fourth, God-fearing Faith, to enjoy their newfound wealth.
Once in Florida, constant partying leads to their bikini-clad arrest. With no hope of making bail, the girls have to face the reality of their dilemma. That is until (cue the heroic trumpets) drug dealer and Dirty South rapper Alien (James Franco) comes to their rescue. He has all of the money and weapons they need to keep the party going, and they have all of the naked skin and sociopathic tendencies he needs to indulge his fantasies. Imagine a cross between Natural Born Killers and Girls Gone Wild, but with more cocaine.
Spring Breakers relies heavily on Korine's usual tools: hand-held camera wobbles, heavy use of montage, and rhythmic shifts of focus to distract you from the repetition. Combined, these tools try to transform the mundane into something surreal. This trick might pay off if used sparingly, but with Korine's zeal it becomes a constant annoyance.
If you can get past the redundancy of the hypersexual montages you might find some insight into today's party culture and its potential for sexual exploitation, rape and misogyny. Amid the other violent themes, though, it's hard to tell whether Korine deserves credit for this insight. For the most part his perspective comes across as masculine view of female sexual exploration.
On the plus side, Spring Breakers definitely adds another notch on Franco' belt. His role is deliberately absurd, and he pulls it off excellently. Alien takes smarmy to a new level, and I love Franco for doing it so well.
Korine's screenplay doesn't give nearly as much dimension to the female leads, which is a shame considering their previous roles. With the exception of Rachel Korine, the female cast has deep roots in the worlds of Disney and Nickelodeon stardom. They should be commended for breaking free of their wholesome stereotypes, and the blame for their bland performances should fall completely on Korine. Spring Breakers not only fails to shock in Korine's familiar style, but it also fails to entertain. R. 94m.
THE HOST. Stephenie Meyer ruined vampires and werewolves with the Twilight trilogy, so it only seems fair that she should ruin aliens too. Meyer's novel, adapted for the screen by science fiction ruiner Andrew Niccol (In Time, Gattaca), is a tepid, unoriginal tale about an alien race of body stealers who have almost completely taken over Earth. The only thing that stands in the way of their total domination is a small group of underground rebels led by William Hurt.
Typical of both Meyer and Niccol, this sci-fi storyline serves as nothing more than a vehicle for a lackluster and predictable love story. Not just any boring love story, but the peculiar type you get from Meyer: a chaste and melodramatic love triangle (or love rhombus, in this case) with obvious religious undertones, peppered with the sort of high-octane passion usually reserved for daytime soap operas.
After an incredibly short and lazy exposition, the film enters a two-hour boredom spiral that no amount of concession stand chocolate can remedy. Melanie Strider's (Saoirse Ronan) life as a rebel comes to an end when she's captured by the Seekers, aliens who use Melanie's body to host one of their own. But Melanie's consciousness is too strong to let the alien take over completely. Eventually, she and her alien parasite become besties, working together to bolster the resistance.
Throughout, the audience is treated to an annoying, echoing voice-over as the inner Melanie battles with the outer alien. I don't have many rules in life, but one of them is this: I don't want to watch two hours of someone fighting the voice in his or her head unless it's Steve Martin and Lily Tomlin in All of Me. PG13. 125m.
--Dev Richards
Previews
EVIL DEAD. My skepticism about this remake of Sam Raimi's 1981 camp-horror classic, starring cult icon Bruce Campbell, is tempered by the film's trailer, which looks scary as hell. R. 91m.
JURASSIC PARK 3D. Has it really been 20 years since Spielberg's dino-ride? It has, which means studio heads are ready to pass out the 3D glasses and milk the money udder. PG13. 126m.
Ocean Night rolls into the Arcata Theatre Lounge again Thursday with Trashed, an acclaimed documentary about the mountains of non-biodegradable crap we humans produce (narrated by Jeremy Irons). Cleanse your palette (if not the planet) with Polyester, a 35-minute surf flick. 7 p.m. Harry Potter and the Deathly Hallows: Part 1 (2010), the penultimate movie in the series, shows Sunday at 6 p.m. And next Wednesday is Sci-Fi Pint and Pizza Night, featuring Robo-Vampire, a "cut-and-paste" flick assembled from bad movies and redubbed in English to make a (deliberately) worse one. Doors at 6, movie at 7:30.
Our metropolitan NorCal neighbor costars in the latest Based on the Book movie series at the Humboldt County Library, Shadows and Fog: San Francisco Noir, which kicks off next Tuesday night with The Maltese Falcon. See Calendar for details.
Continuing
ADMISSION. A Princeton admissions officer (Tina Fey) meets a free-spirit high school administrator (Paul Rudd) in this pleasant, predictable rom-com PG13. 117m.
THE CALL. Would-be thriller with 911 operator (Halle Berry) trying to protect a terrified teen (Abigail Breslin) abducted by a deranged serial killer. R. 95m.
THE CROODS. A prehistoric family must look for a new cave in this likeable animated comedy featuring the voices of Nic Cage and Emma Stone. PG. 96m.
G.I. JOE: RETALIATION. Bruce Willis, "The Rock" and Channing Tatum play guys with big muscles and guns. They shoot stuff. PG13. 99m.
JACK THE GIANT SLAYER. This bland, big-budget retelling of the classic fairytale warrants a "Fee-fi-HO-HUM." Har har! PG13. 114m.
OLYMPUS HAS FALLEN. White House action-thriller with a Secret Service agent (Gerard Butler) protecting the President (Aaron Eckhart) from evil Koreans. Yawn. R. 100m.
OZ THE GREAT AND POWERFUL. James Franco stars as the young wizard-to-be in this visually rich but ultimately hollow prequel. PG. 130m.
--Ryan Burns