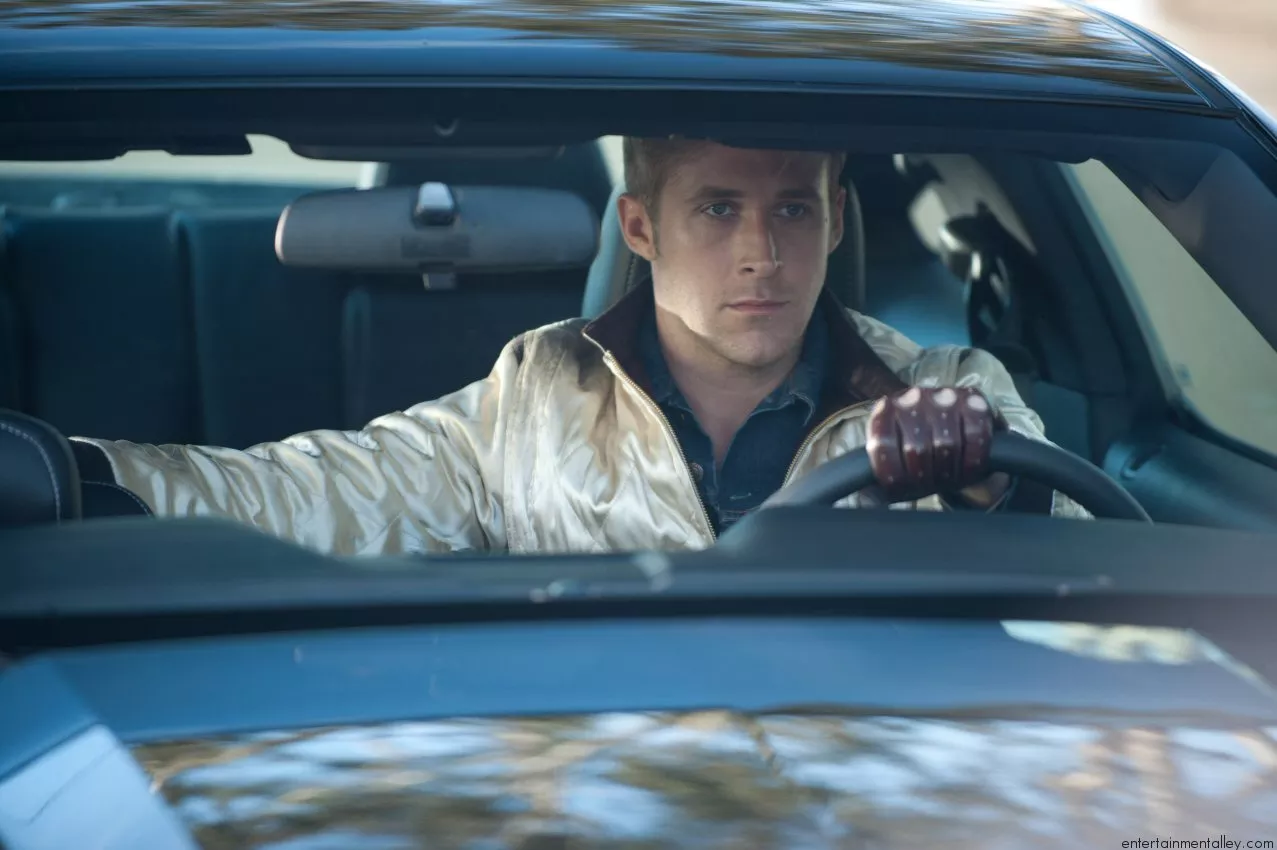 REVIEWS
DRIVE. Director Nicolas Winding Refn's latest is a masterpiece of crime-grime moviemaking, offering a pointed reminder of how good (and relatively inexpensive) movies can be. Refn's ultra-keen eye for composition and subtlety of movement combine with a churning retro-synth soundtrack, impeccable production design and dead-right crazy performances, making for one of the year's most distinctive and memorable movies.
Like Refn's Bronson (2008), which featured a mind-blowing lead performance by Tom Hardy, Drive brings us into the world of a borderline personality. This time that world is modern-day Los Angeles, dressed and shot so it pulses with gorgeous menace. And instead of a leering, set-devouring, larger-than-life thug, our protagonist is a (mostly) mild-mannered, if equally troubled, mechanic/stunt-driver/wheelman, played by a revelatory Ryan Gosling.
From the opening scene, this is a study in deliberate pacing and attention to detail. Refn tells the story like a novelist, refusing to let action and excitement obscure his intentions or rush him to the finish. Gosling's performance as the Driver is spare and impeccably controlled, down to the smallest eye movement and intonation, which suits Refn's pacing perfectly, especially when things start going sideways. The humor vanishes and those small eye moves get scary.
Everybody in this movie is compelling. Carey Mulligan shines like the constant beacon of goodness her character is, and Bryan Cranston makes Shannon, the Driver's sometime boss and would-be manager, a walking reflection of humor and fundamental kindness, who possesses an uncanny ability to make devastatingly bad decisions. And in a beautiful gift of casting we get Albert Brooks and Ron Perlman as our antagonists. Playing business partners, they work like the two halves of a sociopath's mind. Brooks is polished and cruel, a businessman with a penchant for straight razors. Perlman is all fist and bluster, quicker to violence but less adept and capable in its execution.
I shouldn't gloss over Hossein Amini's script (adapted from James Sallis' novel), but in less competent hands this could easily have turned into a Tarantino knock-off, or a big-budget action film that can't slow down and examine details. Instead the film-craft excels in every respect: Drive moves from a heart-rending meditation on love to highest-order brutality in a single scene and makes it work, unforgettably. Truly great, and unlike anything I've ever seen. R. 103m. At the Broadway and Mill Creek.
--John J. Bennett
SARAH'S KEY. Conducted by the Paris police in July 1942, the Vel' d'Hiv roundup, named for the Vélodrome stadium where the arrested individuals were initially taken, involved some 13,152 Jews, including young children, who were eventually shipped off to Auschwitz. This event is the starting point for Tatiana de Rosnay's popular first novel, published in 2007. Whatever your feelings about the book, the film version of Sarah's Key is an effective adaptation of both the tone and narrative strategy of the novel.
As with the novel, the film focuses initially on 10-year-old Sarah Starzynski (Mélusine Mayance) who is arrested along with her parents but not before she locks her younger brother in a closet and takes the key with her. The book and film intersperse the saga of Sarah's captivity, escape and return to Paris to find her brother, thanks to a kindly family that provides her refuge, with the 2009 story of American journalist Julia (an excellent Kristen Scott-Thomas). Julia, who is living in Paris with her French husband, is assigned to write a story about the roundup for a small-circulation journal.
In the course of her research, she becomes obsessed with discovering what happened to Sarah, particularly when she learns that her husband's family had "inherited" the apartment back in 1942. Indeed, she and her husband are about to move into it.
By far the most compelling aspect of the narrative is Sarah's voice as she narrates her captivity and escape. Unhappily, Sarah's voice disappears about halfway through the novel, and while there is a narrative reason for her silenced voice, the novel never fully recovered its energy for me. For one thing, the story of Julia's marital problems just didn't have the same weight as the tragedy that befell Sarah and her family. Additionally, the last half of the novel, and film, centers on Julia's single-minded search for Sarah. While the author made connections between the search, Sarah and Julia's own life, I found those connections a little thin.
In several ways, the film is actually more interesting in this regard. While Sarah's voice is still gone, the viewer does get to see images of her as a young woman as various people tracked down by Julia relate their experiences with Sarah. Plus, Scott-Thomas' performance is so strong that I was more interested in Julia in the film than in the book.
I certainly don't regret seeing the film, which is often very moving, and I realize that Julia is really the novel's central character in the end. It's my fault I wanted to follow Sarah. Guess I should write my own novel. PG-13. 103m. At the Minor through Thursday.
STRAW DOGS. It was with great trepidation that I went to this remake of the 1971 Sam Peckinpah film. For one thing, I am a devoted Peckinpah fan, violence and all. Plus, in many ways, I have come to regard Straw Dogs as perhaps his best film (as well as the most controversial) in its economical concentration on the story. Additionally, the violence in Straw Dogs, which occurs primarily in the climactic scene, seems more justified than in some of his other films.
Plus, I have a local history with the film: Following a screening at the Minor back in the 70s, I had a heated argument with one of the then co-owners, who thought the film should never have been shown. We didn't talk for years afterward. Some filmgoers may remember that the primary reason for the controversy is the manner in which Peckinpah depicted the rather graphic rape scene, which some saw as eroticized.
Peckinpah's film, starring Dustin Hoffman as American mathematician David Sumner and Susan George as his British wife, Amy, is set in an insular rural English village that Amy grew up in and escaped from. The new version is set in an equally insular small town in Mississippi, Amy's (Kate Bosworth) hometown, and David (James Marsden) is now a Hollywood writer.
While the story is essentially the same, Peckinpah's film was a taut, increasingly suspenseful psychological drama built around an outsider entering a closed society about which he knows nothing and where his spouse has a history. It also deals rather controversially with sexual politics. The remake vitiates a lot of the earlier film's concentrated narrative with stereotyped redneck/West Coast liberal/intellectual cultural clash stuff. While Marsden is fine, Hoffman was more believable as the mild intellectual driven to extreme violence.
The British cast in Peckinpah's film was uniformly excellent. Here, the redneck characters are played by go-to cast members from True Blood, Prison Break and The Shield, and not very memorably. If you want a truly disturbing experience, rent Peckinpah's film. Rated R (rape/violence). 110m. At the Broadway and Mill Creek.
--Charlie Myers
MAGIC TRIP. This documentary chronicling the 1964 road/acid trip of Ken Kesey and his band of Merry Pranksters was scheduled to start at the Minor last week. You may have noticed that it didn't. Coming Attractions Theatres VP Lee Fuchsmann explained via email: "Our booker assumed the print was 35mm, and the theatre received a Blu-ray instead. It was then that he called the distributor and found out they were only distributing it on Blu-ray and they had had a miscommunication. We do not play Blu-ray there, so we will not be playing it." Bummer, man.
PREVIEWS
MONEYBALL. Put another way, "Screw the Yankees!" Based on the book by Micheal Lewis, which followed the 2002 Oakland Athletics' statistical approach to assembling a team that could compete with larger-market squads despite a comparatively modest payroll. Brad Pitt stars as A's manager Billy Beane, who recruits an Ivy League grad (played by Jonah Hill) to reinvent the team using statistical analysis, effectively challenging old school baseball mentalities. Rated PG-13 for player talk. 133m. At the Broadway and Mill Creek.
DOLPHIN TALE. This one might overload your adorable meter. A young dolphin is rescued from a crab trap, but her injuries require her tail to be amputated. A dedicated marine biologist played by Harry Connick Jr. builds and attaches a prosthetic tale so that "Winter" can live to swim again. But here's where the cuteness gets unbearable. Since this is based on a true story, the actual dolphin plays herself. You will take your kids to this movie. Rated PG. 113m. At the Broadway and the Fortuna in 3-D and Mill Creek in 2-D.
ABDUCTION. Taylor Lautner stars as a young man who comes to realize that his "parents" are not his own after stumbling on an image of himself on a missing persons website. As he begins to piece together his true identity, he's targeted by a team of trained killers, which forces him on the run. Rated PG-13 for movie violence. 106m. At the Broadway, Mill Creek and Fortuna.
KILLER ELITE. Dude movie stars Jason Statham and Robert De Niro as ex-special ops agents and Clive Owen as the leader of a secret military society that that must be dealt with. Their battles take them around the globe, where they trade off the roles of predator and prey. Rated R for violence. 112m. At the Broadway and Mill Creek.
POINT BLANK. Foreign film about a male nurse whose pregnant wife is kidnapped by a notorious criminal, forcing him to do the gangster's bidding. He quickly finds himself in the middle of rival gangsters and trigger-happy police in a race to save the lives of his wife and unborn child. In French with English subtitles. Rated R. 90m. At the Minor.
Blood pumping enthusiasts note, Thursday night the Arcata Theater Lounge hosts the Radical Reels Tour which highlights the best high-adrenaline outdoor action films entered into the Banff Mountain Film Festival. Don't forget to breathe.
Friday night offers a slightly grittier spectacle when the ATL trots out Trainspotting. Saturday night is Christopher Guest's fun, fuzzy Best in Show -- leave Fido at home. And Sunday it's the film Scotia kids were raised to hate: FernGully: The Last Rainforest.
Wednesday's Pint and Pizza Night might get a little hairy -- it's werewolf-themed. Schduled to be screened: The Spanish-made The Fury of the Wolfman (1972) -- or, La Furia del Hombre Lobo! -- and the black and white B-movie The Mad Monster (1942). Make like Ozzy and bark at the moon!
CONTINUING
CONTAGION. Society is faced with a fast-moving, lethal, airborne epidemic. For Humboldt movie fans: It's kinda like Outbreak. Rated PG-13. 106m. At the Broadway, Fortuna and Mill Creek.
THE DEBT. Three former Mossad agents revisit their most celebrated mission. Rated R. 113m. At the Broadway.
THE HELP. A racially diverse group of women form an unlikely friendship around a secret writing project in segregated 1960s Mississippi. Rated PG-13. 146m. At the Broadway and Mill Creek.
I DON'T KNOW HOW SHE DOES IT. Pierce Brosnan and Sarah Jessica Parker get rom-commy. Rated PG-13. 110m. At the Broadway and Fortuna.
THE LION KING 3-D. Simba, Pumbaa and Timon ... in 3D! Rated G. 89m. At the Broadway.
MIDNIGHT IN PARIS. Film directed by Woody Allen sees Owen Wilson fall in love with two eras of the City of Lights. Rated PG-13 94m. At the Minor.
RISE OF THE PLANET OF THE APES. This is when it all went bad for us humans. Thanks a lot, James Franco. Rated PG-13. 110m. At the Broadway.
WARRIOR. There needed to be an MMA sports-themed movie, right? Rated PG-13. 139m. At the Broadway.