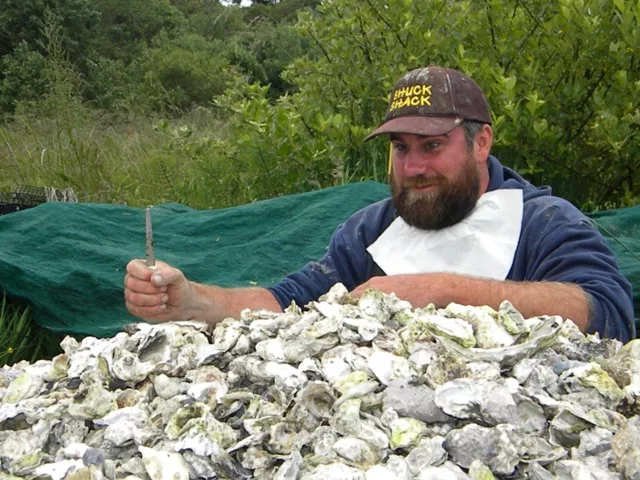 Oyster blackhole Conor Eckholm
Do you live in Humboldt County whilst simultaneously boasting a pulse? Yes? In that case, my informing you that this Saturday, June 18 from 10 a.m.-5 p.m., the Arcata Plaza is the site of the 21st Annual Arcata Main Street Oyster Festival would likely just insult you. At this juncture in history, it is the most important single-day community social event on the HumCo annual calendar. But you already know that. Risking redundancy:
• There will be oysters. Lots of 'em, prepared in more ways than you'll be able to stomach on a single day by some of the finest taste makers in the region.
• There will be music. Tons of it, provided throughout the day by old-school funksters Vinyl (3:30 p.m.), local Petty tribute band Full Moon Fever (1 p.m.) and homegrown roots-reggae good-time makers Woven Roots (11 a.m.). Later in the evening choose from the Official Oysterfest Afterparty at Jambalaya with, again, Woven Roots or other unofficial upstart afterpartys -- like Zepperella at the Arcata Theater Lounge or The Meat Puppets at HumBrews.
• There will be silliness. Plenty, as Dave Silverbrand hosts the Annual Oyster Calling Contest with local impostors attempting to fool you into thinking they are actually bottom-feeding mollusks. Spoiler alert: They're usually faking.
• There will beer. Specifically, provided by local suds makers Lost Coast Brewery and Mad River Brewery. You know the drill. $6 beer tokens. $3 wristbands. Long-ass lines. It's tradition, soldier. However, since the Main Street folks feel your pain (and need more of your money) they are offering a new deal: a go-to-the-front-of-the-line laminate that is sure to cause a few what-the-heck disputes.
• There will be something new. This year marks the first Oyster Festival Ball -- Friday at 7 p.m. -- in the Jacoby Storehouse Plaza View Room with appetizers, beverages and musical good vibes from Headshine. $15 for that one. The night also includes raw oyster judging for some of the following day's vendors with winners announced at 12:30 p.m. the day of the festival. You know, so you know which ones are the good ones.
Check out oysterfestival.net if you'd like to know more. But while everything chronicled above constitutes jolly good fun, the following is dead serious:
Saturday at 10:30 a.m., Will Startare, the shucker, and I, the swallower, will take on four-time defending champions Conor Eckholm and Aiden Semingson in KWPT The Point's Shuck and Swallow Competition.
One problem. While I do like Oysterfest and love winning, uh, I'm not too hot on oysters. Furthermore -- and at the risk of emboldening my already cocksure competition -- I'll admit that while shooting photos for last week's Oysterfest-themed Seven-O-Heaven at Eureka Natural Foods, I had my, eh, first ever raw oyster. Late start, I know.
Again, I do love winning. But despite my eagerness to suck that slimy dead gonad down as swiftly as possible, as soon as it slipped past my teeth I reverted back to being a 6-year-old at the dinner table trying to force down broccoli. I gagged, naturally. Damn near up chucked on ENF's nice, shiny floor. Saturday could be rough. So, yes, the cute "oyster virgin" term liberally used by both The Point's Andy Powell and Champion Eckholm during a smacktalk-heavy radio interview Monday morning is fairly accurate.
But similar to how I hate oysters -- mostly the slippery texture -- do you know what America hates? Yup. Hockey. In fact, I read somewhere -- Wikipedia, I think -- that two-thirds of the 1980 United States Olympic hockey team had never even seen ice before they went on to Lake Placid. But that didn't stop them from upsetting those heavily favored pinko commies, now did it?
Miracles happen, Conor and Aiden. You best bring your O-game this weekend and heed these words: Don't count your oysters before they're shucked. See you Saturday.