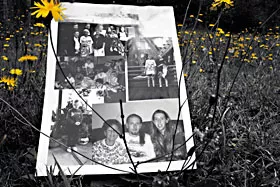 Martin Cotton and family. Photo by Yulia Weeks.
Martin Cotton, the 26-year-old man who died in police custody on Aug. 9 in Eureka, may find himself a permanent resting place in the annals of a medical journal somewhere.
Ken Falconer, the doctor who performed Cotton's autopsy, said on Monday that he and Humboldt County Coroner Frank Jager have not quite worked out the exact wording of the cause of death in the Cotton case, but Falconer is certain it was an overdose of LSD. As certain as one can be, that is. "In this business, you do the best you can," he said.
But experts in the fields of hallucinogens and forensic toxicology are doubtful that LSD could be the sole cause of someone's death. The scientific literature on the subject is just too scant.
However, if Falconer is right, that would make Cotton the second person ever to have died from a pharmacologic overdose of LSD. There is only one other known case, published in Forensic Science International in 1985. LSD does sometimes kill people, but usually they die from trauma experienced during hallucinations, according to the chapter on hallucinogens in Principles of Forensic Toxicology (2003).
Asked how he determined that it was the LSD in Cotton's system that killed him, Falconer said, "You don't see anything that's causing death grossly so you rely on the toxicology report." Cotton also had a subdural hematoma, bleeding in the brain, and multiple abrasions on his head, but the hematoma was not acute and was therefore not the cause of Cotton's death, Falconer said.
The toxicology report, which was released late last week, indicated that Cotton had 10.6 nanograms per milliliter of LSD in his blood, a level which Jager said was twice the lethal dose.
Alexander Shulgin, co-author with his wife Ann of the books PiHKAL and TiKHAL , both about psychoactive drugs, was surprised to hear that someone had died from an overdose of LSD when reached by phone at his house in Lafayette, Calif. last week. "It's never been proven," the octogenarian said after reviewing old notebooks on the subject. "According to the overdosage reports in the literature, this overdose need not be the cause of death."
Shulgin pointed out that in 1972 eight individuals ranging in age from 19-39 were admitted to the emergency room at San Francisco General Hospital for what turned out to be an overdose of LSD. The levels of LSD in their blood ranged from 2.1 nanograms per milliliter to 26 nanograms per milliliter (significantly higher than Cotton's) and not one of them died.
Dr. Nachman Brautbar, a clinical professor of medicine at the University of Southern California School of Medicine specializing in forensic toxicology, was also surprised when told about an LSD overdose. "It is very unusual for me to hear of LSD as the sole cause of death," he said during a phone interview on Monday.
What can happen, he explained, is that ingesting a large dose of LSD can cause someone to develop seizures. In turn, they may bang their head against something, but that means the cause of death would not be LSD alone, rather the trauma caused by the effects of LSD.
Last Friday Eureka Police Chief Garr Nielsen made a revision to the department's use-of-force policy so that in the future, people like Martin Cotton, who had a "protracted physical encounter with multiple officers," will receive medical care. Still, Nielsen said, "Given the level of drugs in his [Cotton's] system, it might not have saved his life." Science seems to indicate otherwise.