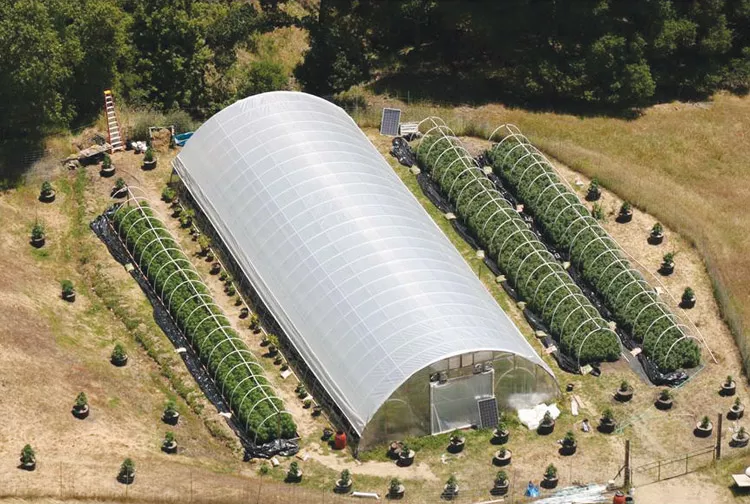 Photo courtesy Humboldt County Sheriff's Office.
One of several marijuana grow operations photographed last year by Humboldt County sheriff's deputies.
Over the last couple of weeks, Humboldt County has been virtually crawling with federal law enforcement agents on the prowl for big-time weed dealers. First, on July 10, came United States Drug Enforcement Administration agents, who served multiple search warrants in SoHum and, with help from the Humboldt County Drug Task Force, arrested 13 people -- some local, others not. (Three of the 13 were placed on immigration hold status.)
Eight days later, agents from the Immigration and Customs Enforcement (ICE) office in Minneapolis, which operates under the Department of Homeland Security, led raids on properties in Bayside, Sunny Brae, Petrolia and Garberville. These raids appeared to be the culmination of a multi-agency, multi-state investigation, and according to the Sioux Falls Argus Leader they led to the arrests of three South Dakota men. Two of the three, including Sean McFarland, a singer and rhythm guitarist for a popular alt-country band called Snakebeard Jackson, had moved to Humboldt County in March, 2010. All three have been charged with conspiring to distribute at least 220 pounds of marijuana.
Clearly the county's black market marijuana industry is booming, and while local law enforcement didn't want to say much about the recent raids, referring all questions to equally tight-lipped federal agencies, Humboldt County Sheriff Mike Downey said the backup is welcome. As a matter of fact, he said, "I'm the one, I hope, who initiated it."
Frustrated by the proliferation of large-scale outdoor grow operations, along with the erosion of state resources, Downey decided to ask the federal government for help. Last October he began meeting with U.S. Attorney General Melinda Haag, who has taken a hardline stance against marijuana, even going so far as to target reputable medical marijuana dispensaries. And Downey didn't stop there.
"I began to reach out then, not only to the U.S. Attorney's Office but [also to] the Drug Enforcement Administration, the FBI, the U.S. Marshall's Office, ATF."
The problem, Downey said, is that state resources for the drug war have all but disappeared. The budget approved earlier this year by Gov. Jerry Brown includes $71 million in cuts to the state's law enforcement division and threatens to eliminate the Bureau of Narcotics Enforcement, which confiscated $17 billion worth of marijuana from California forests in 2010.
The inter-governmental Campaign Against Marijuana Planting (CAMP), which once struck fear in the hearts of outdoor growers throughout the Emerald Triangle, is now "a shadow of what it used to be," Downey said. "Everything's been downsized. Those programs have been decimated."
Here's how bad things have gotten: Last year, Humboldt County sheriff's deputies in helicopters took aerial photographs of nearly a dozen massive outdoor growing operations, mostly located in the Redwood Creek watershed, but they didn't have the resources to do anything about them, Downey said.
Those resources should be easier to come by if the county gets accepted into a federal program that targets large-scale drug trafficking and production. Established in 1988, the High Intensity Drug Trafficking Areas Program, or HIDTA, is designed to foster cooperation among federal, state, local and tribal law enforcement agencies. Counties that are part of a HIDTA (pronounced hide-uh) also have increased access to federal resources. Downey wants to get Humboldt County in on that action. He and other law enforcement officials in the county have petitioned the Office of National Drug Control Policy to be added to the existing Northern California HIDTA, which includes 11 counties stretching up the coast from Monterey to Mendocino and east to Alameda, Contra Costa and Lake.
The benefits of the program are both strategic and financial. Each HIDTA -- and there are 28 across the country, incorporating 16 percent of all U.S. counties and 60 percent of the U.S. population -- is guided by an executive board that includes federal, state, local and tribal law enforcement leaders. The board designs initiatives and requests funding to implement them. The program also offers support for technology, intelligence analysis and training.
Ron Brooks is the director of the Northern California HIDTA, which was designated in 1997. At the time it included just 10 counties; Mendocino wasn't added until last year, following a collaborative application effort led by Sheriff Tom Allman. Brooks said there are no hard and fast criteria for acceptance into the program, but a key step is for local agencies to conduct a thorough analysis of drug trafficking in the region.
"They should try to develop a true threat picture," Brooks said, "not just a guess but to really understand: How many trafficking organizations are operating in the county? What's their production capacity? What's their level of sophistication? And how does it impact other parts of the state or the country?"
Political support is also important. Mendocino County engaged Congressman Mike Thompson and Sen. Diane Feinstein in its effort to join the Northern California HIDTA. Thompson believes Humboldt should be included as well, and not just because of marijuana.
"Local law enforcement's resources are strained because of the ongoing fight against the rampant expansion of methamphetamine, heroin and marijuana trafficking," Thompson said in a statement to the Journal. "They need the assistance of HIDTA funds, which will allow the county's law enforcement to improve their intelligence-gathering abilities and more effectively combat the threat of widespread drug trafficking."
Brooks said the timeline for a decision on Humboldt's inclusion is uncertain. A lot depends on whether there's enough money in the program. "They don't add counties very often," he said.
Lately the federal government has made little distinction between medical marijuana dispensaries and commercial grow operations, going after both with renewed zeal. While Downey acknowledges that some dispensaries are clearly motivated by profit rather than compassion, he still believes that the state should be allowed to regulate dispensaries. But that's not his call.
"If the federal government is going to have the stance that any type of cultivation is illegal," he said, "then I need some help here."