Heads up, Humboldt:
While the county's masking mandate has been lifted, Public Health is still strongly recommending masking indoors in public, social distancing and "avoiding crowds and poorly ventilated spaces." COVID-19 is still with us, so be sure to check the protocols at event venues.
Dream Quest Haunted House
When: Fri., Oct. 25, 6:30-9:30 p.m., Sat., Oct. 26, 6:30-9:30 p.m. and Thu., Oct. 31, 6:30-9:30 p.m. 2019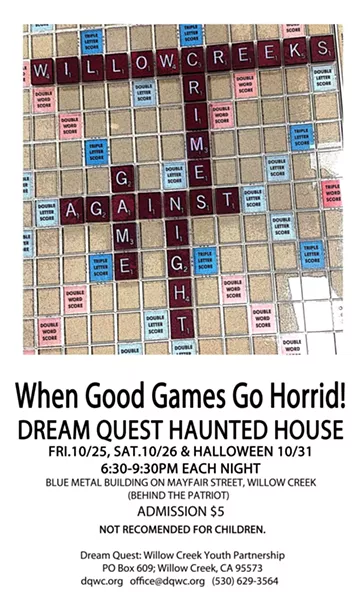 When Good Games Go Horrid! Visit the blue metal building on Mayfair Street (behind the Patriot) to be amused, surprised, horrified and terrified. Not recommended for children.
Price: $5