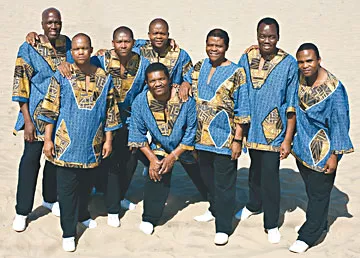 Joseph Shabalala, leader and founder of Ladysmith Black Mambazo, has told the story of his dream many times. He told it to me years ago when the group was on one of many world tours. The dream came in 1964. "In my dreams I heard children singing sweet harmony," he said. "These children were singing so beautifully. And I had no problem remembering that dream because the harmony was just talking to me. The harmony itself, it cleans my heart, it cleans all my anger, everything. I recruited my brothers, my friends, my cousins who love to sing. I wanted to teach them the sound of the harmony from my dream because I felt I must take this thing to the people — I was sure that the people needed this."
That dream has carried him far, from the farming town of Ladysmith to the world stage, to the Grammys, where Joseph and his cousins joined Paul Simon singing "Diamonds on the Souls of Her Shoes" from Simon's hit album Graceland.
Can a dream last forever? Yes and no. In January, Joseph made this announcement: "Over the past 15 years, because of retirements and death, I have been joined by four of my sons. They are the future of Ladysmith Black Mambazo, our next generation. When the time comes for me to finish touring and to stay home they will carry on my dream ... My son Thamsanqa (Tommy) will become the new leader of the group. Thus, the dream I had over 40 years ago will continue well into the 21st century. Ladysmith Black Mambazo must continue as the message of peace, love and harmony never must be silenced. We never will be silenced and we hope our fans and friends around the world will keep wanting to hear this message."
When will this happen? They're not saying, but it's certainly possible the band's current American tour could be the last with Joseph out front. I asked Joseph's cousin Albert Mazibuko, another founding member, about this in a call last week. He said Joseph is "trying to take it easy, but he hasn't yet. He said he's not going to stay home, so he will be touring with us."
Mazibuko did note that Joseph's son Thamsanqa Shabalala is handling lead on some songs, but he said, "Joseph has never told us officially that he's leaving the band. He's not leaving. There's no way for him to leave. I know that for a fact."
One thing for sure, Joseph will be there when the South African a cappella stars perform at Van Duzer Theater on Sunday, March 2. Maybe you should be there too.
At the exact same time Sunday night, the Redwood Jazz Alliance presents what they call a satellite show (meaning off-campus) at the Jambalaya with jazz pianist Wayne Horvitz and his band Sweeter Than The Day. Born in New York City, Horvitz came up in the city's downtown scene playing with John Zorn in the amazing band Naked City and with guitarist Bill Frisell, among others. Now he lives in Seattle and leads a wide range of outfits. Last time he was in town he brought his electric jazz/funk combo Zony Mash (named for a Meters song). This time out it's Sweeter Than the Day, basically the same band — Horvitz on keys, Timothy Young guitar, Keith Lowe standup bass and Eric Eagle on drums — but more or less acoustic and typically with a focus on Horvitz' compositions. I'd have to say their album, American Bandstand, is one of my favorite jazz discs of the millennium (so far), managing to be sweet in the new sense of the word, but never syrupy. Note that this is an early show, 8 p.m. start time, and they mean it. Sunday is also Deep Groove Society night at the Jam and it has not been canceled. If you show up fashionably late at 10, you might catch the tail-end of the jazz set, but you'll mainly get house music.
Speaking of Deep Groove, they're joining forces with DJ Receiver the Dub Cowboy for a Leap Day show Friday, Feb. 29, at Humboldt Brews. Dub Cowboy starts things off with some tribal house (and dub, of course) followed by DJ Rob Paine from Solomonic Sound System out of Philly, again working to intersection of dub reggae and electronica. Expect Ishi Dube to pop in for some chanting at some point. One more thing: The show is a benefit to help with medical bills for Gabriel Groom (aka DJ Gerber) who was in a car wreck recently. Unfortunately we live in a world where benefits of this sort are necessary. 'Nuff said.
As mentioned here a couple of weeks ago, Muddy's Hot Cup is easing back into the music biz, mainly keeping things on the acoustic side. This Thursday, Feb. 28, is deemed Gypsy Jazz Night, which means Django-style guitarist Tom Toohey is in the house with Ryan Roberts from Absynth. Some variation on the combo also plays Saturday at Libation as Tom Toohey and Friends.
On the Humboldt hip hop tip you have Subliminal Sabotage and their SoHum/NoHum mélange returning to the new improved Humboldt Brews this Thursday.
Bernie Steinberg plays a relatively minor role in Sub/Sab, but in the Berel Alexander Sextet he's the front man. You may remember the younger Bernie from his rockin' days with RBS Syndrome. Now he's an HSU music major using part of his given name (Bernie is short for Berel and Alexander is his middle name) for a group that plays his songs, running the gamut from jazzy acoustic pop to reggae, soul and so on, with a string trio as part of the band. Catch them Friday at Muddy's.
Lower Class Alcoholics (aka L.C.A.) celebrate the release of their eponymous CD with a party at the Red Fox Saturday. I have to say, they got me with the intro track where a taste of country steel guitar leads into some unknown singer talking about living in Humboldt. I thought I had the wrong disc. The joke comes when the record grinds to a stop then slides into some classic homegrown hip hop with raps about living la vida Humboldt — drinking, smoking, getting by any way you can. The rhymes are fresh; the sense of humor throughout is refreshing. Good shit.
A different twist on hip hop Saturday at the Pearl with Mozaic and EPROM up from the Yay Area spinning something called "Psyphy," described as "the tripped-out bastard child of Hyphy and West Coast glitch music, with some booty bass on the side." The Pearl's DJ Danny put this together; he'll spin some too.
Touring hiphoppers? An underground duo known as dead prez hits Mazzotti's Monday. That's M-1 and stic.man, two political rappers from the Tallahassee, Fl. underground. Good stuff.
On the blues side you have a couple of choices for Friday night: The ever-soulful former local Karen Dumont returns from her new home in Oregon with a couple of guys from her new band up there, Garry Meziere on guitar and Boyd Martin on drums, plus local keyboard wiz Mike Kapitan, bassman Chris Matheos, saxophonist Julie Froblom and, straight outta Crescent City, harpist Doug Vanderpool. Catch this ad hoc version of Dumont's Electric Blues Band at Six Rivers.
Meanwhile, rising blues star John Nemeth plays at Humboldt's home of the blues, the Riverwood Inn. Nemeth is a fine harp player, but is better known as a vocalist in the neo-retro blues/soul vein. He spent 2005 and 2006 touring with Anson Funderburgh and the Rockets and has served as a featured artist with the Junior Watson Band. His debut on Blind Pig, Magic Touch, came out last year, and yes, he's got the touch.
At the Mateel Saturday, it's a mesh of world rhythms starting off with a blast of AfroCuban salsa and tinga from Humboldt's own Ponche, followed by world-funk jammers Delta Noveout of Long Beach. The solid base of the Delta N. sound is funk, but they add jazz, ska, reggae, samba, Afrobeat and a little basic SoCal rock to the mix. As I write this I'm tapped into their website music box where a cover of Manu Chao's "Bongo Bong" speeds up into a jumping ska thing, after that, a full on Brazilian drumline with "Batucada #23." As usual with Mateel shows of late, you can get dinner in the back, and while it's still all ages you'll find beer and wine upstairs.
Last but not least we have Papa Mali stopping by the Red Fox Wednesday, March 5, on a West Coast swing. The dreadlocked Malcolm "Papa Mali" Welbourne comes from Shreveport in north Louisiana, bringing music that pulls together southern blues, New Orleans funk, Mardi Gras Indian music and a healthy dose of Dr. John-style voodoo. His latest, Do Your Thing, out on the über-hip S.F. indie label Fog City, shows off all those sides. It's an overused cliché, but this is gumbo: slippery, spicy stuff that'll fill you up and satisfy. Highly recommended.