Heads up, Humboldt:
While the county's masking mandate has been lifted, Public Health is still strongly recommending masking indoors in public, social distancing and "avoiding crowds and poorly ventilated spaces." COVID-19 is still with us, so be sure to check the protocols at event venues.
Drinking Habits
When: Fridays, Saturdays, 8 p.m. and Sun., April 9, 2 p.m. Continues through April 15 2017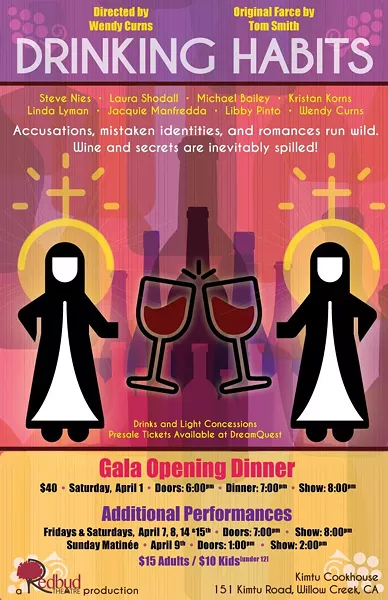 Two sisters of Perpetual Sewing have been secretly making wine to keep the convent doors open. Two reporters and former fiancees are hot on their tail as an undercover nun and priest. Paranoia flows throughout the convent. Wine and secrets are inevitably spilled.
Price: $15, $10 kids