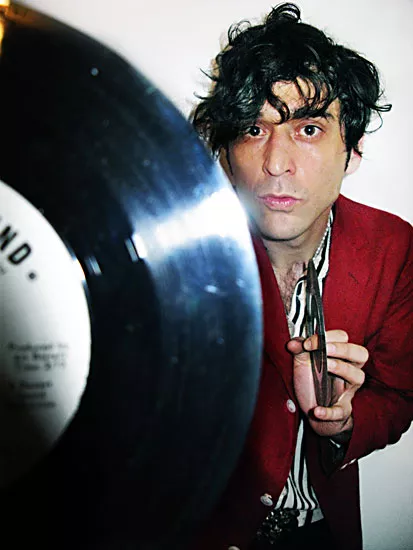 You won't see NY-based DJ Jonathan Toubin carrying around crates of 12" singles or LPs to a gig. You won't even see him scratch the needle back and forth. Toubin carries around 45s, 7" singles, nearly 150 of them to each gig. And for the past several years, Toubin has averaged over 25 DJ gigs per month, playing everywhere from dive bars to underground live music venues (accompanying live sets by bands such as King Khan and the BBQ/Shrines, The Yeah Yeah Yeahs, The Melvins, Crystal Stilts and Jon Spencer Blues Explosion, to name a few) to art spaces to music festivals (such as South By Southwest and Pop Montreal).
"I've always loved the sound, feel and look of 7" records," says Toubin, "but I didn't really become an exclusively 45 DJ until the last year. As I moved from bar DJ to professional dance party/club DJ, I couldn't help but notice that no matter how I EQ-ed it, the 33 RPM tracks rarely packed the same punch as the 45 RPM and made for uneven sonic transitioning. I also liked that 45s were easier to transport, quicker to cue and, eventually, I learned that it gave me a bit of a niche to boot!"
Even though Toubin isn't entirely unique in using only 45s (The Magnetic Fields' Stephin Merritt, for example, also occasionally DJ's bars in Lower Manhattan using the 7"/45 format), his skill at transitioning one song into another ("segueways") is seamless, and his depth and range of choice of songs, primarily from the mid-1960s, are far from the mainstream yet extremely danceable.
"[These] records are mastered loud, the beats are wild, the riffs are catchy," Toubin enthuses. "So much of it is out there to discover -- American soul and garage, European and Asian freakbeat, Latin American stuff, and a bit of punk, glam, psych, funk, R&B and rockabilly."
"I've been in general trying to start a revolution against the infinite beat on the dancefloor, preferring to change the beat and tempo every couple of minutes, often before the end of the song, for our shared short attention span and love of variety."
Toubin is bringing his 45s and his current touring show, "NY Night Train Soul Clap," to Humboldt County at the Arcata Theater Lounge on Tuesday, July 28, starting at 8 p.m. The evening includes a "Dance Off" at 11 p.m., with local music luminaries as judges, including Melissa Medina (The Ravens), drumming madman Steve Bohner, The Monster Women (Courtney, Aimee and Gary) and musician Matt Jackson (co-proprietor of Missing Link Records), among other Humboldt hep cats.
This will be a special night for Toubin's booking agent (NY's Panache Booking) and Humboldt native Michelle Cable, who will be returning to her old stomping grounds for the first time since her move to Brooklyn two years ago; she was previously based in SF. Ms. Cable started a fanzine, *Panache, while in her formative years, and it has now evolved into an international booking agency for a score of bands, including The Intelligence, The Trachtenberg Family Slideshow Players, Green Milk From the Planet Orange, Shonen Knife and local experimentalists Starving Weirdos. You don't wanna be an "L7" and miss this evening of infectious soul/garage/exotica grooves. (For a full-length q & a with Jonathan Toubin, consult our Web site, northcoastjournal.com*)
Perhaps you might want to ponder something more heady -- such as "What is the quintessence of dust?" -- while listening to loud, crunching guitars. If so, you're in good fortune -- The Metal Shakespeare Co. will be making another pilgrimage on Thursday at the Alibi.
Friday will be offering two reggae acts in the area for pre-festival shows. The legendary Jamaican harmony trio The Mighty Diamonds will be at the Red Fox Tavern. The trio -- "Tabby" Shaw, "Bunny" Simpson and "Judge" Ferguson -- has remained intact from its inception in 1969. Remember to "Pass the Kouchie" as a courtesy. While across the Pacific, Maui's The Alliez, featuring Thick As Thieves guitarist Brian Sykes, will be performing at Humboldt Brews.
There will be a flurry of activity on Saturday. You might have to pick and choose the range of events.
The Humboldt Folklife Festival will be concluding this year's extravaganza with an all-day free festival, including numerous workshops (including Irish and Belly Dancing, musical instrumentation and storytelling) and live music (Bandemonium, Rooster McClintock, The Bad Lilas and Ukesperience, among many others) in Blue Lake, in and around the Dell'Arte headquarters. For further details and times, check out the Humboldt Folklife website or dig through your recycling for the pull-out included in last week's Journal.
The Roll On Mattole festival, the annual benefit for the Honeydew Volunteer Fire Co., will be rolling into it 21st year, featuring The Fickle Hillbillies, Ishi Dube & Masagana, NPK and Breeze, among other acts. The festival, at the Mattole Grange Hall, kicks off at noon. Organizers ask you to leave your dogs (and pups) at home. Roll on, but do not slip.
On the heels of their recent sophomore release, Dylan's Lost Years, the eccentric pop femme fatales The Ian Fays, now based in SF, make a double visit to Arcata. On Saturday night at the Arcata Theater Lounge, The Ian Fays will be sharing the bill with Rohnert Park techno trio Junk Boy Wonder (not to be confused with our own KHSU music programmer) and the Sacramento power pop outfit Spider Friends. Then, on Sunday, The Ian Fays will be joined by The Monster Women in providing the musical entertainment for the Snip and Stitch Extravaganza at the Arcata Plaza. The Monster Women will begin at noon, followed by the Ian Fays at 2 p.m.
Barroom and party favorite band Peeping Thomas will be celebrating the release of their new CD, Casual Encounters, at Toby & Jacks. With songs such as "DEA," "Quick & Dirty," and "Free Drinks," one can expect the band's blend of energetic, Oingo Boingo-like frivolity and bar-band rock n' roll to be in full tilt. The band suggests wearing a wig to the gig. I do not want to venture why.
If that ain't enough, you get your fill of maximum-volume hard rock two doors down the street at the Alibi, with the aural blasts of Summers in Kuwait and Wah Wah Exit Wounds.
In case you missed last Saturday's Arcata Theater Lounge show by the jazz extraordinaire group Available Jelly, you are bequeathed a second opportunity on Sunday at The Arcata Playhouse, starting at 8 p.m. This special formation of Available Jelly, comprised of three original members, all of whom are connected to this area, features international reed player Michael Moore, a longtime member of Micha Mengelberg's Amsterdam ensemble (ICP Orchestra), Bandemonium's eccentric Greg Moore on tuba and electric bass and the inventive Michael Vatcher, member of the trio Jewels & Binoculars (with Moore), on drums. Judging from their earlier in-studio performance on KHSU's "Mughouse Jazz" show, this trio should be providing an eclectic, unpredictable and spirited improvisational unique performance.
Comprised of brothers Jason and Justin Karbey (drums and guitar/vocals respectively) and Kevin Schneider (drums), Thee Fine Lines, who hail from Springfield, Ohio, seem to have served under the alter of Billy Childish (The Milkshakes, Thee Headcoats) and his brand of British garage rock. On a zig-zag nationwide tour, Thee Fine Lines will be shaking the rafters of the Jambalaya on Monday night, part of a weekly series, "Monday Night Budget Rock," which offers a $2 cover charge, beverage discounts to all "service industry workers" and various guest DJ's, spinning rock and garage sides.
What is the quintessence of dust? Well, in part, it's living matter, it's us. So you might as well engage in some of these chock full of cultural activities offered this week, before you, as we all do, become part of some large dustbin. Bob will back next week -- in quintessence, one hopes.