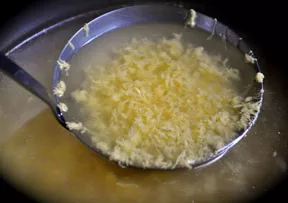 Simon'a stracciatella. Photo by Simona Carini.
A bit of nostalgia nibbles at me this time of the year: I miss Easter breakfast, a ritual that was part of my life until the end of my teenage years. We always spent the Easter holidays with my aunt Lucia, in my father's native village, north of Rome. On Easter Sunday, before going to Mass, we had breakfast all together. It was the only day of the year when we all sat down together at the table for the earliest meal of the day -- and possibly my favorite meal of the year.
The image in my memory shows the dining room table covered with a white tablecloth. The food items placed on the table are dictated by tradition. In the center, there is the pizza di Pasqua (a kind of Easter bread, whose dough is enriched with eggs, baked in a round, tall pan), emanating a faint smell of baked goodness. Its rounded top is brown and smooth, while the sides are lighter in color. Next to the pizza, there is a bowl with shelled hard-boiled eggs and a plate covered with freshly sliced capocollo, a type of cured pork. And based on a conversation with my father, I must add a plate of freshly sliced salame to the spread.
I like all this, but my eyes are fixed on another plate holding half of an immaculately white truncated cone: it's fresh ricotta, made by local shepherds. This is actually not so traditional, but a special treat from my aunt, who knows that I have a passion for ricotta. My father remarks that some families eat lamb pluck (heart, liver and lungs) with artichokes at this meal, a dish my mother prepares occasionally (though not on Easter Sunday), which for some miraculous reason I am exempt from tasting.
A slice of the lightly sweet and delicately flavored pizza di Pasqua pairs well with the foods on the table -- and with the chocolate from the Easter egg that awaits my breaking action at the end of the meal. My excited hands shake the hollow egg to cause the telltale sound of an object moving inside the cavity. Then, they untie the ribbon, free the egg from its wrapping, and break it to get hold of the mystery object (sorpresa). Disappointment about the surprise (which never matches my expectations) disappears instantly, when the first fragment of chocolate melts in my mouth.
After breakfast, it is a short walk to the main church of the village, which is packed, men on one side, women on the other. Sitting in one of the wooden pews, bathed in the fragrance of a myriad flowers, I enjoy my inner peace and honestly do not pay much attention to the endless (in my view) preaching of the stern priest. Once outside the church, there is some conversation with acquaintances and then it is time to go home to lunch.
The dish that I remember eating at the beginning of Easter lunch is called stracciatella. The word in Italian is used to describe several different foods. The stracciatella to which I am referring here is a variation on the theme of egg drop soup. It is sometimes described as alla romana (Roman style).
It appears that having stracciatella at the beginning of Easter lunch was a family tradition (versus a local one), though my father could not help me confirm this. It is true that lunch following a rather rich breakfast can profit from a light introduction, and stracciatella serves the purpose well.
My mother made this soup a few times a year; hence it was not something we ate only on Easter Sunday. When I decided to prepare it in my kitchen, I asked her for the proportions she uses. The question initiated a conversation wrapped up by the well-known recommendation: poi ti regoli, meaning, adjust quantities as appropriate. And that is basically what I did, in terms of deciding how much of each ingredient to use in my own version of stracciatella, starting with a quart of broth, brodo di carne. To make the broth, my mother uses a mix of meats (hen and young beef), plus some vegetables (carrot, onion, celery, tomato). I followed her example somewhat, using a small quantity of beef together with chicken, and a slightly different mix of vegetables (more on this in a future article), and removed the layer of fat that formed on the surface of the broth after a night in the fridge.
The making of stracciatella is fun. Heat the broth in a saucepan. With a fork, lightly beat two eggs in a small bowl (I use pastured eggs). Add a bit of salt (taking into account the salt in the broth), and three tablespoons of freshly grated Parmigiano reggiano. Finally, per my mother's recommendation, add a bit of fresh-squeezed lemon juice, then combine everything. Bring the broth to a light boil and, while stirring briskly with a wire whisk, slowly pour in the mixture. Let the stracciatella simmer for two more minutes, stirring constantly. Flakes of cooked egg will form before your eyes. (The verb stracciare in Italian means to tear, to shred.) Serve the stracciatella hot. As a child, I was fascinated by the unusual look and delicate flavor of this soup. I still am.
I have seen other versions of this recipe. Some include ingredients not present in my list. The one difference I explored is the addition of fresh ground nutmeg to the egg and cheese mixture. When I asked my mother's opinion on this option, she was adamantly against it, so, of course, I had to try it, and the result of my testing made me side with her. You may want to form your own opinion.
I like to serve a cup of hot stracciatella in a small bowl, as a starter for dinner. It is a "nothing fancy" food that brings a smile to my face. The rest of the household (that is, my husband) smiles too, and he often gets a second helping.
My version of Stracciatella
1 qt. chicken or mixed meat broth, preferably homemade
2 eggs
3 tablespoons grated Parmigiano reggiano
1/4 teaspoon lemon juice
salt, to taste
Heat broth in a saucepan.
Lightly beat eggs with a fork.
Stir in cheese, lemon juice and salt.
Bring broth to a light boil.
Pour mixture slowly into broth while stirring briskly with a wire whisk.
Simmer for two minutes more, stirring constantly.
Serve and enjoy.