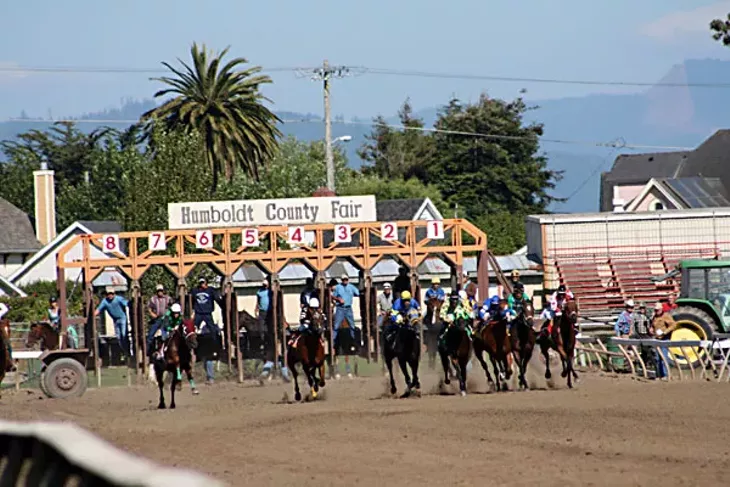 6 slides
The June 5 meeting of the California Horse Racing Board at the Santa Anita Race Track was almost over. But before going into the public comment portion there was just one more quick item: the approval of a batch of contracts -- for veterinarians, for drug testing at UC Davis and for race overseers called stewards.
"Pretty big numbers," commented CHRB Chairman John Harris, probably in regard to the $2 million deal with Davis. He wondered, "Is there anything significantly different?"
"No," said Kirk Breed, a former racing industry lobbyist who is now CHRB's executive director. "The only thing on the steward services, and also the veterinarian services, is we are going into a very tight fiscal year and so the tracks are trying to reduce expenses ..."
Chairman Harris noted that there would also be a change in the number of stewards required for certain races. Instead of the traditional panel of three for a quarter horse race meet at Los Alamitos and for harness racing at Cal-Expo, those races would now only require two. The Humboldt County Fair races at Ferndale -- the smallest event in the state, which get underway this Friday -- would only require one steward. With no further comment or discussion, the package passed with nothing but "ayes."
Once upon a time, horse racing was seen as a way to fund county fairs around California. For many communities, it was the one time per year that some form of gambling was permissible. Nowadays, though, the racing industry isn't the cash cow it once was. The decline in revenue has taken its toll -- the Humboldt County Fair board has been warning state officials that it must find new sources of revenue if the fair itself is not to perish.
The CHRB's action on June 5 was its way of helping the Humboldt County Fair to survive. Because of the state budget crisis, the fair would have to pay the stewards out of its own pocket for the first time; the racing board wanted to ease the blow by changing the rules.
It turned out that the changes would be wiped off the books the very next month, after an uprising of opposition. And the Humboldt County Fair went right back to where it started -- riding an increasingly expensive, decreasingly profitable gambling event straight toward insolvency.
The change in rules was in direct response to hard times for small tracks like Ferndale in the midst of a long-term slump in California's horse racing industry.
"There's been a steady decline for the last couple of years due to the economy," said Stuart Titus, general manager of the Humboldt County Fair.
"Owners, trainers and others are getting out [of racing] for strictly economic reasons. The tax advantages of owning a racehorse are not what they were 20 or 30 years ago, and the impact of the economy has spread far and wide. In particular the higher-end horses and the people that used to buy them has declined substantially ... that money has kind of dried up."
Fewer horses running makes for fewer races and fewer bettors at tracks. The continued success and growth of the Native American casino business and the rise of Internet gambling have also taken a toll. Add it all up and you end up with tight budgets, particularly for fairs like Ferndale.
Aside from a short period when gambling was outlawed nationwide, horse racing has been a constant at the Humboldt County Fair since it began in 1896. There are other attractions, everything from corn dogs and carnival rides to cookware demonstrations, fancy chicken contests, country and rock music and livestock auctions. But horse racing remains the big draw, and the primary source of funds to run the rest of the fair.
Once plagued by scandal, horse racing has been regulated and monitored by the state since 1933 when the California Horse Racing Board was established.
Among state rules governing race operation is a provision for officials called stewards who watch over all races. The stewards' job is complex, combining duties of cops, judge and jury into one. They monitor paperwork from owners, trainers and jockeys to be sure everyone is properly licensed. They examine the horses to make sure they're fit to run. Working with the racetrack veterinarian, they check for drug use and punish transgressors.
For example, last week, stewards at Los Alamitos suspended trainer Hector Hernandez for 30 days and fined him $5,000 when a urine sample collected from one of his horses showed an excess of clenbuterol, a steroid-like drug used to shift the proportion of fat to muscle in livestock.
Come post time the stewards observe each race from starting gate to finish line, serving as the CHRB's resident referees. "The steward's job is to keep control," explained Danny Boag, a recently retired jockey who has been a consistent winner at the Ferndale track. "If there's any incidents, like the riders do things wrong, or if there's an inquiry, say if another rider or another horse causes interference, the stewards' job is to go back to the TVs, the videos, and see what happened and make a decision."
"They are there to enforce the rules, and the rules are voluminous," said Titus. "In the course of a race, the horses will bump; a jockey might cut inside a little too quickly and trip up the guy behind."
That potentially illegal action could result in an inquiry, a review of a race to check into possible rule infractions, either generated in response to a complaint by a jockey or by a steward.
"Say there's an inquiry on a race saying a jockey used questionable practices," Titus continued, "the steward might call him in and discipline him or reprimand him." The determination also can change race results, turning a winning bet into a loser.
"I can't speak to the olden days when the regulatory environment we have now was not in place, but there's an awful lot that goes into the oversight of racing -- and all of that applies here at Ferndale," said Titus.
Between the voluminous rules and the close oversight, Titus figures there's no reason for racing fans to suspect foul play. He dismisses the notion that jockeys might make back-room deals in the barns, predetermining who will win and lose as if horse races were WWE wrestling matches.
"Typically, and this year will probably be the best proof of this, but when they're running for decent money, they're riding to win. If a jockey wins, he gets a bigger percentage of money than if he comes in second, third, fourth and on down. The owners and trainers make more money. It's a business, a competitive business."
One jockey who has proved himself a top competitor is Boag. He was the top earner at Ferndale last year with 16 wins out of 44 races entered. That was his eighth season as top jockey in 12 years at Ferndale.
"Danny's an Oregon boy; he grew up riding these half-mile tracks they call bull rings and he's good at it," explained Titus. "And he's a good rider overall." As such, he ends up on the top mounts. "A successful jockey, whether it's Danny here or Russell Baze elsewhere, a top jockey will get offers from the owners and trainers of the best horses. Success breeds success -- when you do well, you get better horses."
Not surprisingly, Boag concurs with Titus regarding jockey honesty. "People say that [the races are fixed], but it doesn't happen. The difference between winning and losing is too huge. There's too much money involved."
Boag noted that a winning jockey will take 10 percent of the purse -- same as the trainer -- but if he (or she) does not place or show, he just gets what's called "jock-mount" -- in Ferndale, $55.
"But out of that $55, you have to pay your agent 25 percent and pay your valet, and your health insurance, so you actually only get $30," said Boag. "That's if you lose. The price difference between wining and losing is huge. You might win $400 to $500 if you win. For second you might get $85. So you want to give the best ride you can and give the owner every dollar you can out of that horse."
Overall stewards are responsible for rooting out foul play and seeing to it that races are fair. By a tradition that goes back some 200 years, and under CHRB rules, there have always been three stewards at every race meet, no matter the size.
"It's always been the law that you have to have three," said Titus. "Do I think that three are required at a half-mile race track that draws a total of 450 horses, compared to they're being needed at Santa Rosa, with a mile track and probably a couple of thousand horses to deal with?" The question is rhetorical.
With a track like Ferndale, the expense of paying three stewards can be the difference between profit and loss. Thus the move by Breed of the CHRB.
However, while Breed did not see changing the number of stewards as a "significant" change, others did. When the CHRB board met again July 23, this time at the state's biggest track, Del Mar, a number of representatives from the racing industry were there to speak against the reduction.
Charlie Dougherty of California Thoroughbred Trainers spoke in support of keeping three stewards for several reasons. For one thing, three judges means there's majority rule, plus there are those awkward situations where there's bad blood between a particular steward and a licensee.
He argued that three are needed, "particularly in the case of Ferndale." Agreeing that it's "a very historic and picturesque track," Dougherty noted, "unfortunately, with the width of the track and the distance of the track, it's literally a cavalry charge out there. And there's a lot of activity, a lot of inquiries, a lot of horses bolting" -- enough so that he doesn't think one steward could handle the activity.
Speaking on behalf of the Jockey's Guild, Barry Broad said the issue boiled down to safety and integrity. After joking, "If the job of the Jockey's Guild was to allow jockeys a greater opportunity to cheat on stuff, we would be all for this. Less cops, you know, less eyes, less chance you're going to get caught doing something," Broad went on to reemphasize the safety issue, describing the stewards as like a Cal-OSHA for jockeys.
"And most importantly, it's like putting [out] a big, giant neon sign that says 'Industry in Decline' ... hanging it at the gate of California and saying the horse racing industry is in a steep decline and now it's sort of cannibalizing that aspect of the industry which guarantees its integrity."
His conclusion was blunt: "If we're dealing with racing in Ferndale and the situation has come to the point where that racing is not remunerative enough to support three stewards... If you can't afford to put on the race -- you can't afford to put on the race. And that's a sad evidence of the decline of horse racing, but that may be the reality."
Breed defended the steward reduction the best he could. He wondered aloud if the jockeys and trainers would be as supportive of the three-steward rule if they were paying the stewards' salaries out of their piece of the action. He suggested there might be a solution drawing on new technology, something like a virtual steward box that would allow a panel of stewards to monitor simultaneous races from multiple tracks "telephonically."
In the end, CHRB Commissioner Bo Derek (yes, the Bo Derek from 10), summed up the board's position saying, "I know times are tough, but the idea of making cuts where safety and the integrity of the game is concerned, I just can't imagine that we would want to do that."
And with that, the board reversed its June decision, reinstating three stewards in all races.
With Ferndale once again on the hook for the salaries of three stewards and the horse biz as a whole spinning into a nose-dive, you might bet the coming racing season will be a poor one. You'd lose that bet.
Due to a combination of factors, things are looking bright for thoroughbred racing in Ferndale -- at least for this year.
In part it's the result of downsizing. While there used to be races every day of the Fair but Tuesday, this year there will be three days without racing.
"Tuesday has always been what we call a dark day, when there was no racing anywhere in the state," said Titus. "Now, everybody -- all the fairs along with Del Mar -- dropped Monday. That would have given us two dark days. But for our own internal economic reasons we decided to drop the opening day as well."
The decision was based partly on the fact that racetrack expenses run around $45,000-$50,000 per day and opening day has drawn more of a family crowd, with fewer bettors. The reduction was also a way to address the horse shortage. However, that shortage is not shaping up as a problem.
"This year there's more horses coming than we have stalls for," said Boag, who is employed this year as Ferndale's stall manager. "By Wednesday all these stalls'll be full," he noted with a wave as we tooled past rows of empty buildings in an electric golf cart, his mount for the day. With around 420 stalls to fill, that boils down to around 100 more horses than at last year's fair.
"A lot of the trainers come up here because it's kind of like a vacation. You're away from the more serious people down there. You come here and have a good time; you're able to make a little money with your horses."
There's another big reason why California trainers are coming to Humboldt. Bay Meadows, the track in San Mateo that was the cornerstone of Northern California racing, used to run races on the same days as Ferndale's. After 75 years in business, the track closed for good last August. It's since been demolished to make way for development. The closure leaves more horses free to come north and more money for purses.
Not that all of the trainers and horses come up from California's fair circuit. Boag is figuring Oregon trainers will bring down about 50 horses. Among them is Nancy Klapatch, an owner/trainer from Grants Pass who arrived early in Ferndale with her horse Black Magic.
"The money is much better. That's why they're getting all these horses," she said. "You'll have eight days instead of 10, but much bigger purses."
"It's looking very, very good for this year," said Titus. "Because of our decision to reduce the number of days, in exchange we were offered the opportunity to increase our purses for the thoroughbreds. That combination should bode well for us."
In the past, purses for thoroughbred races at Ferndale were about half what they were for other fairs offering the same class of racing. This year, they'll match.
Add in a potential windfall from new satellite wagering, and things are looking pretty good. Last Thursday Gov. Arnold Schwarzenegger signed AB-763, a bill drafted by North Coast Assemblyman Wesley Chesbro that allows the import of races from eight additional out-of-state tracks. Titus figures it could increase revenue by $120,000, if the bettors come.
It's another sign of the growing importance of long-distance wagering. "Interestingly enough, 80 percent of the money bet on Humboldt County Fair races comes from outside Humboldt County," said Titus.
"Since I came here in 1991, we've been part of the satellite wagering industry, along with everyone else. So when we run our races live here, we satellite our signal statewide and to facilities nationwide. More recently we've seen the advent of what we refer to as 'advance deposit waging' -- basically telephone or computer waging. With AEW, you can bet on Humboldt from anywhere in the world."
Or, as Boag put it, "You can bet through the bookies -- and it's legal."
If that's what it takes to survive, so be it. Humboldt's once-a-year racetrack gamblers are ready for another day at the races.
Sidebar: Other Options Explored
Last year at Ferndale, there were not enough horses for full fields in a number of races. Due to horses scratching (dropping out last minute) there were races with just four horses and even three horses competing for win-place-show.
"We really fell short on the thoroughbreds," said Titus. "We race mules and Arabians as well, and they're fun to watch, but people don't bet them nearly as much as they do the thoroughbreds."
The dearth of horses was indicative of a sport on the downturn. "Horse racing is really at a precipice right now in terms of its future. That's the overarching picture within which little ol' Humboldt County is trying to fit," said Titus.
"Our revenues derived from racing have either remained flat over the years or have declined year-to-year, while the expenses have just kept going up through the roof."
With that in mind, the seven fairs in Northern California that hold races from June to October have been meeting to brainstorm scenarios for improvement.
"There were some pretty wild ideas about what Humboldt ought to do," said Titus, "including, 'Hey, why don't you guys just run your races down at the Sonoma County Fair in Santa Rosa and work out a deal where you'd get a cut of the profit?' That was kind of being forced on us. I had to bring that back to my board."
Of course the Humboldt County Fair board of directors rejected the idea.
Another proposal was to change the dates of the races from August to another month -- that too was rejected. "More recently, last year, we were [asked] to reduce our fair and race meet to just six days, the caveat being we would not be running simultaneously with anybody else during those six days.
"As drastic as that sounds, being the exclusive racing signal in August, even for just six days, actually looked pretty good from an economic standpoint. You'd be able to offer bigger purses; you'd have bigger fields; the betting at least theoretically would be stronger.
"But it was just too drastic of a change. There was a lot of pushback from the community -- the economic benefit from this two-week event is pretty substantial when you start talking about hotels, motels, restaurants and retail businesses -- you can't get a room in Ferndale for the two weeks of the fair -- so we backed away from that."
The Humboldt County Fair's impact on Ferndale business is incalculable, says Curley Tait of Curley's Grill in the Victorian Inn. "It's incredible. The whole town is packed. We're full from morning to night the whole time the fair is on -- except on days when there are no races."