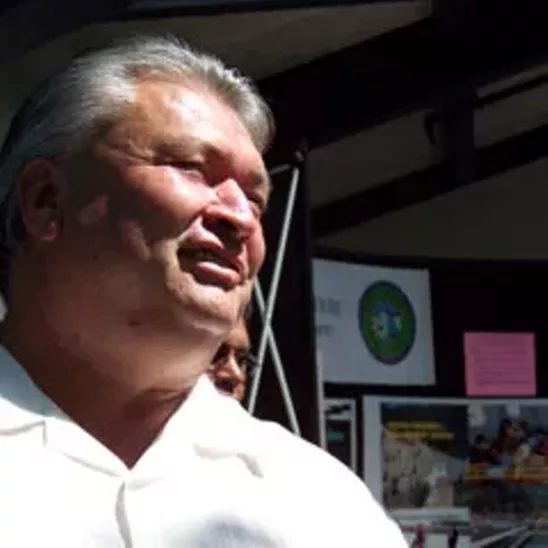 8 slides
Inside the chairman's office, a cool respite from the hot midday sun, Leonard Masten Jr. leans back in a chair by the window and cranes his neck to see if he can spot the source of the caterwauling coming from somewhere on the front lawn of the Neighborhood Facilities building.
"Who is that" he wonders, and laughs -- a cheerful, high-pitched "hu-hu-hu" that seems incongruous in this hulking 55-year-old with short, slicked-back gray hair and a heavy new responsibility as chairman of the Hoopa Valley Tribe.
Outside, several dozen of the hundreds wandering about the lawn, celebrating Sovereign Day, have gathered to watch American Indian Idol unfold on a stage by the building. The tiny tots -- some shy-struck into muteness -- have already minced onto the stage and off again. Now it's adults competing, some quite talented and others ... exuberant.
Masten -- whom everyone calls Elrod -- hu-hus again, softly.
He sure doesn't seem like a hard ass -- like the sort of guy who would banish people from the reservation. But that's what he's promising to do. That, and make tribal employees pee in a cup, and drastically cut the tribe's budget.
A lot of people in the valley are feeling apprehensive.
Others, however -- a little over half the voting members of the tribe, at least -- are pleased as peach pie with their new chairman. Aside from his tough stance on drugs and spending, he has people skills. He says so himself: "I'm approachable."
One tribal employee, who asked not to be identified, describes the fundamental difference between Masten and the previous chairman, Lyle Marshall, this way: Marshall -- lawyer, educator, hangs with lobbyists, worries over national issues pertinent to his tribe -- "is smarter, but he isn't a people person; he is a go-to-Washington guy." Masten, on the other hand -- Hoopa High graduate, former cop and, recently, a council member under Marshall's leadership -- is "an on-the-res guy who can talk to the people. ... They're like night and day."
And the tribe seems to reflect that dichotomy. The vote for chairman in the June 16 tribal general election was 489 to 419. That's no landslide.
So Masten's got his work cut out for him: to carry out his campaign promises, and to convince the folks who wanted the other guy that his way is, actually, the better way.
One of Masten's main campaign promises was that he was going to clean up the valley's drug problem, in particular meth -- or at least make a good dent in it.
"The drug activity, it's just been here forever," he says. "I mean, it was here when I was in high school, in the early '70s, and we all grew up with it and we've all seen what it's done to the kids and the parents. And, you know, it was just kind of a plague. And we allowed it to happen and then we got drug and alcohol syndrome kids. And you know it will just perpetuate. And you see it in the school system. Our kids are having a tough time. They get up to about the seventh grade and then everything just stops."
As soon as he began his term, on June 26, he revived the tribe's drug and alcohol policy, which he claims had lapsed. Now, there's pre-employment drug testing for tribal employees, as well as random drug tests, tests following an accident, tests if an employee is simply acting weird.
Then he drafted and the council passed a resolution stating that his administration intends to enforce the long-standing but little-used tribal "exclusion" ordinance, with a particular emphasis on targeting drug dealers. Billy Colegrove, Masten's administrative assistant who has joined him in the chairman's office on this first day of the Sovereign Day celebration, says Title 5 of the Hoopa Valley Tribal Code was originally created in 1986 to deal with a specific individual who'd been convicted of child molestation.
"And that individual was removed from the reservation after he got out of jail," Colegrove says.
Title 5 says a person can be excluded from the reservation for "repeated commission of a crime or breach of peace as defined by Tribal, State and Federal laws." It mentions such things as the "repeated invasion of privacy" of residents, unauthorized entry onto tribal land for any purpose including to camp, hunt, fish, trap and cut timber (including Christmas trees). and "any other misconduct or objectionable condition found by the Tribal Court to be sufficient cause for expulsion."
Expulsion can be for any amount of time, including forever -- which is what the child molester got. It's up to the council and the court, says Masten.
Colegrove says the last time someone was expelled was in about 2003 -- an arsonist, who's still banished.
Surprisingly, some folks you might think would be worried about this enhanced scrutiny are all for it. That's the case with Curt Dempewolf. Dempewolf, 57, stands in a grassy corridor between two rows of booths, greeting people as they pass. Some pat him on the back. Others shake his hand. "Hi Curt!" yells a woman. "You look good, babe!"
He just got out of jail. He says he went to school with Masten -- remembers him as a sporty, popular kid. But their paths sharply diverged: Masten went into law enforcement, and Dempewolf into law breaking. "I just got caught up with a bunch of guns and drugs and stuff," he says. "I used to like to hunt and fish. But if I'm caught with a gun now, well... I can't do it. So I'd just like to see Leonard crack down on the drugs, because I know how bad it messed me up. I'd like to see it not happen to any of these young people."
Some people actually say Masten isn't going far enough with the exclusion -- while others say he's gone too far. Outside in the parking lot, taking a break from the swarming festival crowd, a man stands next to a pickup truck talking to a man and a woman sitting on its tailgate. At the mention of Masten and the exclusion ordinance, the sitting man, who wears his hair in a neatly bound ponytail, stares straight ahead in silence, smiles sourly, and lifts his right arm and turns it thumbs down.
"If they're going to make it drug-free, why don't they make it all dry?" the woman, Laura Peters, says. "It was once, in the '70s. Alcohol kills more people here than drugs."
The standing guy, in a ballcap, says bitterly that the council members and the new chairman are hypocrites. "All those people used to be the big partyers," he says. "Now they've all of a sudden turned self-righteous. Their generation was a lot worse than ours. When he [Masten] was chief of police, he didn't do shit. And all of a sudden, they want to kick people off the reservation. What's that?"
"Look at all their nice cars," says the thumbs-down guy.
The guy in the cap continues. "When I heard they want to kick people off -- there's not anyone that deserves that."
"Some people here ain't got nowhere else to go," says the ponytailed guy. "Where would they go?"
The red-cap guy says, "I can understand if I murdered someone."
Peters says, "They excluded my brother for about five years, in about '83. He went and camped for five years; he lived in the mountains about 50 miles off the reservation. And that was after he got beat up by the feds, back in '78-'79 during the fish wars."
Peters gazes over at the festival grounds, where a large mass of people is gathered around groups of gamblers singing and drumming on the grass.
"We need to get back to our old ways," Peters says, gesturing at the crowd. "Like this card game. That's a really good thing. A lot of young people came to see that."
Sovereign Day celebrates the day back in 1988 when the Hoopa Valley Tribe finally booted the Bureau of Indian Affairs out of the valley and became recognized, through a treaty signed by Ronald Reagan, as a sovereign territory -- and separate, notably, from the Yurok reservation, with which it had been rancorously joined for decades.
People come from all around for the annual celebration -- from other tribes, from other states. It's like a reunion.
The festivities include a rodeo and a country dance -- held in the evening on the other side of the Trinity River -- and the myriad events here at the Neighborhood Facilities building. Inside the NF, there's a three-on-three basketball tournament. Outside, umpteen booths advertise tribal services, or sell jewelry, pottery and T-shirts. Around the perimeter, families sell fry bread Indian tacos, hot dogs, coffee, cold lemonade and soft drinks.
There is also the revolving action up on the stage. And, nearby, Miss Indian World herself, Brooke Grant -- who grew up in the Hoopa Valley -- has set up a booth. A bevy of girls approaches her. Each girl asks for her autograph and then walks away holding a small paddle bearing Grant's crowned visage.
But the biggest draw of all is in the center of the big lawn, beneath a gigantic tree, where several groups of gamblers have squared off and will gamble relentlessly all day long. One game has drawn the biggest audience. Maybe it's because the players are singing the loudest, beating their hand drums the loudest, amassing the biggest piles of greenbacks on their blanket. They definitely sport the jauntiest T-shirts: One guy's says, "Got land? Thank an Indian," and the guy next to him is wearing one that says, "Sure you can trust the government. Just ask an Indian."
These two face another guy and his backup. They sing aggressively, joyfully it seems, summoning the power of certain spirits to fling into the opponent's face -- to befuddle him, trip him up -- while the key player on each side holds a bundle of sticks (cards). It's a guessing game: Pick the hand holding the ace -- a stick with a black mark on its middle -- and you win a point.
Back inside the building, in the chairman's office, Colegrove talks about how modern-day governance of the Hoopa Valley Tribe is an attempt at letting the old ways, including traditional games and the annual ceremonial dances that the tribe's people have known since time immemorial, inform the new ways.
But it's tough, he says. And the tribe's got more than just the drug problem to deal with. There's the arson issue -- according to a report in the Two Rivers Tribune, the tribe's newspaper, the Hoopa Valley reservation ranks third among the nation's reservations for arson fires.
There's the ongoing issue of the Klamath River, which the Trinity flows into. The former chairman, Marshall, refused to sign onto a deal struck by most of the Klamath River stakeholders that laid out how the river would be managed and how, eventually, four big dams might come down. He said it favored the farmers in the upper basin, didn't guarantee water for fish, and forfeited tribal control over water rights. Masten says he'd like to ease back into that conversation.
But the most pressing issue right now is the tribal budget. Masten took over a budget that Marshall had grown in his eight years of office from $50 million to $75 million -- but now, like the rest of the country, the tribe's hit hard times.
Masten blames the previous chairman for "overspending" and for leaving the tribe without its usual several millions in reserve (a claim that Marshall, by telephone later, hotly denies -- he says the tribe's various enterprises, including ones like the aggregate plant and the modular home factory that were developed under his regime, brought in $8 million in 2008 -- $4 million more than in 2007. "The only people who can overspend the budget is the council," Marshall says. "Masten was the one who voted to create a special donations fund that sent the budget over.").
Regardless: Right now, things are getting worse. The tribe is the primary employer in the valley, with 400-some on the payroll. It relies on a combination of federal compact dollars, grants and income from its various enterprises. The biggest enterprise, Hoopa Forest Industries, until recently was bringing in $4 million a year.
Then the economy tanked. And not a single tree was logged by HFI this year.
"So that's $4 million we have to find," says Colegrove.
"It's a tough time to be a chairman," says Masten. "And I really don't want employees to lose jobs and not be able to put food on the table. So if we can cut some other stuff, then that's where I want to start. Maybe we don't buy three or four pieces of equipment. Maybe we don't buy land that year. Maybe we move some of those programs into something else -- consolidate some stuff. We've got 52 programs, and we should probably have 40."
A change in leadership always stokes fears and desires. Everybody wants something. Nobody wants to lose anything.
Sitting in the dappled shade of a big tree, 81-year-old Mildred Nixon sips from a tall glass of lemonade infused with fresh strawberries. She's smiling, despite the impressive black shiners under her eyes.
"My walker got away from me!" she explains, laughing. "I was making pies and I lifted up this bowl, and I tried to put it on the walker and it started to move -- and it took off and we both fell." She smiles, and continues: "I make pies for people who want to make money -- for my grandson. I had no broken bones. They took me to Mad River Hospital and two days later I made 15 pies for him."
Nixon, who was on the council 34 years ago, is a Masten fan.
"I think Mr. Masten is going to be good because he wants to talk to us," she says. "He wants to know our concerns. There's lots of elders that don't have any place to stay. I live alone. And my son came down to help me, but a man can't clean the way you'd like him to do. I need someone to come in and help me more often. I hope he does something for the elders."
Nearby, 20-year-olds Fawn Colegrove and Sophia Mitchell joke around with some friends. But they're not as carefree as they appear. They both babysit for a living. Colegrove, in addition, is raising her six siblings by herself.
"It's tough," says Colegrove, who not long ago was a sports champion at Hoopa High. "My grandma raised me; she raised six kids of her own, and lots of grandchildren. She died in December. I was at College of the Redwoods, but I had to come back after that to take care of my siblings."
"She's been doing a damn good job," says Mitchell.
They both say there needs to be more opportunity for young people in the valley. Mitchell adds that she hopes Masten gets the modular housing plant back into high gear -- the factory, opened in 2005, has had its ups and downs. (She might be happy to hear, in fact, that the tribe just received federal stimulus dollars with which it plans to renovate 13 tribal homes using the factory's equipment.)
Up by the NF's entrance, Isaac Bussell peruses the festival. Bussell, 24, is a lifeguard at the tribe's swimming pool. And he's worried about what's going to happen.
"They say [Masten's] focused on the criminals," says Bussell. "And that is important. But they say he's going to cut our recreation budget, and that he's putting the money into law enforcement. We were planning on cleaning up the park and getting more exercise machines -- for the diabetics -- but that's on hold now."
Bussell also repeats two concerns others have expressed -- that Masten doesn't have a college degree, and that he might be overly influenced by his wife, Susan Masten, a former chairman of the Yurok Tribe.
"People are scared because they say she's pulling the strings in that household," Bussell says. "The Yurok Tribe might get the grants now."
When Masten was growing up, kids got into sports, he says. There were lots of sports, and dads and uncles took kids hunting and fishing. That's how he stayed out of trouble.
Then, when he was 19 years old, he was sitting in his yard one day, killing time, when a Sheriff's deputy drove by.
"He seen me out there and pulled in and, 'Hey,' he says, 'you ever think about becoming a police officer?'" recalls Masten, lowering his voice to mimic the guy. "And I said, 'What?' I was a logger, workin' in the woods, and I didn't like that. And he was recruitin' Indian people to become officers. He ended up gettin' three of us, two from here and one from Eureka -- two Hupas and a Yurok."
The three went to the police academy at College of the Redwoods, although Masten was the only one to stay in law enforcement. He worked four years with the Humboldt County Sheriff's Department. Then the BIA recruited him to work in Klamath for the next 15 years -- which is where he met his wife. During those years, it was Masten's job to enforce the feds' newly installed, and dearly despised, fishing regulations.
"Your net had to be so long, you could only have it out there certain days -- so you ended up mouth-fightin' a lot with fishermen about it," says Masten. "It was a bad time. And it was my wife's uncle, Raymond Matz, who actually took the government back to court and actually won their fishing rights back."
He finished out his law enforcement career as tribal police chief for four years in Hoopa, where he and his wife now live.
He laughs -- hu-hu-hu -- at the accusation that his wife's going to be calling the shots now, from behind the scenes, on Hoopa affairs.
"I just think that's comical," he says. "But that's what people think. That's what they were saying during my campaign. That's people that, as the other chairman used to say, got small minds."
So, the previous chairman was pretty smart, then, after all? College degree...?
"You can't go out and learn common sense," Masten says. "That's something you're born and bred with and you're either going to have it or not. Our forefathers didn't have degrees either, and our reservation's survived 98 percent intact. ... When I'm going out there and I'm talking about our natural resources, and it's forestry, I have the forest manager giving me advice. And if it's fishing, I have the fisheries staff giving me advice. If it's housing, I have a housing staff. I mean, it ain't like you gotta have a big degree in housing, fishing, forestry, medical. And being an attorney doesn't mean you have common sense."