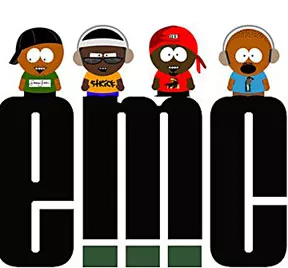 Live Jan. 27 at the Red Fox Tavern.
Last week offered a stunning collection of hip hop shows — more touring legends than anyone could possibly see in seven days. The competition for fan dollars was stiff and many folks had to choose between conscious star Mr. Lif, Masta Ace's new supergroup EMC and LA stars Grouch and Eligh (among many others!)
Of all the great hip hop shows, EMC, a collective of historic emcees sharing verse after verse of golden rhymes, was perhaps the most impressive. EMC faced a sullen crowd, perhaps best described as foggy — a common Humboldt experience that can sometimes test the confidence of touring performers. But EMC has years of collective experience in rocking crowds, some of these guys have stared down legends and rhymed them off the stage. The Humboldt hipsters were certainly no challenge.
Masta Ace is a Brooklyn king, an innovator of rhyme styles and a rock solid emcee with 20 years of experience as a professional musician. A little shrouded in mystery — Ace is often mentioned along with Big Daddy Kane and Kool G Rap for their collaboration "The Symphony."
I know Ace from a late discovery of his 1995 epic Sittin' on Chrome, an incredible record filled with stories about cars, gangstas and women. Ace's flow is not only fluid but glued to the beat. Add some smart collaborators and the album hooked me. The beat for the title track was so smooth, and the rhyme was so catchy, that I started playing "Sittin' on Chrome" a little too much.
My partner asked me to stop playing the song in the house. My debate students asked me to stop playing "Sittin' on Chrome" in the van. The teachers who had offices near mine threatened to make a petition to get me to stop playing the song.
The only person who could handle that much Masta Ace was my buddy Mark Swier. We grooved to Masta Ace while we drove to a hip hop education conference in New Jersey. After the conference, we went to a free concert in a local park. We were dazzled by artists like Slick Rick, Nice and Smooth and Doug E. Fresh. When we staggered back to the car, we found someone had smashed his window and taken his stereo — Masta Ace CD included. Mark was certainly bummed, but we consoled ourselves by singing "Sittin' on Chrome" during the chilly drive home.
It should be noted that I was not the person hollering "Sittin' on Chrome," at the show. I have long since given up screaming the names of my favorite tunes at artists. If they had the good sense to record the songs, they ought to have the good sense to tell which ones are good for public performance. Not to mention I would never tell Masta Ace to do anything — he could have walked to the stage and read the back of a peanut butter label and I would have cheered.
In my ranting about Masta Ace it should be noted that it was far from a one artist show — all four emcees got their shine on the microphone. Wordsworth is a champion freestyle battler and was one of the big stars of the Lyricists Lounge tours. I discovered Wordsworth when I discovered a video of him battling clips of George Bush candidate debate style.
My whole debate team spent hours trying to figure out how to show that clip in debate rounds. It seemed much more relevant than any quotation from the New York Times.
Punchline is Wordsworths' regular rhyming partner (they performed as Punch & Words for a few years), and himself is a verbally precise emcee well known for his nasty battle snaps. Stricklin is a Milwaukee rocker who I had never heard before, but propelled through verses and blew synapses all night long.
The icing on the cake was a chance to see DJ Flo Fader laying down the beats. I've seen him DJ behind J-Live before and he was incredible; behind EMC it was magical. Cuts like ripsaws and relentless head-nodding beats.
Great teamwork, relaxed egos, blistering flows and more style than one city can handle — EMC set the parameters for touring bands in Humboldt. Thanks to the hardworking promoters and opening artists who made an incredible week possible.