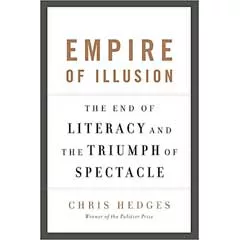 In 1967, French political philosopher Guy Debord warned that the spectacle is "the sun that never sets on the empire of modern passivity." In his new book, Chris Hedges examines the anatomy of our American empire and how it suffers and will expire because of that passivity. Hedges combines narratives from professional wrestling, the porn industry, higher education, positive psychology and national politics to illustrate just how America slipped into a coma of consumption, corruption and willful ignorance. Hedges draws together seemingly disparate categories of American culture, weaves them into a cohesive narrative and helps us recount the story to tell the emperor, "Hey buddy, you're stark naked. These are illusions, not clothes."
Hedges argues against the leviathan of elite, corporatist interests. His argument is sober and somber. Few escape the blanket of his critique, because we are all complicit, over generations, in erecting this all-powerful beast, which demands our obedience or ignorance -- or both. His argument is a description of how "we are a culture that has been denied, or has passively given up, the linguistic and intellectual tools to cope with complexity, to separate illusion from reality." The ordinary, not extraordinary, is what we must seek if we want a way out of the morass and moral turpitude we suffer. Implicitly, Hedges argues for a return to values based in real community as opposed to illusory communities created by transnational corporate interests, "reality" T.V. or the abstract global community.
Hedges' overall critique, based in Marxist language, draws needed attention to the superstructures of capitalism and the belief in unrestrained free market ideology. He does not, however, believe the U.S. would be better off adopting communist ideology; instead, he offers heart-wrenching evidence that our cherished concepts of close-knit community and rugged individuality have crumbled because of a lack of care and concern permeating America, from those at the top to those starving at the bottom. Because of this, he sees a bleak future.
Because what we face is not simple, no ready-made, activist-appropriate answers exist. It would be antithetical to Hedges' point to give his readers a simple prescription to the passivity he describes. Elite universities, the elected officials who come from them, the corporate media that celebrates the completely corrupt, social edifice must be brought down. These people and institutions give us "our culture of illusion [which] is, at its core, a culture of death." Hedges urges us to fight "the mediocrities who mask their feelings of worthlessness and emptiness behind the façade of power and illusion, who seek to make us serve their perverse ideologies" with love since they "fear most those who speak in the language of love."