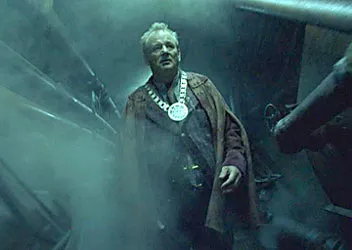 Bill Murray in 'City of Ember'
Previews
Opening Friday, Oct.17, is Max Payne, a video game adaptation with Mark Wahlberg in the title role as a leather coat-clad, pistol-packing antihero cop. Rated PG-13. 90m. At Mill Creek, the Minor, Fortuna and Broadway.
In the road trip/teensploitation comedy genre, Sex Drive chronicles the journey a libidinous 18-year-old male (redundant, I know) who sets out with his buds in the hopes of losing his virginity to a smokin' hot babe he met online. Rated R. 109m. At Mill Creek, Fortuna and Broadway.
Based on the bestselling novel by Sue Monk Kidd, The Secret Life of Bees takes place in the South Carolina of 1964. A 14-year-old girl (Dakota Fanning) seeks clues to her late mother's past with help from her caregiver (Jennifer Hudson), a trio of independent sisters and the world of beekeeping. Rated PG-13. 110m. At the Broadway.
For my money, the most intriguing release of the week is Oliver Stone's biopic on our 43rd president, W. With Josh Brolin in the title role, Elizabeth Banks as Laura, Ellen Burstyn as Barbara and Richard Dreyfus as Dick Cheney. Rated PG-13. 129m. At the Broadway.
The Eureka Library film series continues with another Hitchcock classic, Strangers on a Train, hosted by Wynston Jones. Tuesday, Oct. 21 at the Main Branch, 6:30 p.m.
-- Ryan Burns
Reviews
THE DUCHESS: Filmed with an intriguingly dark opulence, this true 18th century story has riveting parallels with much more recent British royal family history. It's also an entertaining, emotional drama.
In 1774, Georgiana (Keira Knightley) is still in her teens when her mother, Lady Spencer (Charlotte Rampling), arranges her marriage to the frightfully wealthy Duke of Devonshire (Ralph Fiennes). It isn't exactly a romantic union, but Georgiana tries to fulfill her duty to produce an heir. Two daughters later, trouble is brewing. First the Duke starts an affair with Georgiana's close friend Bess (Hayley Atwell), who lives with them in their house. Then Georgiana is reunited with a childhood friend (Dominic Cooper) who has grown into a politician destined to be Prime Minister. And their romance causes even more trouble.
Director/co-writer Saul Dibb skillfully brings the period to life, loading scenes with gutsy emotion and brittle interaction that draw us into the story. This probing tone gives the events a strong emotional resonance that, without being too obvious about it, reveals evocative echoes of the Charles-Diana story, right down to sketch-artist paparazzi (although with a lot more corsets and wigs). And the characters are vivid and engaging.
Knightley has several terrific scenes as the tart, outspoken woman who's too smart and too much for the genteel aristocracy. She's the life and soul of the scene, a fashion plate who uses her public persona to help her friends. When her life takes a dark turn, Knightley slightly wobbles, letting us see the actress rather than the character. But there's no such weakness in Fiennes' mesmerizing turn as the conflicted man who's so much a creation of his time that he can't begin to see that his wife might have a point when she challenges his double standards.
The supporting cast is also solid, most notably Atwell as the hapless mistress who wants to be a loyal friend, but can't. The script, meanwhile, is loaded with telling snippets of witty dialog plus some extremely harrowing sequences as Georgiana discovers the hard way that she can never be as free a spirit as she wants to be. Her decisions are so wrenching that they leave us almost as worn out as she is. Rated PG-13. 109 m. At the Broadway.
-- Rich Cline (shadowsonthewall.co.uk)
CITY OF EMBER: The filmmakers create an enveloping world in this fantasy adventure set in the distant future. It's an engaging story with strong characters that keep our interest, even with the slightly too-fantastical design and under-explained script.
In the deep underground city of Ember, where humanity has been recuperating for more than 200 years, two teens, Lina (Saoirse Ronan) and her neighbor Doon (Harry Treadaway), have just begun their work assignments as a messenger and engineer, respectively. But both stumble into information that there may be a way out of Ember, which is considered heresy in this society. As they pursue the clues, they get encouragement from Doon's inventor dad (Tim Robbins) and the greenhouse keeper (Marianne Jean-Baptiste), but need to keep an eye out for the greedy mayor (Bill Murray) and his officious assistant (Toby Jones).
Based on the novel by Jeanne Duprau, the film creates a full-blown Dr Seuss-like universe, complete with historical legends, community ceremonies and the details of how they try to keep their city running even though they're running out of supplies. The design is utterly ingenious, with its busy, crowded feel and endless small touches. It feels like a Jeunet and Caro extravaganza, but tinged with a preciousness they never indulged in (think The City of Lost Children made for the Disney Channel).
An edge is added only by the rather overqualified cast. Ronan and Treadaway are terrific as the central heroes, giving full-bodied performances far beyond the requirements of the script. We really feel their growing curiosity and inner yearning to understand the mystery they stumble into. And around them, a veteran cast of scene-stealers is simply terrific on screen, adding little bits of business here and there to keep our eyes darting around the screen.
There's a lot of serious stuff going on under the surface, most notably story elements that hint at global warming, the oil crisis and fear-mongering governments. These things keep us interested even as the script fails to answer some key questions (like why the insects and rodents are so enormous, a question Doon actually asks on-screen). But what lingers is the challenging personal dilemma: Do you patch what's falling apart, pretend nothing's wrong, or venture out and find a world-changing solution that's way off the grid? Rated PG. 95m. At The Movies.
-- Rich Cline
BODY OF LIES: Body of Lies is a lousy title for a movie -- the kind of generic thriller name, like Proof of Life and Out of Time, that practically begs to be forgotten. Then again, the corresponding movies are equally forgettable, so I guess the bland titles serve as Warnings of Caution. And apparently the warning was heeded: The movie came in third at the weekend box office, just behind a no-name B horror flick and a friggin' talking chihuahua. Ouch.
Directed by Ridley Scott and adapted from the novel by Washington Post columnist David Ignatius, Body of Lies stars Leonardo DiCaprio as Roger Ferris, a gritty CIA agent on the ground in the Middle East, and Russell Crowe as Ed Hoffman, his chubby, detached boss back in Langley, Va. While Ferris runs around making contacts, gathering information from duplicitous government agents and generally kicking terrorist ass, Hoffman barks orders into his phone's dangling mouthpiece while helping his young son pee or watching his daughter play soccer.
There's certainly some political commentary here: Hoffman is the detached, clueless American, bumbling and killing from afar. He even speaks in a folksy Texas drawl, calling Ferris "buddy" with W-esque chumminess: "Buddeh." But the politics take backstage to Scott's relentless (mindless?) pacing. Ideas and critiques are little more than vestigial limbs flapping in the breezy action sequences.
DiCaprio, an ugly beard clasped to his underchin like a spooked marmot, nevertheless manages to give another solid, forceful performance. The two most intriguing actors in the film, however, are Mark Strong, who plays a Jordanian political puppet master, and the beautiful Golshifteh Farahani in an otherwise disposable role as Leo's love interest. Crowe pretty much phones it in.
Ferris hatches a plan to flush out an egomaniacal terrorist by fabricating a phony rival terrorist group, which of course backfires. As Ferris gets pulled further into the web of danger -- or whatever -- the viewer is asked to admit that the so-called War on Terror looks different when you're the one with a hood over your head. As political statements go, that deserves a "Well, duh." As political thrillers go, Body of Lies earns a few bated breaths, followed by a prolonged yawn. Rated R. 128 m. At the Broadway, Mill Creek and Fortuna.
-- Ryan Burns
Continuing
AN AMERICAN CAROL. Left-wing activist campaigns to end Fourth of July celebrations. Rated PG-13. 83 m. At The Movies.
APPALOOSA. Two men save lawless town from terror inflicted by renegade rancher. Rated R. 116 m. At the Broadway and Mill Creek.
BEVERLY HILLS CHIHUAHUA. Pampered dog winds up on the mean streets of Mexico. Rated PG. 91 m. At the Broadway, Mill Creek and Fortuna.
BURN AFTER READING. CIA agent's memoir lands in hands of unwise gym employees intent on exploiting their find. Rated R. 95 m. At the Minor.
EAGLE EYE. People forced into dangerous situations while tracked and threatened by mysterious woman. Rated PG-13. 118 m. At the Broadway and Mill Creek.
THE EXPRESS. Story of first African-American to win the Heisman Trophy. Rated PG. 130 m. At Mill Creek, The Movies and Fortuna.
FIREPROOF. Firefighter and wife take on 40-day "Love Dare" in an attempt to save their marriage. Rated PG. 122 m. At The Movies.
HUMBOLDT COUNTY. Straight-laced city guy gets caught up in The Lost Coast's counterculture. Rated R. 97 m. At the Broadway and the Minor.
IGOR. Lowly hunchback lab assistant dreams of becoming bonafide scientist. Rated PG. 86 m. At The Movies.
NICK AND NORA'S INFINITE PLAYLIST. All-night quest in NYC to find legendary band's secret show turns romantic. Rated PG-13. 90 m. At the Broadway, Mill Creek and Fortuna.
NIGHTS IN RODANTHE. Life changing romance sparks when two wayward souls batten down for a hurricane. Rated PG-13. 97 m. At The Movies.
QUARANTINE. Reporter and cameraman trapped in horrifying CDC quarantine. Rated R. 89 m. At the Broadway and Mill Creek.
WALL-E. Robot love/adventure story from the director of Finding Nemo. Rated G. 98 m. At The Movies.