When local photographer León Villagómez announced his new project on social media recently, explaining that he would spend the entirety of June 25 — all 24 hours of it — exploring and photographing the people, streets and sites of Eureka, he was surprised by the response.
"I just found it so negative," explained the unflinchingly jovial Villagómez.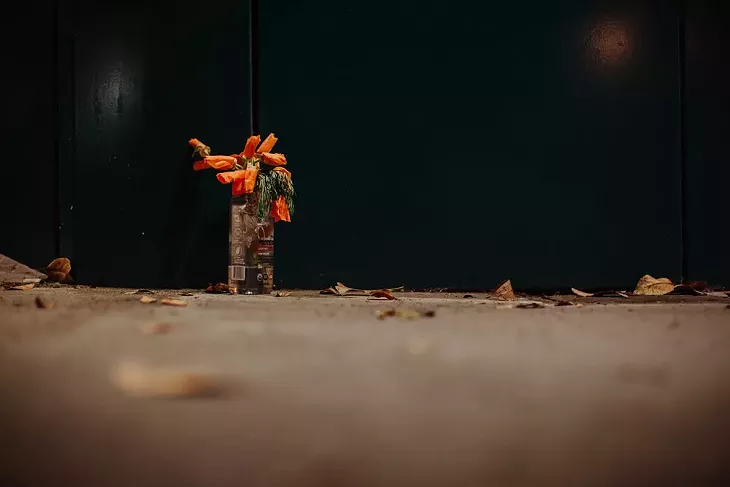 55 slides
About a year ago, the 34-year-old native of Guadalajara, Mexico, shot a similar project in Arcata, dubbed #Arcata24hr. He'd started on the plaza and strolled the streets and trails, uploading his photographs to Instagram as he went so people could follow his adventures in real time. To him, it was a celebration of where he lived, and he reveled in the feedback he got along the way.
Now he was ready to do something similar with #Eureka24hr, but most of what he was seeing on his social media feeds and in messages from friends came in the form of admonishments to "be careful" or "carry pepper spray" or lamentations that all his photographs would be of drug transactions and homeless people. Villagómez said he'd lived in Eureka for more than a year after he and his wife, Anna, moved to Humboldt County a handful of years ago, and he never felt unsafe, so much so that he confesses — his broad grin stretching his thin beard across his cheeks — that he often didn't lock his car or his house.
So Villagómez decided to flip people's expectations on their heads and focus on the positive. "It's not because you want to hide that stuff," he explained, adding that he feels the issues of homelessness and addiction in Eureka have been well chronicled in Eureka by the local press. "I just chose not to show that in this project."
At midnight on June 25, Villagómez and a friend, Antonio Leon, set out onto the streets of Old Town. Over the next 24 hours, Villagómez took more than 1,400 photographs, 55 of which he uploaded to Instagram. As a whole, the package is a healthy mix of photojournalism and art photography, candids and staged shots, captured as the two friends explored the city from Old Town and Woodley Island to the neighborhoods, log yards and the cemetery. Another friend, Jonathon DeSoto, joined in for stretches, offering companionship and a few suggestions.
Sometimes Villagómez stumbled across the perfect shot — like when he happened to see a man driving by in a cherry red Ford Falcon and snapped away. Other times, he saw something that caught his eye for geometry, settled down and waited for the perfect moment — like when he perched in front of the Eureka Municipal Auditorium for 20 minutes until a man and his son rode by on a bicycle. And occasionally, he simply manufactured the shot he wanted, like when he borrowed a chair from Los Bagels, plopped it in the middle of the intersection of Third and Second streets and had someone sit down in it to read the newspaper as he shot from the corner.
Villagómez said he believes the beauty of photography is the ability to tell a story while simultaneously challenging viewers to fill in the gaps on their own, to complete the tale he's set up. That's why one of his favorite photos of the day is of a pair of brand new crutches he found on an empty sidewalk near the Clarke Museum. He titled the photo, "It's a Miracle," playfully pushing the viewer to imagine the circumstances in which some ambulatorily challenged person drops his or her crutches and takes off running.
Looking back on the 55 images that compose #Eureka24hr, Villagómez said he's happy with the project. He feels good about highlighting Eureka's beauty and character — the murals, the people, the Victorians — and ignoring the more talked about aspects. He said the project has left him inspired.
"It's just exciting and it challenges your creative mind," he said. "It's like, the next picture I post needs to be better than the one before, or it needs to tell a better story. It's 24 hours of that. It's about telling a story that someone else finds meaningful. I think everyone with a camera, that's their goal: to, with one image, make someone feel something."
Follow Villagómez on Instagram @LeonVillagomez to see what he's up to next.
León Villagómez
"Self portrait," 6:13 p.m.
León Villagómez
"The blues are still blue," 3:55 a.m.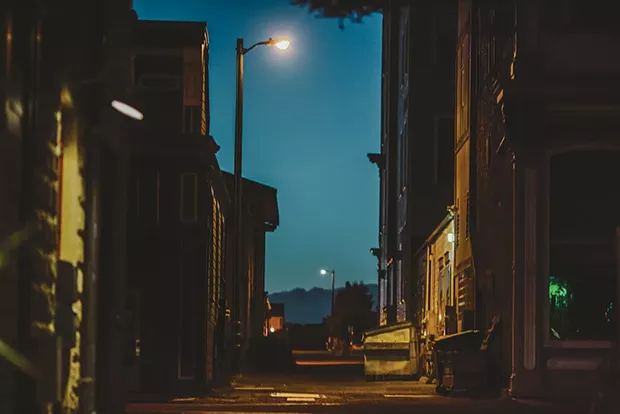 León Villagómez
"Alley," 4:55 a.m.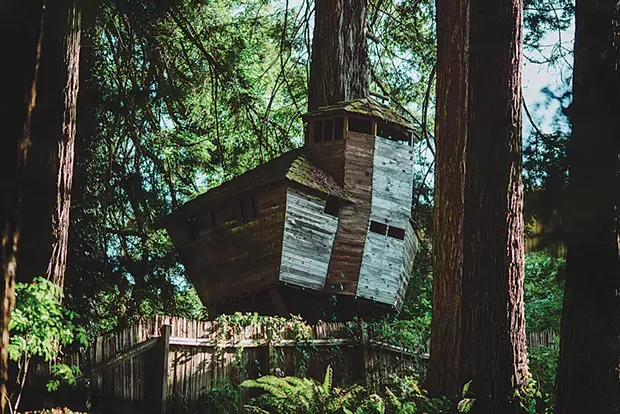 León Villagómez
"Tree house," 6:40 p.m.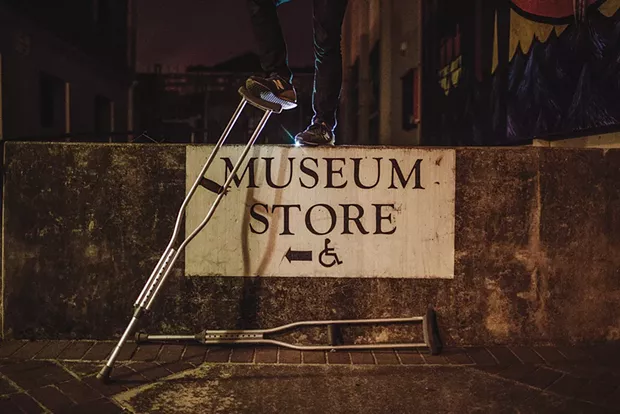 "It's a miracle," 11:32 p.m.
León Villagómez
"Last puff," 7:03 a.m.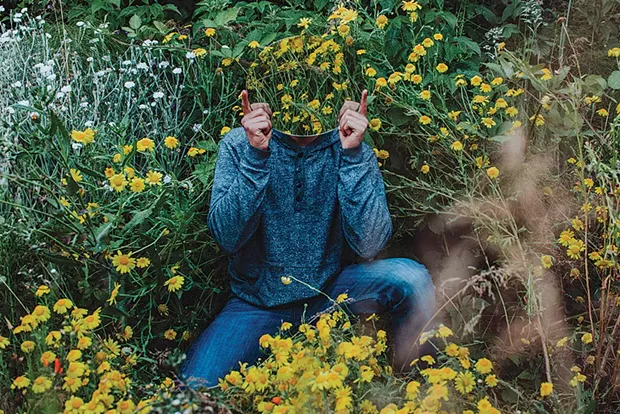 León Villagómez
"Airhead," 8:00 p.m.
León Villagómez
"Let's chill," 9:50 a.m.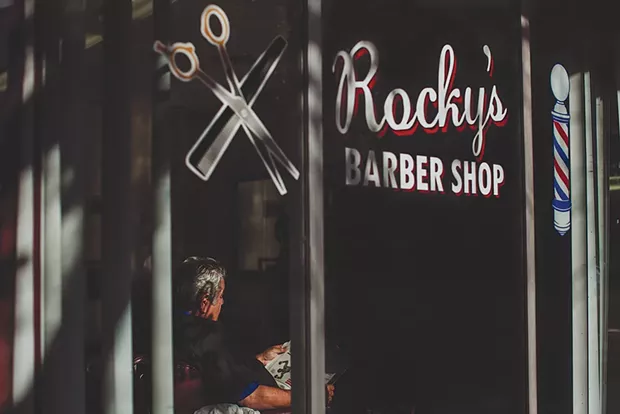 León Villagómez
"Barber," 8:50 a.m.
León Villagómez
"Alone together," 2:48 p.m.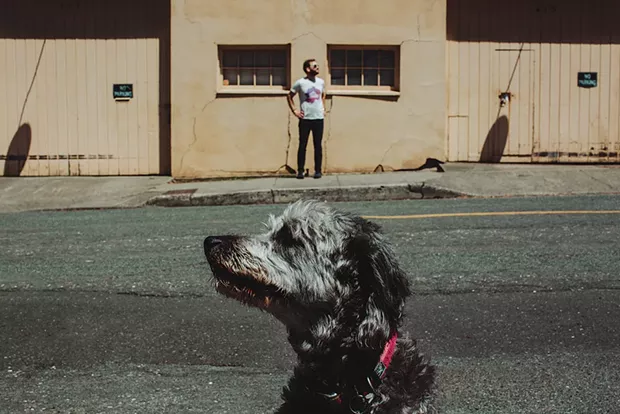 León Villagómez
"J + L 2," 12:31 p.m.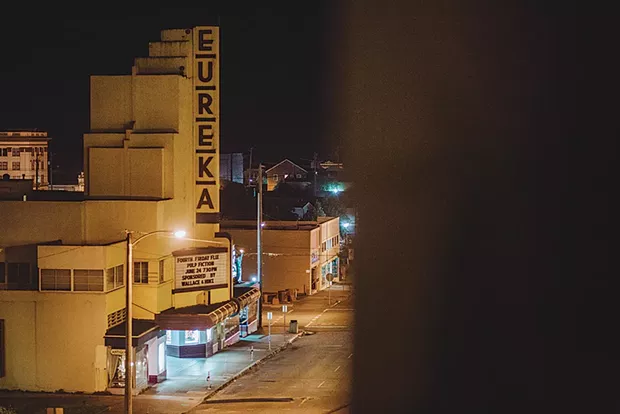 León Villagómez
"Bye Eureka, and thank you," 12:00 a.m.