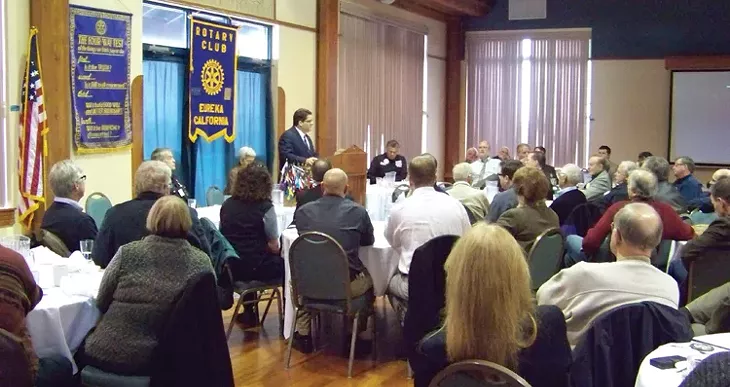 4 slides
On his drive north last month from the Sacramento area, where he's lived since 2007, Bill Panos took a detour through the towering redwoods along Avenue of the Giants. Oh, just amazing. Days later, up at Prairie Creek Redwoods State Park, he saw his first Roosevelt elk. It was beautiful.
He's also visited Humboldt Bay's marina in Eureka, wandered Old Town and the boardwalk and gone to Arts Alive. Loved it. And he tells anyone who asks "Why Eureka?" that he's harbored a desire to live in this remote, coastal region bounded by ocean and big trees ever since 1987. Back then, he was traveling up here frequently on California State University chancellor's business, helping set up better ways to handle chemicals in Humboldt State's science labs and plant facilities and hiring and training the university's first environmental health and safety director.
"I would stay at the Eureka Inn, and I even remember the room," he said in a late-afternoon interview on Friday, Jan. 4, in his still bare-walled office on the second floor of City Hall on K Street. It was five days after he'd seen the elk and his third day on the job as Eureka's new city manager. "I would stay in Room 11, on the northwest corner of the building. And I remember eating steelcut oatmeal in the morning down at the Ratskeller Bar." He said this last bit with dramatic nostalgia, his brown eyes glimmering with humor behind classic, half-rim reading glasses. "And I remember President [Alistair] McCrone showing me the redwoods and the Mad River. I remember there were still some lumber mills."
He wondered, he had mused back then, if he could figure out a way to live and work here ...
He told the same story in almost the exact same words the following Monday, Jan. 7, to more than 100 Eureka Rotarians lunching at the Wharfinger Building on the waterfont.
"And here I am," he concluded the vignette both times.
At last. Seven jobs and 25 years later. By way of Long Beach, Cleveland, Boston, Los Angeles, Coeur d'Alene, Idaho, Olympia, Wash. and West Sacramento. He whipped chaos into shape, sometimes ruffled feathers, and left two jobs amid heavy criticism by some, according to former colleagues and media coverage. Along the way, his resume boasts, he helped one of the largest automotive manufacturers in the world knock its chlorofluorocarbon use down to zero, got toxic polluters in Massachusetts to drastically reduce their pollutants voluntarily, helped in recovery efforts after the Loma Prieta earthquake, waded into some ugly asbestos business at L.A. Unified School District, reorganized a small, recalcitrant Idaho city government, rounded up big cash to build schools in Washington state, fixed levees in West Sacramento and prettied up that industrial bastard city across the river from the capital -- plus reorganized and ran the international deep water shipping Port of West Sacramento, whose yearly tonnage nearly quadrupled while Panos was there.
Now here he is. In Eureka. Replacing David Tyson, the longest-serving city manager in recent memory, who retired last month after 12 years in the top job, and another 10 before that as finance director.
End of the line, perhaps? Time to settle into the Humboldt Shangri-La and start plotting retirement? Or has Panos been hired to come clean up our act, too? Whup our chaos into shape?
[][][]
Panos, who is 50 and has a few silver hairs threading his full, dark cap, said that here in Eureka, he has landed the ultimate job.
The hour had crept past 5 on his third day on the job. The windows behind him had blackened with winter's early night. The office staff had gone home and downstairs the janitor was getting ready to wash the windows in the lobby. Panos had spent all day talking to staff, council members, TV and print journalists and a "prominent business person" (he wouldn't say who).
But he was still energetic, looking fresh and work-ready in his thin-striped, buttoned-down-collar Oxford and blue-striped yellow tie.
Being a city manager, he said, is the culmination of a career-long cultivation of something he calls "integrated systems thinking." He learned it from a mentor at TRW, the private manufacturing company that hired him twice -- first when he was just 17, when some TRW folks, advisers in his high school physics honors class, asked him to come help create safety programs for the company's space and defense group; and again, when he was a tad older, to do environmental safety work in its globally significant auto parts offshoot.
"One of the things that integrated systems thinking requires you to do, is to understand a problem completely," he said. "And in the understanding, the solution presents itself. Usually, when you don't have a solution, it means you don't understand the problem -- and you go back and understand it some more, and understand it some more."
He's animated when he talks, and thorough. He tends to edit himself when he's explaining something technical, and to end long explanations with, "Does that help?"
Panos, using this integrated systems thinking, has made a point of being a student of human nature in the working world, both private and public sector.
"By design, I worked in one of the most liberal political environments that you can think of, the Commonwealth of Massachusetts," he said. "And Northern Idaho is one of the most conservative places in the country -- by design, I worked there. I chose these. To learn how they do it differently. How they think about things differently. How they approach a problem differently. How they solve a problem differently. What are their values and what's important, and not, to them. And then I try to find out if I can help them."
And why would all of this effort reach fruition as city manager?
"It's one of the most rewarding jobs in all of the country," Panos said. "Local government is the most like the private sector of any form of government. You get immediate feedback. You work on very small margins. You don't have a lot of money. You have to act quickly."
In short, now he'll get to deploy all of his deliberately gathered insights at once.
It didn't have to happen here. Last year, Panos applied for the newly open city manager position in West Sacramento, where he'd been the public works and port director -- and in charge of several other departments, as well -- for nearly six years. A guy from state government got it. Then he tried for the executive director position at the Port of Bellingham. An insider got that.
He's effusive, though, in his happiness to be here, and says he looks forward to a long tenure. He and his wife, Michelle, have long wanted to return to the Pacific Northwest.
"You cannot beat the location of Eureka in terms of its access to nature," Panos said. "It's the largest coastal city between San Francisco and Portland. This natural harbor that it has is an amazing natural resource. ... The redwoods are an amazing attribute, not just for Humboldt County and Eureka but for the planet. There is no place like this."
Plus there are just so many diverse issues here.
"It's very, very exciting," he said.
[][][]
Eureka definitely has some issues, and Panos has much to get up to speed on.
The city has been without a permanent police chief since June 2011, when Chief Garr Nielsen was fired after a rumbly four years.
The state has dumped redevelopment programs, leaving cities, including Eureka, to find ways to finish their projects and fund new ones.
And Eureka, like other California cities, also faces a continued rise in pension costs and employee benefits, says the city's finance director, Paul Rodrigues.
Meanwhile, Measure O, the sales tax increase that brings in more than $3 million a year for public safety and other services, sunsets in 2015. That presents the city with its own pending fiscal cliff, says former councilmember Larry Glass. He complains that the city has become too reliant on Measure O funds. They were supposed to ensure that public safety services wouldn't get cut during the recession, he says, not to bring back other services that had to be cut, such as street sweeping.
Bruce Young, the city's director of public works, says that Measure O funds, which go into the general fund, are in fact supposed to help pay not just for public safety but other public services, including street maintenance, parks and recreations, environmental programs and even the zoo.
The measure's looming end date worries him, too. People like the street sweeping, he said -- and that $70,000 position (a figure including benefits and retirement) would indeed go away. So would a $28,000 a year city-county program using jail inmates to clear brush out of the railroad corridor, clean up homeless camps in the marshes and do other similar work.
And there are the ongoing squabbles, some spurred by the timber industry's long, storied descent, some by the recession, some who knows what by: What to do with undeveloped land on the waterfront. How to manage the homeless population. How to bring in jobs. What to do about all the tweakers. How to repurpose the port. Where to build trails. Whether it's possible or even wise to construct a new railroad through the east county's slipslidey mountains. Whether you liked him or not, former city manager Tyson had a hand in shaping many of these discussions.
"It's really a big change," said Glass, who was not a Tyson fan. "It's almost like Gaddafi leaving Libya. They're going to have to reinvent the wheel around there. I think this guy coming in, he's got to set his own management style. And that's going to be his biggest challenge to start with."
Last week, for the lunching Rotarians, Panos reponded to most Eureka-centric questions by saying he was going to take his time to learn the history and context of issues before deciding how to tackle them. He said he's had long sessions talking to Tyson. He's also talked with Mike Knight, the assistant city manager (who applied for the top job).
"Amazing man," said Panos animatedly about Knight. "Amazing dedication. He can't stop working. He called me a couple of times from his hospital bed where he was in for some surgery."
Eureka's City Council got more than 40 applications for Tyson's job, and interviewed the top five contenders, including Panos. Council members said they were looking for someone who could cut crime, boost the economy and finish the general plan. Council member Linda Atkins said she liked that Panos had private and public sector experience, that he seemed to work well with state and federal agencies, and that he had new ideas for paying for infrastructure and community development. In November the council voted unanimously to hire Panos. He was given the standard council-appointee contract, an open-ended one that says he can be ousted on a majority vote. He's being paid $158,000 a year.
Listening and learning, Panos told the Rotarians, will be his first duty.
"I'm going to take my time to understand the community," he said. "As a mentor told me, context is everything."
Second, he wants to understand the city's business model.
Third, he intends to hire a new police chief -- the first hire he'll make.
Fourth, he's going to begin updating the city's general plan. "And in very short order -- this last one is from the mid-'90s, I think," he said. "It won't take 10 years."
Asked to talk about his work with the Port of West Sacramento, Panos enthusiastically described how he helped increase the cargo volume in the 43-mile deep water inland channel, and how he got to travel all over the world drumming up business for it. It was exciting. But he doesn't know yet how his experience there will translate here with Humboldt Bay's port. Union Pacific's got its rail going in West Sacramento. No rail here.
After the Rotary meeting, Murl Harpham, who has often stepped in as interim police chief, whisked Panos away to show him some of the sights: Eagle House, the Carson mansion with its plush Ingomar Club, the Adorni Center, HSU's aquatic center, and the balloon track, where he explained some of the local railroad history.
"No homeless camps," Harpham said the next day over the phone. "I don't want to discourage him."
But it's an issue he is worried most about, he said. And he hopes Panos hires a police chief who "understands the idiosyncrasies of this city."
"The homeless problem is one of the major ones here," he said.
It's not a problem foreign to Panos. In West Sacramento, and just about everywhere he and his wife have lived, they've gotten involved in organizations such as Catholic Charities, St. Vincent de Paul and Meals on Wheels to help the less fortunate.
"I like him," Harpham said. "He seems like a very nice guy. Very bright. Very knowledgeable. Seems to already be getting involved."
[][][]
A friendly, calm guy -- those are some of the personal qualities that Eureka's ad for a city manager noted as specifically desirable. Panos seems to have those two covered. His resume indicates he's got some serious managerial cred, too. Mostly, he appears to have emerged from each position cloaked in accolades. Sometimes, not.
Panos, who grew up in Palos Verdes Estates in southern California, is a third generation Californian. His father was an executive for American Airlines for 47 years. His mother, who is deceased now, was a Los Angeles County Sheriff's deputy.
Panos says he was a typical kid, into surfing like a lot of the kids he grew up with. Except he started working full time while still in high school, at TRW, and continued working full time there while getting his bachelor's degree in forensics at California State University, Long Beach.
He and his wife, Michelle, have been married 22 years. His wife, like him, started out in the private sector (corporate marketing) before moving into public service. While they were in Idaho, she served on the staff of then-U.S. Sen. Larry Craig (R) -- yes, that Larry Craig, he of the "wide stance." In Sacramento, she worked for Republican Congressman Dan Lungren, who just lost his seat in November.
Panos and his wife don't have kids. They have a dog, named Milo. And their niece and goddaughter, Emily, has moved to Eureka with them and is going to finish her undergraduate degree, begun at Sacramento State, at Humboldt.
"I'm Greek Orthodox," Panos said, smiling. "When you're a godparent you're truly the second parents to your godchild."
They're just renting, for now, he said, because it turns out Eureka is even more interesting than Panos had expected.
Eureka, population 27,000, is smaller than West Sacramento's 48,000, but the two share some similarities: They both have ports. And they both have had to alter their personalities over time. Eureka's been changing from a gritty, natural-resource-based city to one with a fancy boardwalk, a boutiquey old town and a bazillion artists. West Sacramento has been transforming -- aided by Panos' government relations savvy and money-procuring skills -- from a seamy, industrial riverside brat into a blossoming debutante with, just for starters, a renewed riverfront, a river walk trail, and a baseball park, Raley Field, that's home to the River Cats, the minor league affiliate of the Oakland As.
But the two cities differ dramatically when it comes to their housing options. Panos was completely stumped after his initial search for a new home here.
"In West Sacramento, there are thousands of housing developments," he said. Many of them fairly new. Just pick your location.
Here, squished between the ocean and forest, Victorians jostle with Craftsmans, funky apartment complexes, homes from the 1970s and '80s, spare and venerable saltboxes from the 1800s, and some new homes. We have no sea of stucco-modern. It's going to take some time to figure it out, Panos said. But this, too, excites him.
One wonders how his zest has gone over in other places.
The Massachusetts Department of Environmental Protection hired Panos in 1995 to revamp its toxics use reduction program. He changed its methods of getting environmental compliance from polluting companies, with a voluntary program that won a Harvard University-Ford Foundation Award for Excellence in American Government. And that got Panos a post with the Clinton Administration's Council on Sustainable Development, working on environmental programs.
At Los Angeles Unified School District, where he became the director of health and safety in 1999, Panos' tenure was short-lived. His main task was to investigate asbestos releases at a dozen schools undergoing construction work and improve the district's interaction with contractors. He says he had only intended to stay for a year, for family reasons, and he resigned in 2000.
A Los Angeles Times story said Panos had "come under increasing pressure" for not moving fast enough on the investigation. The job went next to one of his critics at the time, the Times said, a consultant named Angelo Bellomo.
Reached by phone a couple weeks ago, Bellomo, who is now director of environmental health for Los Angeles County, said he couldn't recall being critical of Panos. He said the district was controversy-ridden before he and Panos got there, and long after.
"L.A. Unified was difficult to work with," he said. "The infrastructure was difficult. They had had procedures in place for some time, and they were the wrong procedures. ... He inherited a great challenge when he walked into that district."
Panos said that, newspaper spin aside, he managed to get a lot done in that short time.
In his next post, he also told the city of Coeur d'Alene that he wanted just a one-year contract as city administrator. The mayor wanted someone from outside to lead major reforms in what was then the fastest-growing city in Idaho. Long story short, Panos' contract was extended for five more years, but he left after one. Noses had been bent. Some called him a micromanager.
A Spokesman-Review story began the tale this way, using the local nickname for Coeur d'Alene: "Bill Panos ran Lake City with big words and management techniques as foreign in these parts as huckleberries in Los Angeles."
By phone recently, Coeur d'Alene councilman Ron Edinger said he was the lone vote against hiring Panos.
"When he came to the city of Coeur d'Alene and interviewed, he was a fairly young guy," said Edinger. "And he went over everything he said that he did, and I just couldn't believe a young guy like that had done everything he said he did. So I had a bad feeling about him."
Another news story said Panos was forced to resign or be fired. He says he had already asked the council to cancel his contract. The mayor who'd wanted him was out, a new mayor in, he'd made a bunch of changes, and it was time to move on.
In Washington State he was a hit for five years. And West Sacramento, where he went to work in 2007, loves and misses him, people there said. The City Council likely chose someone else for city manager because it wanted a fresh perspective, said assistant city manager Carol Richardson. Richardson, who's held the same post since the city incorporated 25 years ago, said she attributes the huge success of the city's levee upgrade program to Panos. He had the management chops, and he excelled at relating to other governmental agencies and lobbyists.
"I really, really enjoyed working with Bill, as a person and as a professional," she said. "He's smart as a whip. He's funny. A good friend to people."
Not a micromanager? No, she said.
"He had high standards," she said. "You know, if you're resistant to any change, you might not like him. I think you guys got a good one."
West Sacramento councilmember Bill Kristoff said Panos was the guy who formed new connections with state and federal regulators, and got more flood protection money and time extensions from FEMA to do the mandated levee upgrades.
Mike McGowan, the Yolo County supervisor whose district includes West Sacramento, offered similar praise, and said Panos helped rebrand the city.
"I grew up here," McGowan said, "and we were always sort of the backwater of the Sacramento region -- on the wrong side of the river. What turned it around was partly and maybe even significantly due to Bill's efforts in changing the way we saw ourselves and how others saw us. And we became more aggressive in dealing with flood control, redevelopment, community cleanup."
McGowan also serves on the governing board of the Port of West Sacramento, which the city took over from the federal government in 2005. He credits Panos largely with restructuring port operations.
"The thing about him -- he's innovative, intelligent, articulate and able to bring people together to work on a common goal," McGowan said. "He's self-effacing. Not a big ego."
Mayor Christopher Cabaldon said it's hard to express just how effective Panos was at leading the city through some severe challenges with the port and with flood control.
"And as a public works director he was very unusual," Cabaldon said. "Because he is a gladhander. He enjoys and is good at relationship building and lobbying, things you don't expect from a public works director. And he excelled in connecting the engineering and technical work."
[][][]
Eureka City Mayor Frank Jager, by phone a couple weeks ago, said he really likes Panos -- especially his ease in dealing with regulators. Eureka could use a guy like him to deal with "difficult groups like the [California] Coastal Commission."
"And he's a member of the Sierra Club," Jager said.
He suspects Panos might be someone "moving up," using the top job in Eureka as one more rung on a career ladder. But that could be a good thing, the mayor said.
"I think he really wants to work here; he likes the area," Jager said. "But I think he's destined to bigger things -- and that's an advantage for us because he wants to prove himself here. He's not going to fail."