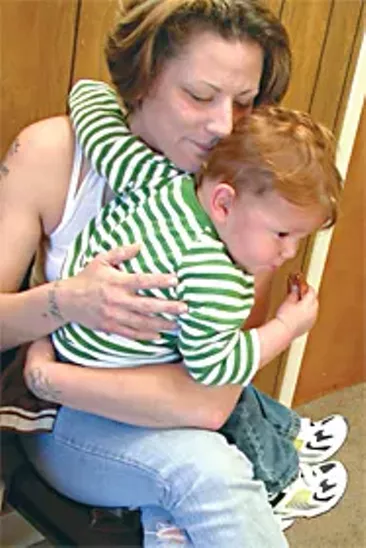 13 slides
Of all the luck
John Haley has pushed away his breakfast plate, forked clean of its quiche, hash browns and biscuits. Billie Jo sits next to him, antsy. She keeps looking across the noisy, warm dining room inside Christ Church Episcopal at a doorway that leads to another hall from which an even louder hubbub pulses. It's a few minutes before 10 a.m. on Friday, Oct. 26, and she and John Haley sit amid clumps of other people gathered at the round tables. It smells good in here — several servers at one end of the room keep ladling out heaps of eggs and sausages, potatoes and quiche, each scoop releasing fragrant puffs of steam. Occasionally there's a sour whiff of unwashed body as some poor soul arrives fresh from the street. But who's noticing? Everyone here, at some time, has been dirtier than they care to be.
A woman has approached the front of the room. She's clearing her throat.
John Haley says to Billie Jo, it's time for the drawing. "There's three at 10, one at 12 and one at 2 p.m.," he tells the new arrivals at his table. He thumbs his raffle ticket. "You got your ticket don't you?" he asks Billie Jo.
The woman at the mic draws the first ticket. As she starts reading the number, John Haley is saying, "I always win raffles." And then he says, "Was that my number? I think that was my number." The woman at the mic says it again. "Oh, that's me," says John Haley, already on his feet. He walks up there and the woman says, "We have a winner." He comes back with a new, brown nylon bedroll and hands it to Billie Jo.
"I've won a lot of raffles," he says, sitting down. "Well, I was born on Thanksgiving," he adds, as if that explains everything. "The first 20 years of my life I won the Times-Standard 's birthday cake. I was born in Fortuna in '53. The Times-Standard, they used to have a birthday cake raffle. Every year I'd win, and every year my grandma would go pick it up. The first 20 years straight in a row. It's because I'm Sagittarius, which is awful lucky."
Nobody asks it, but the question kinda hovers silently above the table: If he's so lucky, why's he here eating free breakfast at the church this Friday a.m. with a bunch of strangers? Why's he here for Project Homeless Connect Day? Why are he and Billie Jo sleeping behind a billboard on Broadway?
"I've always been lucky," John Haley is saying. "After I broke my back, they told me I'd never walk again. I walk. Nine years ago, I wasn't feeling well, I walked into the doctor's office and had a heart attack right there. The doctor said I needed surgery. I said no. My doctor said, 'You'll be dead in six months if you don't have surgery.' Well, I'm not dead."
Nov. 1, they aim to be in an apartment. Three months on the street. "I can't take it no more," says Billie Jo. She gets up, says, "I'm gonna go take care of some things, John. I'm going in there to get some applications."
John Haley scoots back his chair and stands. "Let's see," he says, raking a hand through his black hair and whiskers, "I'm gonna start with a haircut and a shower. Shower, first."
Project Homeless Connect
They've walked up from the waterfront in Eureka, pushing carts or carrying their belongings on their backs. They've ridden their bicycles, laden with possessions, towing a dog or two. They've come in on one of the free shuttles from points near and far in the county. Some are dirty and hairy, skittish from days, months, even years on the streets. Others have come from shelters or hard-won but tenuous housing. And when they get to Christ Church Episcopal at 15th and H Street in Eureka, this Friday morning of Oct. 26, they're met by swarms of volunteers from a dozen or more public and private agencies, churches and service groups. Some of these volunteers were once homeless themselves. Many of them are so excited to help another human, face to face, there are tears in their eyes.
It's the county's first ever Project Homeless Connect Day, an event held nationwide in October and promoted by the U.S. Interagency Council on Homelessness. Modeled after the Veterans Stand Down, Project Homeless Connect provides direct services to homeless people while connecting them with the larger community. Today, people could shower, eat several meals, and get flu shots, pet food and shots for their dogs and cats, blood tests, eye screenings, STDs and AIDS tests, lice treatment, day-long child care, legal counseling, credit counseling, youth services, alcohol and drug counseling, spiritual counseling, job counseling and fresh clothes.They could hook up with veteran's benefits, general relief and food stamps, with social security and disability benefits. And they could leave with follow-up appointments, applications for jobs and housing, prescriptions, pet food, sack dinners and bags of clothes for their family.
Inside
Thomas, who'll be 55 soon, has been picking at his breakfast and listening to John Haley and Billie Jo talk. After they leave, a young guy, maybe not even 20 yet, carries a plate of food to the table and sits down across from Thomas. The sandy-haired kid looks wild, like a trapped coyote. Shaky, weirded out. "Are you okay?" somebody asks. He says, "I'm not doing really well." He lays his cheek almost onto the plate to take a bite of quiche, his eyes darting sideways. Then he sits up, eyes wide, and says, "I'm thinking about Jesus."
Thomas looks thoughtful. He's dressed in a crisp white dress shirt under a Levi vest, and clean jeans. He's just come off three weeks of depression, two of them spent drunk. Last night he showered for the first time since the depression started. He has large, hazel-green eyes, a gray beard and mustache, and bushy dark eyebrows.
Until recently, Thomas says, he was homeless: five years in Hawaii, a year and a half here in Eureka. "I had 12 different camps between here and the courthouse," he says. "I still look for camps; it's habit. I was single — I could sleep in doorways. And I had the talent, the use of light and shadow: Don't move around a lot, don't make noise and move on early in the morning."
Thomas' dad was in the Air Force. He died when Thomas was 16, and Thomas was pretty much on his own, in South Carolina, after that. By 18, he was in junior college, had his own car, was hanging out with the cool group — the hippies, you know — and he thought he might become a psychologist.
"I was smoking pot, drinking and making straight As," says Thomas. "Then I decided I didn't like crazies. And then I found out I was one."
And that's how it is with Thomas. He's bipolar. "I've had a hundred different jobs, and I'm fine with it until people start telling me how to be, start to manipulate me. If I'm manic, I can just punch somebody out. And if I'm depressed, I start to drink. When I'm manic, I could work on 12 different projects at a time. The big problem is drinking. I'll just let things go, I'll stop eating. They tell me it's going to get worse as I age. And it's hard to find a job. What do I say, 'I'm 55 years old, I'm on SSI, I'm bipolar — can I work part time for you?'" He laughs, adds, "They'll be reaching for their gun."
When he was homeless, Thomas sometimes stayed in shelters, but he couldn't cope in them. "I sit down at the table, it's quiet," he says, "and then the craziest, stinkingest bastard comes and sits right here next to me. They're drawn to me. Crazy people come to me." But he's had bad experiences outside, too. "In Honolulu, I woke up on a bench. I stood up, I was stretching, and a guy walking by stopped and said, 'Are you all right?' and I said, 'I think so, why?' and he said, 'There's blood all over your shirt.' I looked, and there was blood all over my shirt and a blob of blood on my shoe and my hand felt like I'd slapped somebody. I didn't remember anything. Maybe I just bled a lot. Or maybe I threw him in the river." He checked the newspapers for days after that, but there wasn't anything about it.
One winter, Thomas started volunteering at St. Vincent de Paul's in Eureka. It was a way to get in out of the cold. He had first crack at the shoes and clothes, too. And after about eight months he finally started talking to Les Rastorfer with Mobile Medical Office. He got connected with a counselor. And now he rents a small place and he's on medication that's helping him sleep a little better at night. But he still has the highs and lows. "You know, one day you're the life of the party with a lampshade on your head, and then the next day you're all depressed and you don't do anything. I wouldn't wish it on my worst enemy."
He made it a point, he says, to get himself down here by 6 a.m. today. He needed to be around people.
Outside
On the church's 15th Street side, Rick Bend, an employee with World Shelters, is tightening the last bolt in a white corrugated polyethylene prototype of the company's new shelter, the U Dome, which he has erected on the church's lawn with the spontaneous help of half a dozen homeless people. Next to the dome is a wobbling bouncy tent, already a-squeal.
The 10-paneled U Dome is more for transitional use than emergency use, Bend says, and cities such as Los Angeles and Oakland are already looking at possibly using them for managed homeless camps. "It would allow people of like minds to share a place," Bend says. "Smokers can share one. Families can share one." There isn't any plan to use them in Humboldt yet.
On the other side of the church, on 14th Street, the parking lot has been transformed into a sudden cultural time-out, a one-day picnic of humanity in which the housed and the unhoused commune without fear or tension. Groups of scruffy people sit in loose circles, talking, while their dogs eat food provided by Bless the Beasts of Humboldt County. Others stand in line to take showers and brush their teeth at the "Clear Water Supply" trucks that father-son owners Ken and Colin Gradek have donated use of for the day — normally their trucks are at the scene of wildfires, serving sooty firefighters. In an open-air tent nearby, a woman is getting her feet soaked and filed by an HSU nursing student. They chat casually about footcare. Several volunteer "peacekeepers" in fluorescent green T-shirts casually stroll about.
From across the lot comes a huge brown and black dog, lunging against a leash clung to by an Indian-jewelery-bedecked man and another guy. The dog surges toward the side of the building, where a caged cat with goopy eyes mewls incessantly behind the Bless the Beasts table, upon which a bowl of free dog leashes and boxes of free pet food sit. The cat — not that it knows this — is waiting for the vet to show up to give it distemper and rabies shots. It mewls and mewls, while nearby a pair of curly haired doglets tethered to a fence bark ceaselessly. Yap-yap! Yap-yap! Yap-yap!
Finally the big dog is subdued and dragged to a tree where shaggy brown-haired Brad Elliott, a volunteer with Arcata Endeavor, loafs contentedly. Elliott drapes his legs over the dog, whose name is Jazz, and scratches behind the ears of his own little dog, Siren. Later today, Elliott will get up and do trash cleanup.
Elliott's a traveler, currently stopped in Arcata. "I started traveling in March," he says. "I just took my nuthin' from Seattle. It's fun. I've been to 12 states. I choose it — why be inside when I can go outside?"
"Lobo," skinny and hippyish, comes up with a vehement look in his eye. He says he's lived outside the traditional economic system for 40 years. "What it comes down to," he says, "is the Earth is being destroyed. To build those cars and build those houses — you want me to pay for that?! I follow the Native American way of life. A lot of people here are not 'homeless.' They do not believe in the economic way of being. St. John the Divine got it wrong. Pagan ways predicted the Earth would be destroyed by 'fire beings.' Well" — he jabs a finger at an SUV parked in the lot — "you're looking at it! Until we realize the evil we're doing ..."
A confident young man, Phoenix, saunters by, headed toward the showers. He's a traveler, too. The 26-year-old has been in Arcata for a week and is heading for San Francisco next, for Halloween. "I was born on a bus on tour for the Grateful Dead," he says. He's traveled ever since. "It's my life. I've been in Japan, Nepal, Amsterdam, Ireland, Scotland, Canada, Mexico, all 50 states ..." Today his dogs got rabies shots and he is cleaning himself up.

Inside
Everybody makes a pass or two, or three or four, through the dining hall. The cooks from the Arcata Endeavor have been working since 4 a.m., the food servers since 5 a.m. Volunteer Ida Earl, green-eyed and dressed in a long orange skirt and gray Arcata Endeavor T-shirt, is serving from the end of the row of food cauldrons. "I like giving out food because it's the one thing you can give people and you see an immediate effect," she says.
She herself was once homeless. She knows what it's like to not have enough food to eat. To have no safe place to sleep. To be constantly on guard. "People say, oh, the homeless, they're lazy," she says. "But it takes a lot of energy, because you have to carry all of your belongings on your back as you look for a place to go to, to just be able to sit down and go 'Phew!'"
Down long corridors, doors open into rooms where people are getting shots, having blood drawn, being counseled, getting their eyes screened by the Lions Club, getting haircuts. In one of the rooms, packed with green-clad HSU nursing students, J.D. — "People call me Mr. Bean," he says — sits stiffly in a chair, covering his eyes with one hand while HSU student nurse Todd Dixon sticks a flu shot in his right arm. Afterward, J.D. says, "I've got a doctor joke for you. A guy goes to the doctor because he has an orange weenie, and the doctor asks him a series of questions: 'What do you do for a living?' the doctor asks. 'I'm a librarian,' the guys says. 'Do you have any night life?' 'No, I told you, I'm a librarian; I stay home,' the guy says. 'Well,' says the doctor, 'what do you do at home?' 'I sit around and eat Cheetos and watch porn.'" Everyone laughs. J.D. leaves, then comes back looking worried. He says the flu shot made him dizzy. He sits down. After a moment, he grins, says, "OK, so, I got another doctor joke for you."
Student nurse Cynthia McKinley, a senior who helped coordinate the event, says the 18 nursing students here today are really excited. "When you're busy as a student, you really don't have the opportunity to do the volunteer work you want to do," she says. So far, the free flu shots — 200 of them, donated by St. Joseph Health System — have been the most popular. Good thing. "The homeless are incredibly at risk for the flu. It has more to do with crowded conditions [in shelters]. And handwashing is always an issue. So, if we can keep half of them from getting the flu, it's like preventing the other half from getting it."
Out in the main church hall, lawyers, counselors and peers help people get their lives back in order. The Raven Project table is the most colorful — it's buried in bright packets of condoms, blue 'zines titled "Finding a Job," "Queer" and "Sexually Transmitted Diseases: It's a Jungle Out There" (to name a few), and a gazillion pamphlets and hotline cards. Here, 18-year-old Zachariah Byrd, who says he chose to be homeless a year ago because he didn't like his parents, is hanging out with some of the Raven Project staff and volunteers.
Byrd's tidy and small, dressed in black and white. His fingernails are painted black. "I like living life on the edge," he says. "But I like being clean — I'm a real clean freak, I'm almost OCD like that." He's been in Eureka three days. Exuberantly he says, "I like to be kidnapped. That's what they call it. You travel, you meet people and you get them to kidnap you. They take you home with them, give you a shower, food, shelter. And then in the morning, you eat, and shower again if you want, and they drop you off wherever you want to go. I've had it happen to me several times. It's mostly really cool people."
Even so, he's here today to get some things done. "I've already gotten checked twice — one for HIV, one for STDs. My HIV was negative. So, I gathered up a bunch of hygiene stuff. I've talked to the job people. I need to check out the apartments, next." And someday, once he's got his "life straightened out," he says he's going to go to college.
It's not farfetched. Kayla Cervantes, 20, one of the Raven Project employees here, discovered the Raven Project less than a year ago, when she and her boyfriend, Will, were homeless. She'd left home at 18 — "family life wasn't too good." "The Raven, I will give them credit for my not being homeless," she says. Now they both work, and she's plotting a college career in photography.
Down a hallway, several people wait to get their hair cut. The "salon" is filled with students and staff from the Fredrick and Charles Beauty College; they've been busy all day, says Jeanie Scott, the owner of the college.
Maggie Davis — pretty, street-tough, with strawberry blond hair, green eyes and several tattoos — is waiting. At one point a caregiver brings Davis' sobbing 15-month-old, Jeffrey, to her. He's redheaded like her; he quiets down once he's in her lap. Davis says her aunt actually dropped her off here today. On her 30th birthday — Monday — she and the friend she was living with had a falling out, and her friend kicked her out. And her aunt doesn't really have room for her. "I'm trying to find a place for me and my baby," Davis says. It isn't the first time she's been homeless.
Davis grew up in Eureka. At 14, a friend gave her some meth. "It went downhill from there. On meth, you don't care about anything, or anybody." Now she's "five days clean, and three days sober."
Back in the main services hall, a tall elfish young man with wild, twiggy hair has strolled in picking a mandolin. He scoops up a handful of condoms from the Raven Project table, saying "Thanks, man," and picks his way to the other end of the hall, where he stops to jam with a volunteer who slaps a jaunty rhythm on his knee. It's like the last scrap of summer just blew in.
Outside
Around 4 p.m., in front of the church on H Street, people wait for the shuttles to take them away. Verlynda Anderson's standing at the curb, a giant bag of clothes at her feet. "This is a great thing to have going on," she says. She's taken care of all sorts of business today.
Anderson's been homeless off and on in Eureka for a couple of years. Her husband, who's diabetic, worked at Blue Lake Casino until he had to have part of his foot amputated. "Our house was foreclosed on," she says. "We were trying to live on $624 a month" in welfare. They were taking care of four kids, two of them foster children. "We couldn't do it." That started a cycle of living in shelters, then an apartment, then on the street, then at the Serenity Inn, then the MAC — she lost her temper there one day and got booted. Her husband stayed in with the kids. "Forty days I was on the street, not being able to see my kids," she says. "I stayed wherever I could. I even stayed in a trailer park, in the bathrooms. But I'm known here. I'm really involved in the community. I didn't feel afraid. Besides, I knew God was on my side." Next, they're moving into Motel 6. "I'm going to stop the cycle with my family, with my kids," Anderson says.
Her shuttle arrives.
The future
Elizabeth Conner, one of the organizers of this event, comes out of the church into the late afternoon sunshine holding a piece of paper with some stats from the day. "We had 384 people check in and take the survey," she says. That doesn't include the many who didn't want to register, or who came in the back door, or were just shy. "And what people seem to be telling us in the exit surveys is that they're getting a lot of services. But there's not enough housing."
It confirms what she already knew: The county's about 800 to 1,000 units short for people with very low incomes. "Some need supportive housing. Some need down-payment assistance. Some people need a job, and credit counseling. And there's a fair number of people working and still not making enough."
Now the real work begins, says Conner, who is co-chair of the Humboldt Housing and Homeless Coalition and executive director of the Humboldt Bay Housing Development Corporation. Because the whole point of today was not to hold a once-a-year services fest and then let people melt back into the void of shelters, doorways and bushes. Humboldt County has an estimated 1,400 to 1,800 homeless adults and kids. The goal now, says Conner, is to apply the data and insight from this event toward a bigger plan to end chronic homelessness in Humboldt County.
Rob Amerman, the housing coordinator for the county health and human services division, has been here all day talking to people, hearing their stories. Half of his job, he says, is to help develop the "10-Year Plan" to end chronic homelessness, a model already in place in 150 cities. It'll be data-driven, he says, using everything from point-in-time counts of homeless people to statistics from hospitals and law enforcement and libraries. And there'll be more outreach, he says.
The other half of Amerman's job is working to develop supportive housing for people with severe mental illnesses. "It's called Assertive Community Treatment," he says, and it's to be funded by the Mental Health Services Act, Prop. 63, a 1 percent tax on millionaires. "We have four people enrolled with ACT progam. They're the first people we're going to provide housing for."
Amerman says the biggest obstacles toward getting people back into housing are mental health issues, substance abuse and lack of income. "We don't believe we're going to house every single person," he says. But the new approach is better, he and Conner say, and cheaper than the old way of managing homelessness with jails, hospitals and emergency rooms.
Luck
So if John Haley's so lucky, him and his raffles, why is it that he and Billie Jo are sleeping behind a billboard on Broadway?
Oh, anyone knows luck is just luck. It turns one way, then the other. John Haley's been through divorce, lost his house and his prized Roger Maris-signed baseball, busted his back, been evicted. That's luck, too.
And take John Shelter, director of Arcata Endeavor. He's enlisted a couple dozen homeless and recently-homeless people to help set up, take down and clean at this event. One of them, a veteran named Frank Carder who cheerily has helped people sign in all day, credits Shelter with saving his life, after he met Shelter at a Veterans Stand Down. Big, lucky man, that John Shelter. But Shelter himself was once homeless, 20 years ago. He and his two daughters lived at the KOA campground for six months after his divorce. That experience, Shelter says, is why he does what he does today.
No, luck isn't the main thing.
Down in the basement of the church, where people have trooped all day to use the bathrooms and shop through the racks of free, donated clothes, gangly young Alexander Brewer is helping people bag up their clothes. He can't stop smiling. He's been at the MAC for two weeks, and suddenly someone has asked him to help them out with something. "I'm a volunteer — I just started today. I've seen a lot of people coming in, taking as much as they want. I've been noticing a lot of people with a happy face, every single time. I'm really happy I was helping them out. Especially in my heart."