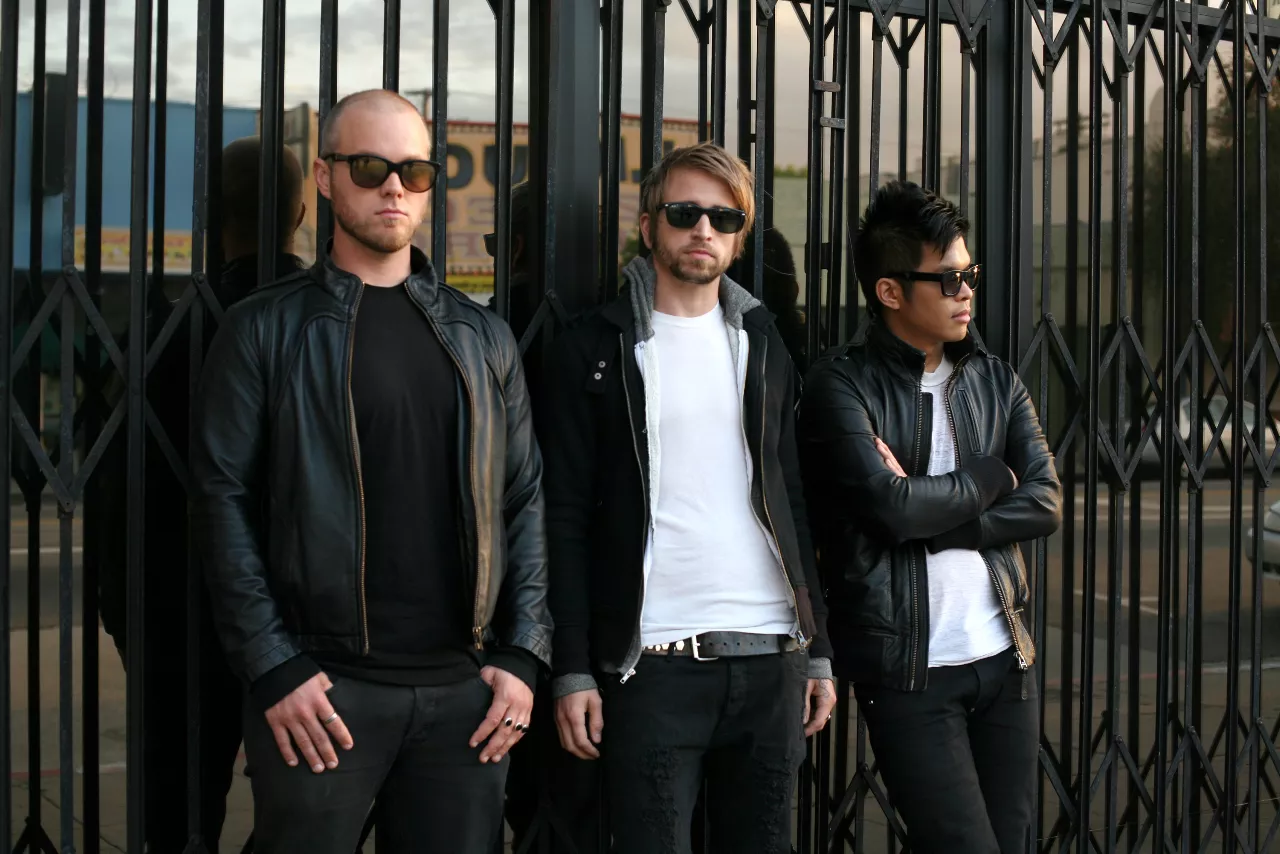 photo by Rueben Cox
The Glitch Mob
There was a small uproar when The Glitch Mob debuted material from their new album, Drink the Sea, at Coachella in April. The three DJs from L.A. -- Justin* Boreta*, Josh "Ooah" Mayer and Ed Ma, aka "edIT" -- are known for energetic live shows where they bounce behind Lemur laptops punching touch screens as they lay down gnarly beats and torn, fuzzy bass lines. Instead the fans were confronted with guitars, bass and drum pads and cerebral music that floated like a soundtrack for some unknown film -- with neo-tribal rhythms.
Calling from Mob headquarters in L.A., where they touched down briefly before resuming a seemingly endless album tour, edIT described the new music as a next step. "I think it's more of an evolution than trying to 'change our sound.' I don't think our sound has changed a lot -- at the core you still find the elements of what the Glitch Mob is, or was in previous days. This is like the next story we're trying to tell," he said.
What are those elements? "I think it depends on what time period you're looking at, but the elements are distorted drums and synths, stuff like that, and obviously the highs and lows of the storytelling in the song structure. I think if our name was not The Glitch Mob, people would not necessarily pay so much attention to the glitchy elements of our music. It was always just a name. Honestly, it started out as a joke, but the name stuck. It wasn't like, 'We're called the Glitch Mob so everything we write has to have glitchy elements.' In terms of Drink the Sea, the way we felt we could best represent the songs and tell the stories was to change up our live performance, so on this tour we have some real instruments on stage."
He admits some fans still want the old Glitch, but "some appreciate where we've gone with the record and with the evolution of the live show. A good cross-section gets it and understands where we're headed. I think whenever you evolve as an artist, there will be fans who don't want that. All you can do is stay true to yourself."
Where are they headed? "There's no definite destination. We just let the music take us. Honestly the main goal behind all of this is just to share our music with people. That's really it. Drink the Sea is personal and sentimental for all of us. Now that the record is done, the reward is to go out and play it for people."
Ready for the new music? Rebel Bass Collective presents The Glitch Mob live at the Arcata Theatre Lounge Sunday along with Free The Robots and Deru.
Rebel Bass Collective starts the weekend with a Friday electro thing at the Red Fox with T-dUb, Porkchop, Jana D and Keys. T-dUb is also part of the three DJ '80s Dance Party Saturday at ATL trading off with DJ Red and DJ Gerber.
Benefits abound this weekend, among them one on Friday at the Arcata Theatre Lounge presented by All Hits-95.5 and Mantova's Two Street Music featuring '80s rapper Tone-L?c -- a benefit for Citizens for District Attorney Paul Gallegos 2010. There are some who would like to make this a political issue. The local blogger known as Rose, whose Watch Paul blog serves as a one-woman campaign against the D.A., opines, "How fitting. Gangsta rap for a gangsta friendly DA..."
But Rose doesn't really know her rap history. As noted on the ATL Web site, Anthony Terrell Smith -- aka Antonio Loco, aka Tone-Loc -- once ran with the L.A. street gang the Crips, but he certainly was not counted among the gangsta rappers of the day. His two hits, "Wild Thing" and "Funky Cold Medina," were more pop novelty versions of rap than the serious gangsta shit coming from N.W.A. and others. Both songs were tales of sexual braggadocio written by Marvin Young, aka Young MC, a college boy from USC, delivered with Tone's low growling voice. "Wild Thing" went multi-platinum, hitting No. 2 on the Billboard charts, in part because it crossed over to a rock station, KROQ, and also because of an MTV vid parodying Robert Palmer's "Addicted to Love" and its girls with guitars. (Credit must also be given to hit-making producers the Dust Brothers.) When a second album failed to win an audience, Tone moved on from rap to the movies, landing roles in memorable films like The Adventures of Ford Fairlane, The Return of Superfly and Ace Ventura: Pet Detective.
How did he end up playing in Arcata? My educated guess said it was connected to Gregg Mack, a pioneer in the rap radio world on KDAY in L.A. who is now a consultant for All Hits 95.5. "I've known Tone for years," said Mack, confirming my theory. "I played his records back in the day." He was surprised and disappointed to hear that disparaging remarks about his friend had hit the blogosphere. "It's a shame what that blogger said. Tone-L?c is one of the good guys, the kind of guy who is always out there working for kids, doing charity work. He does that kind of thing on the down-low."
Saturday's Trails Trust Trail Mix is another benefit. This one, at the Bayside Grange, has a healthy nuts and raisins kind of mix with music by Rooster McClintock, Cadillac Ranch and Bayside Bandemonium, plus "Humboldt cuisine" (presumably locavore), an auction and raffle, all supporting Trails Trust of Humboldt Bay. (Note: You can also hear Rooster McC Monday at the Jambalaya, where they play for Budget Rock Night.)
A couple of shows for the stringy crowd: Thursday's triple bill at the Jambalaya has locals Huckleberry Flint, Mendo's Blushin' Roulettes and Rose's Pawn Shop, a fine bluegrass combo from L.A. (Too bad it's the same night as the Compost Mountain Boys monthly at Humboldt Brews.) Then on Wednesday, June 9, the Humboldt Folklife Society and Arcata Playhouse team-up to bring in the Marc Atkinson Trio, an awesome contemporary gypsy jazz combo from Canada. Like Absynth Q? You'll love this.
Blues fans will be at the Riverwood Friday for a touch of soul from Johnny Rawls.
For a music overdose, head to Benbow this weekend to experience the Mateel's Summer Arts and Music Festival (details in the Calendar). Yogoman Burning Band is one of too many bands playing SAMF, but first they hit Humboldt Brews Friday with SambAmore opening.
Is Ishi Dube Mr. Humboldt Reggae? Friday you'll find him at the Jambalaya singing with Jah Sun and Stevie Culture (aka Jah Culture). Then Saturday at the Red Fox, Ishi Dube's Tuff Riddims Presents: The Women of Reggae and Dancehall with Sistah Beauty, Daneekah and Green B (from S.F.) and Bianca Mankai.
Ruby Hill could qualify as this week's band from Portland -- that's where they play mostly -- although they're actually from across the border in Vancouver, Wash. Their unpretentious bluesy rock has a touch of neo-soul -- listening to vocalist/guitarist Matt Brown makes me think of Curtis from Kulica. A West Coast tour brings them to Six Rivers Friday, followed by a Saturday night show at the Wave.
Last but not least benefits-wise: a Eureka Chamber Music Series benefit concert Sunday afternoon at Calvary Lutheran Church called 88 Keys Plus Friends. ECMS' Pearl Micheli explains, "It's a variety show with community members, people from the church, some members of the Accordionaires, my students -- Christina Cho is playing once again -- she's about to go off to UC Berkeley." The 88 Keys title refers to a piano piece for six hands and another for eight hands (two are Pearl's). "Everybody just plays for fun," she says. "Music is to be enjoyed, and we enjoy doing it."
What could be better?