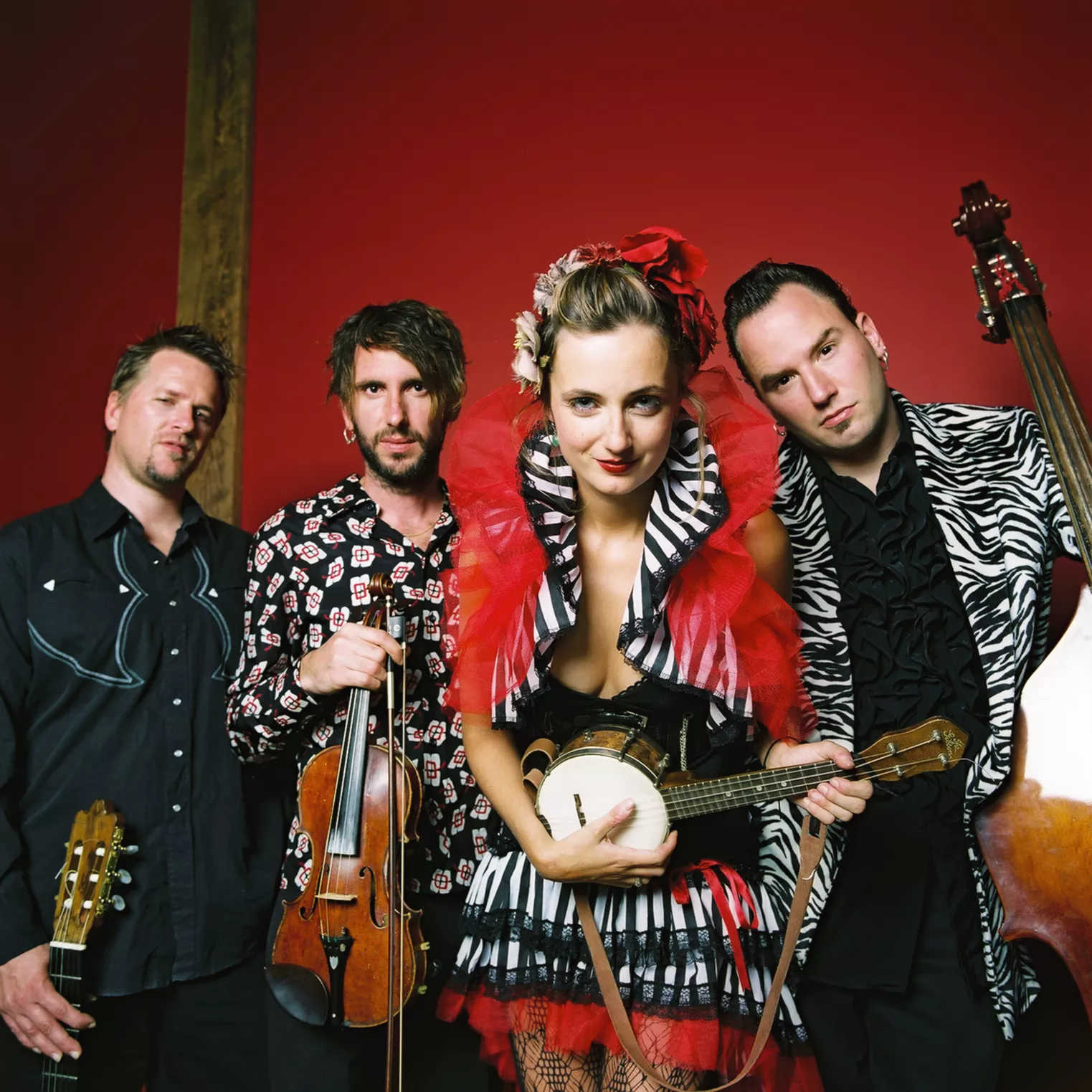 If you've ever experienced the amazing gypsy-ish jazz of Fishtank Ensemble, you know that lead singer/violinist, Ursula Knudson has talent. She has a classically trained voice -- she can sing opera or channel a '30s chanteuse at will. She's also the wife of French-born fiddler/bandleader Fabrice Martinez, and mother of 4-year-old Fishtank fiddler in training, Little Ezra. On top of all that, she plays a killer musical saw. (She took second at the 2004 International Saw Festival).
"I think I was a born performer; I really found an outlet for that with this group" she said, calling from the road.
When she met Fabrice a few years back they clicked personally and musically and she became part of his band. "We traveled though the south of Italy; Fabrice had this group and built some mule-drawn wagons. We'd set up in different places. Before that he was in Transylvania [learning from the Roma people] but I wasn't on that trip. Eventually, in 2009, we shipped the wagons over here. They're parked in L.A. We'd like to do a wagon trip here, we tour so much. So that's where grant writing, learning to get funding, comes into play."
Today's Fishtank has Fabrice and Ursula out front, with flamenco-style guitarist Doug Smolens, and Djordje Stijepovic from Serbia on bass. They have the Django Hot Club thing down pat, but also play all sorts of other styles with Ursula singing in Spanish, Japanese and a couple of other languages, as well as in English. (Her version of "Fever" is hot.) All in all she's a talented member of a talented band.
However, when Ursula performed her saw/vocal act on the third season of the TV show America's Got Talent, well, it didn't go well.
"Friends told me to audition for it, that it was a talent show," she recalled. "It's a scam. It's not a talent show; it's a reality show. The real problem is, it's a set-up. The minute I went on, I knew who was going to win, and I was right. They plan who's going to win, then pick certain people to be like, the joke -- the act where the whole audience moans and boos."
In her case, they asked her to sing and play saw at the same time, something she had never done before.
Set up to fail, she was judged by former Bay Watch stud-muffin David Hasselhoff. "He said, 'You're the worst singer I've ever heard in my life.' I knew he was reading from a script."
She's over the momentary embarrassment, now she sees it as a lesson about our culture. "The real problem with it is they're on this mission trying to teach middle America that it's bad to be different, bad to be interested in anything not related to adorable children or pop culture. … There's a whole world outside that. We're not the group that's going to be on some big record label, we're not like Katy Perry or Britney Spears. We make a decent living doing our own thing, with our own voice and we have loyal fans."
If you're one of those fans, you're in luck. Their gas-powered caravan is on its way. The Humboldt Folklife Society and Playhouse Arts present Fishtank Ensemble at 8 p.m. Thursday, Feb. 17, at the Arcata Playhouse, 1251 9th St. Tickets are $15, $13 for HFS members and are available at The Works, Wildwood Music, online at brownpapertickets.com or by calling the Playhouse at 822-1575.