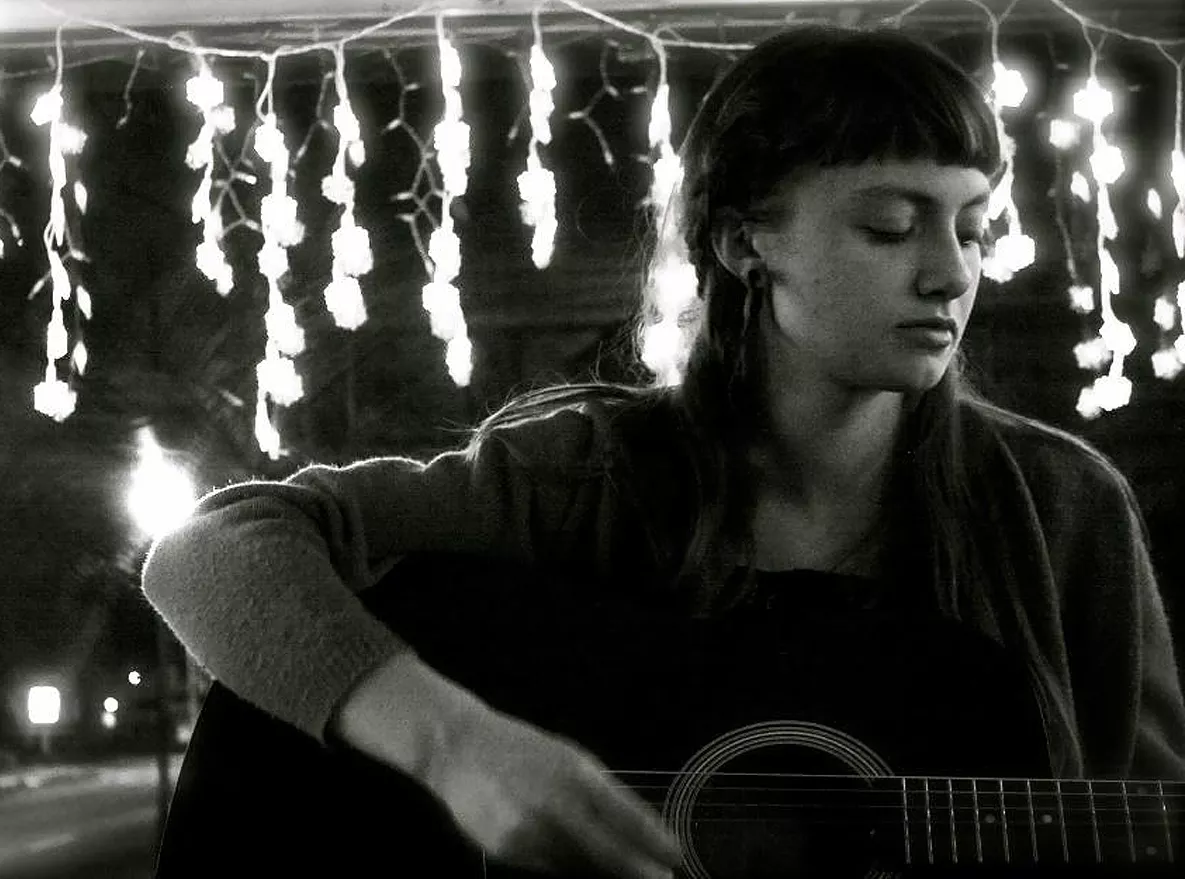 I've never met Caitlin Jemma, never heard her play her music live, but I feel like I know her, like we're somehow connected. Of course this connection is just a digital illusion -- she is a young folksinger living and sharing her music in the cyber landscape. I discovered Caitlin, who lives in Arcata and apparently is going to HSU, through her ReverbNation page. We've since become "friends" on Facebook; I watched and listened to her heartfelt pitch on Kickstarter asking for $1,000 to finish up an album she was working on. "Some of the songs on the album are about being homesick, others are about being lovesick; some are about traveling and nature, others are about dreams, gardens, cowgirls, berries and romance," she wrote. "All document my journey into womanhood and as a new musician ready to share my art with you and the rest of the world."
By the time I saw her vid, she'd already raised the money she needed and a little more. At this point you can buy her record Home Means The Hills via Bandcamp, yet another digital platform -- "name your price," or you can just listen to it, which is what I'm doing right now.
Her songs are good; she has a way with words, telling tales of magical forests and the like. Her voice is clear as a mountain stream with a bit of backwoods twang hinting at roots in the Appalachians, but as she explains, she actually "grew up in the tiny historic mining town of Virginia City, Nevada." She draws inspiration from "old country songs," something you hear in the sweet harmonies that recur on her record. She strums a guitar on some songs, a mandolin on others; I particularly like the banjo tunes. She was looking to borrow one for her album release party Tuesday at Robert Goodman Wines, "just in case Joe Whiskey-Whiskers Deschaine makes a request." Blue Oaks, Lyndsey Battle and Chris Parreira are among those who will join her that night.
Caitlin is not part of the lineup for the big Humboldt Folklife All Day Free Festival Saturday at Dell'Arte, but a bunch of her friends are, including Battle, who plays at 2 p.m., and Parreira, who is in The Trouble, the band closing the show. I imagine I might meet even meet her there; pretty much every folky in NoHum will be there. There are dozens of acts and workshops, too many to mention them all. Some I'm looking forward to: The Dead Strings, who were busking at last year's fest (11 a.m.), Mo and Morgan, a folky match made in heaven (12:30 p.m.), guitar picker extraordinaire Todd Krider (1:15 p.m.), all on the street stage. On the Rooney Amphitheater stage: Swami Love Child, which is a variation on The Bayou Swamis with a horn section replacing fiddler/accordionist Randle Lundgren, who is out with a broken arm (1 p.m.); the gospel of Mo' Betta, with Swami Jeff Landen on guitar and soulful vocals by James Harris, Jeff Thomas and Andy Hannon plus bassist Gary Davidson and Tim Gray on drums (2 p.m.); Colin Vance and Cory Goldman's old time tunes (3 p.m.); Baykeepers' swingin' house band Kenny Ray and the Mighty Rovers (4 p.m.); the sweet Mendo import The Blushin' Roulettes (5 p.m.); the Gram Parsons-esque Bakersfield country of Cadillac Ranch (6 p.m.) and of course the above-mentioned closer, The Trouble, who have new songs every time I hear them. In the middle of all that (at 3 p.m.), I'll head upstairs for another über-cool Beatles sing-a-long led by Joel Sonenshein. Big fun in Blue Lake!
You'll find Caitlin's friend Joe Deschaine from Ba-Dum-Chh Comedy Troupe at the Jambalaya Friday night, serving as emcee for The Second Annual Mask-R-Aid, a costume party put on by Don Husman II of In Human Creation. The parade of performers includes Madame Delicious, ZZ LaRouge, Hoop Dreamer and Lex (think burlesque), The Janky Mallets drummers, rock by Petromart and dubstep EDM by Cyber Shaman. Proceeds benefit Odds & Ends, a local creative reuse art project soon to become Scrap Humboldt. Costume contest right before midnight.
Friday at Humboldt Brews catch Fox Street All Stars, a bluesy jamband from Colorado whose singer, Jonathan "Skippy" Huvard, sounds like he's spent some time smoking cigarettes and drinking whiskey back in the hills.
Saturday, HumBrews has a twang-jamband fan's dream double-bill with The David Nelson Band and the semi-related Moonalice. The two bands are on their way to Junction City where they are part of Sunday's Trinity Tribal Stomp lineup along with Latin rockers LoCura, folksinger Diane Patterson and a few others. Saturday's Stomp includes Humboldt's own Absynth Quintet (who are playing tons of festivals this summer), The Victor Wooten Band, Poor Man's Whiskey, Peter Rowan's Big Twang Theory, the loveable Shook Twins and Clan Dyken.
The Stomp is also the start of Clan Dyken's Emerald Triangle Bike Music Tour, with the eco-groovy rockers cycling more than 300 miles in two weeks on the way to The Gaia Festival, stopping along the way to play on the Arcata Plaza and at the Blue Lake Music Festival in Perigot Park on July 28. BTW, you are invited to join them: "We'll be riding with bike music pioneers The Ginger Ninjas and bringing the music all along the way. Let's just say this is guaranteed to be a blast. Riders of all ability and skill are welcome -- you can do this!"
Ryan Bisio, born and raised in Arcata, is now a singer/songwriter living in Copenhagen, Denmark. He's back in town briefly for a Thursday show at the Jambalaya, a CD release party for a new collection of pop/folk tunes he calls Harbor Longing. Indie-folk road warriors Gwyneth and Monko open.
Coming to the Shanty Saturday night: The Intelligence, a cool lo-fi combo from L.A. that includes Lars Finberg from Thee Oh Sees, touring behind a new album, Everybody's Got it Easy But Me. I particularly like the song "Reading And Writing About Partying." (I guess I can relate.) Shanty bartender Jon Fisher tells me The Intel has a strong local following and that they're playing with Technicolor Hearts from Austin, "an art project for lovers, a discourse between friends, an interactive expression of memories, feelings, sadness, happiness and a celebration of life," according to the band's Facebook page. Jon also notes, "Radios in Caves is the local opener -- Eureka punk/psych or whatever -- I'm in that band so I can't really say anything about it without sounding like a self-promoting creep." Let's just say it's a classic Shanty-style band -- and that's a good thing.
Do tattoos and vinyl go together? They do on Saturday (4-8 p.m.) when Old Growth Tattoo in Eureka offers ink specials while Subatomic Hi-fi DJs Gabe Pressure and Billy Goat spin hip hop, punk, reggae and soul rebel music (just in case you want to tat it up before you go to the Shanty).
Tuesday at the Riverwood, catch Igor and The Red Elvises, a band from SoCal led by Russian émigré Igor Yuzov mixing surf music, rockabilly and reggae with trad Russian sounds. Sounds weird but kinda cool.
In the mood for something even further out? An incredibly eclectic collection of alt. this and that bands take turns on the stage in the back of the Works on Wednesday, July 25: There's "femme schizo synth" by Blood Gnome, organic post-EDM by Medicine Baul, crustiness by Wretched Animals and the new "Arcata muscle beach party," Shores Galore. This "apocalyptic clash of musical genres" comes with a couple of warnings from Blood Gnome, including that it's "probably" the band's last show before a temporary hiatus, so, "Get it while you can." Gnome Natalie Arroyo also notes, "This is an all-ages show, but you should know that every single one of our songs is about sex." Um, isn't everything?