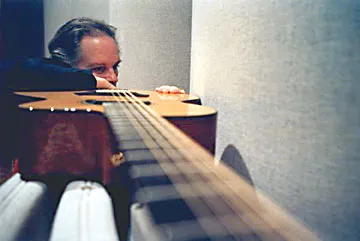 Leo Kotke. Submitted photo.
When you hear Leo Kottke play guitar, you know the instrument is something like his soul mate — playing guitar is what he's meant to do. As he explained in a recent interview on Minnesota Public Radio, he did not find the guitar initially. When he was a boy, he'd actually taken up trombone and was dedicated to that. Then when he was around 11 he fell seriously ill, to the point where he was bedridden and had to remain flat on his back. He couldn't play trombone. His mother bought him a toy guitar so he'd have something to do. As he noted in the liner notes for his breakthrough album, 6- and 12-String Guitar, it had a cowboy stenciled on the front.
He figures that guitar saved his life, that it gave him something to live for. "I knew what I'd be doing for the rest of my life — not for a living — that didn't concern me," he said. "I knew this is what I'm doing. It's what happens when we find the instrument we're supposed to play. I'm pretty sure we're all tuned for a particular instrument."
When he hit his stride on guitar at the end of the '60s, the music he was playing had little to do with cowboys. Although there were what you might call folk elements in his style, he also drew on jazz, blues, classical and on something else, something hypnotic. The 1969 album 6- and 12-String Guitarwas recorded for John Fahey's very independent label, Takoma. On it Kottke utilized open tunings and a polyphonic fingerpicking method to create music along the lines of what Fahey had been doing, a style that came to be known as American Primitive guitar.
For Kottke, crafting a tune is a matter of finding something in a note pattern and giving in to it. "It'll catch you if you're there for it," he told the Minnesota interviewer. "Then it's got you and you follow it. You just keep playing and wait for something else to happen. You wait until it tells you it's done with you... There's a famous line, something some jazz musicians said, after a show someone approached him and said, 'I'd give me life if I could play like that.' And he said, 'I did.' I think that's probably true. This thing comes along, and you're delighted to have it, when the stream starts, it doesn't let go until it's done."
Kottke is about to begin crisscrossing the U.S., seeing where the music stream takes him. His tour starts here in Arcata, where he plays his guitars at the Van Duzer, Friday, April 4.
A couple of years ago Humboldt was introduced to the up-and-coming young, bluesy songwriter Jackie Greene at that year's Redwood Coast Jazz Festival. Jackie has been pretty busy since, playing all sorts of much bigger festivals (Bonnaroo, for example), opening for all sorts of big name artists (B.B. King, Taj Mahal, etc.) and, last summer, becoming one of the "friends" in Phil and Friends, the post-Dead project of G.D. bassist Phil Lesh. Tuesday, April 8, Jackie returns to the Eureka Theater (he played there for the Jazz Fest) for an all-ages show with a band that includes John Molo, Larry Campbell and Steve Molitz. As an added bonus, former Mother Hips frontman Tim Bluhm opens with some of his literate songs. Ready to stay up late on a Tuesday? The show's producers, Passion Presents, invite you to an after-party at the Red Fox with Joanne Rand, who I'm sure will be up past her bedtime.
It's a pretty good weekend for reggae. Friday at the Mateel it's an evening of "indigenous reggae" featuring Katchafire, a Maori reggae band from New Zealand on its first American tour, plus Tchiya Amet and the Lighthouse Band from Mendocino, whose lead singer has First Nations roots, specifically Cherokee Moor and Blackfoot.
Sunday, April 6, at the Arcata Community Center, it's an all day affair called the Irie Aloha Jam with "The Messenger" Luciano (this time with JahMessenjah Band) and Mikey General, plus Humble Soul (from Hawaii, thus the aloha), Stevie Culture and Jah Sun.
The Mateel keeps jumping with another Seattle Comedy Night on Saturday, this time featuring Harold Gomez, Colin Dillon and, from Cali, psychedelic cowboy comicJesse X.
Tuesday at the Mateel, it's hard-edged hip hop with The Fire And Ice Tour featuring Tech N9ne and Paul Wall, plus Ill Bill, the Mendo Green Team, A.F.F.I.L.I.A.T.E.S. and Paper Boyz. (Expect tighter security than usual following the youthful stupidity at the end of Friday's E-40 show.)
The local jam/funk crowd is tight, always sharing bills and sitting in on each other's gigs. Thursday, April 3, they're hellatite, as in the Hellatite Allstars, a congregation gathering at Humboldt Brews with players from The Nucleus, Moo-Got-2 and Bump Foundation. A funky time is guaranteed.
Then on Friday at Humboldt Brews jam/funk meets spoken word with Al Howard & the K23 Orchestra, a funky improv band from San Diego with a hip hop vibe provided by poet Al Howard.
The David Bowers Colony rolls into town from Bend this weekend, presumably traveling in a van David calls Frida. They'll lay down what they call "sinuous agrarian grooves" on Friday at Mosgo's and on Saturday at Six Rivers. Agrarian grooves? That's folky Americana with hippie overtones and Burning Man/Black Rock playa connections.
They're calling Saturday at the Jambalaya a "Solo Performer Extravaganza." Among the solo artists, Marc Jeffares, a songwriter from Knoxville, Tenn., with a new CD. Then there's Bud Y Ryan, Ian Shaul, stand-up comedy by Jessicurl and a couple of 'Neckers, Brendan Otto, aka WANG! and Clay Smith (who put the show together). Rubberneckers fans, mark April 19 on your calendar: Burton will be back in town and the band is together again playing a gig at the Jam with Dynamite Sweater.
Looking for blues and soul? Head for the Riverwood Saturday to see Curtis Salgado and his band, down from Oregon.
Also on Saturday, a benefit for The Plague at the Alibi. No, not the disease — The Plague is a hard rock zine produced by Daniel Lewis, who writes the "Rock and a Hard Place" column for the Arcata Eye. Local heavies Nipplepotamus and Side Iron rock for the cause.
Saturday is also Arts Alive! night, which means music all over Eureka, with too many acts to mention here (see "Music and More"). Post-artwalk you have another special DJ night at the Pearl, this time with POM from the Rootabreaka Crew out of Los Angeles, plus Zanapod and DJ Danny (fresh from an eight-city tour of the Northwest).
The a cappella quintet Sweet Honey in the Rock returns to the Van Duzer Sunday, April 6, sharing sweet gospel-tinged harmonies. I believe this is the group's first Humboldt show since founder Bernice Johnson Reagon retired in 2004. Louise Robinson and Carol Lynn Maillard remain from the original line-up. Did I say quintet? The ensemble considers itself a sextet, since they always have a sign-language interpreter (currently Shirley Childress Saxton) and they see her as part of the group.
The Redwood Jazz Alliance is at it again. Monday, April 7, they present the Miguel Zenón Quartetin concert at HSU's Kate Buchanan Room. You might remember the Puerto Rico-born, Berklee-trained alto sax player from his visit to Arcata a few years ago as part of the SF Jazz Collective, a supergroup assembled by Joshua Redman with Bobby Hutcherson, Nicholas Payton and Zenónamong the players. His own band plays modern jazz with a Latin or Puertorriqueño twist. The quartet is international with Venezuelan pianist Luis Perdomo, Austrian bassist Hans Glawischnig and Puerto Rican drummer Henry Cole. As usual with RJA shows, there's also an associated free public workshop: Zenón*will be at*Fulkerson Hall Tuesday morning at 10 a.m.
Also on Monday, a return visit by the California Guitar Trio with Belgian guitarist Bert Lams, Japanese guitarist Hideyo Moriya and Paul Richards from Salt Lake City playing everything from Beethoven and Bach to Beach Boys tunes. Catch them at the Arcata Playhouse, where a local outfit, Champagne Palace, opens the show.
Meanwhile over in Eureka, it's "Monday Night Rocks" the beginning of a series of shows at Auntie Mo's. First up: thirtythreeandathird and The Fire Demons. Note: These shows start at 10 p.m., a bit earlier than those at the Alibi and music is supposed to end by midnight.
Add Clint Black to the list of country superstars coming to Humboldt this summer. Clint will be at the Arkley Center July 23. Fair warning, the venue is not that big; tickets will be gone in a heartbeat. Expect tickets for the Aug. 31, Willie Nelson show to go on sale mid-April. Again, get 'em while you can.