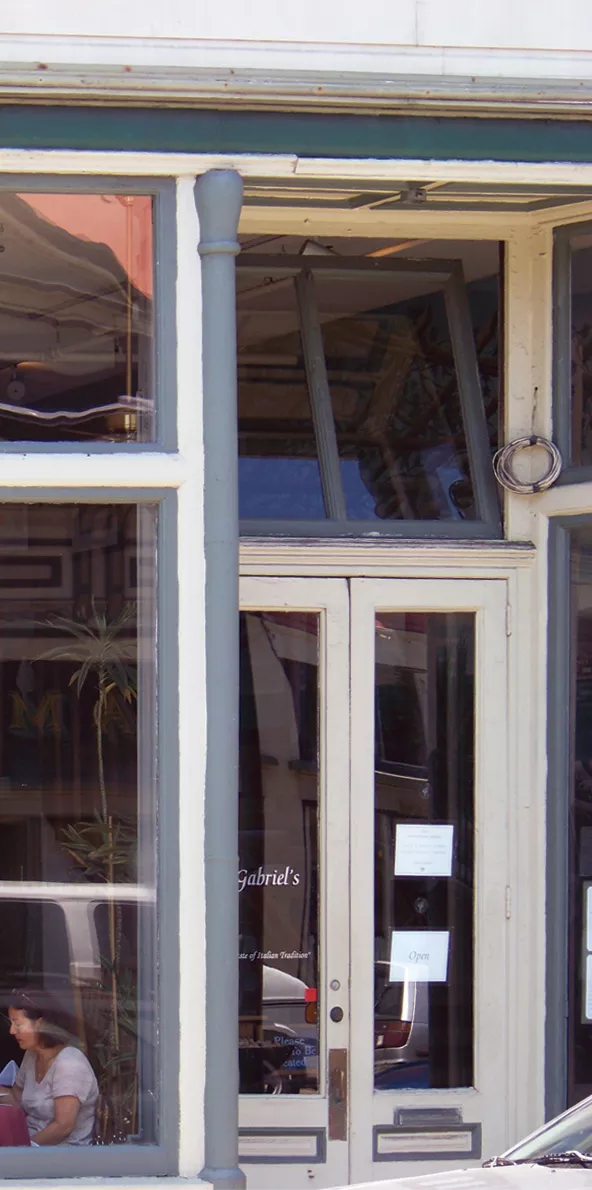 photo by Heidi Walters
Gabriel's is known more for its fine regional Italian offerings and wine selection than customer-waiter scraps.
The weekly luncheon meeting of the Eureka contingent of Business Network International was winding down in the spartan, low-ceilinged upstairs floor of Gabriel's Restaurant in Old Town. A couple of the 20-odd members in attendance had grown fidgety. One, according to member Jeanne O'Neale -- the only person we've found so far to talk on the record -- had been waiting too long to have his coffee refilled. And O'Neale was displeased with her Caesars salad -- the first one she'd ordered, she said, had Parmesan on top when she'd specifically requested none; its replacement had seemed fine until she encountered a mouthful of Parmesan beneath the top layer of lettuce. She'd never had this trouble before, she added, and she'd ordered the same salad here, sans Parmesan, for several weeks in a row.
O'Neale, who owns a non-medical home-care agency called Visiting Angels, said she tried to catch the waiter's eye, but he only returned when it was time to bring their check. A discussion ensued -- which turned into a brawl between the waiter and BNI member Jerry Cardoza, O'Neale said. Now Cardoza, who broke his ankle in the incident, has gotten a court judgment for $2.5 million in damages from Gabriel's, its owners and its employees.
Really? Over a salad?
"I informed [the waiter] the salad was wrong," said O'Neale in a phone conversation last week, recalling the events from Dec. 15, 2009. "And he informed me I was going to have to pay anyway. Then Jerry said he wasn't treating me very well. And the guy says, 'Well, who's going to stop me?' Jerry said, 'I will.' And then the waiter dove over the corner of the table, onto Jerry -- and all over the stupid salad -- knocking Jerry and the chair to the ground."
Well, that's part of the story. But it was Cardoza that Deputy District Attorney Jeremiah Ross had considered charging with disturbing the peace, an infraction; District Attorney Paul Gallegos advised against it because Cardoza had been injured. "I felt he had already suffered a greater consequence than the criminal justice system would impose," Gallegos said by email this week. Some of the Gabriel's defendants allege in court documents that Cardoza was drunk or on drugs. And that $2.5 million judgment? It was awarded because, in the first suit filed by Cardoza against Gabriel's in 2010, the restaurant folks apparently refused to partake in the fun, according to court records. They were dismissive when summoned, court records showed. So a default judgment was signed by a judge on Sept. 24, 2010, ordering Cardoza to recover from the Gabriel's defendants $2,540,274.78 plus 10 percent interest per year. That was $2 million for general damages, $539,750.18 for special damages and $524.60 for cost of suit.
Cardoza's first lawsuit was filed May 25, 2010, against Adriel Tanski, named as one of the owners of Gabriel's, and Mishael Tanski, the waiter who allegedly brawled with Cardoza. He filed a second lawsuit on May 16 of this year, against Likhi Tanski, Cheryl Tanski, Anthony William Tanski, Ariel Tanski, Gabriel's and 10 yet unnamed owners and employees. Both suits allege negligence and premises liability. In the second complaint, Cardoza demands a jury trial; a case management conference has been set for Sept. 21.
This May, Cardoza filed an abstract of judgment, establishing his intent to pursue enforcement of that $2.5 million judgment. Available court records do not indicate whether the defendants have responded.
Neither Cardoza nor the Tanskis nor their lawyers would talk about the incident to the Journal. Cardoza's lawyer, Brian Malloy with Brandi Law Firm in San Francisco, did not respond to several phone calls and an email. The Tanskis' lawyer, Shelley C. Addison with Dun & Martinek in Eureka, responded by email: "Both Gabriel's and I thank you for your interest in their restaurant, but they have chosen not to speak about the lawsuit at this time."
Reached by phone last Friday at his job at AAA, Cardoza said, "I don't want you calling my home and I don't want you calling my work. It's none of you guys' business."
Likhi Tanksi, also reached by phone last Friday, at Gabriel's, said: "Thank you, but I guess I don't want to talk about it now. ... I appreciate that you're trying to be fair. I know you're just doing your job."
The Journal was unable to view the case file on the first lawsuit because it was on a judge's desk. The second complaint is scant on details of what happened that day at Gabriel's. It says simply that Mishael Tanski "started an altercation" with Cardoza, struck him and "caused him to fall to the ground." It faults the restaurant's owners with negligently hiring and supervising employees and managing the property in an unsafe manner. It says, further, that as a result of the incident, Cardoza sustained "serious and permanent injuries to his body and mind," incurred medical bills and was "deprived of his earnings and earning capacity and the ability to engage in his usual and customary activities." It said the deprivation would continue in the future.
In his responses to court-mandated requests for information, Cardoza details his injuries: right ankle fracture-dislocation, right ankle pain and stiffness, pain and suffering and emotional distress from the injuries. He notes medical costs, including a trip to the emergency room, X-rays, surgery and physical therapy, totaling $36,545.62 to date. Cardoza further notes the loss of a pair of Levi 501s that had to be cut off at the hospital ($40), and a gold ring he wore on his right hand that "was snapped in half during the incident;" he didn't list its value. Finally, he says he lost $4,521.84 in earnings in the six weeks he was out of work from his job as owner/salesman of Sports For Less and as a salesman for Cactus Bingo.
In the Tanski defendants' responses to court-mandated requests for information, when asked if they or any other person had "any physical, emotional, or mental disability or condition that may have contributed to the occurrence of the incident," their responses were uniform. Each answered, "Yes. Jerry Cardoza. Impairment due to drugs and/or alcohol."
The Tanski documents also say that a report was made of the incident to the Eureka Police Department.
Last Thursday, when the Journal phoned the EPD, records manager Erin McBride said she wasn't sure if the police report for that incident was open to the public. She said she had put a call in to the city attorney to ask him if it was. McBride had not heard back from the city attorney by the time the Journal went to press.
O'Neale, over whose salad the whole dismal affair purportedly started, said she wasn't aware of Cardoza's lawsuits.
"I definitely believe that Jerry deserves something," she said. "You can't go around diving on people, especially on men in their 50s."
Another witness, who asked not to be identified and claimed friendship with the plaintiff and the defendants, observed that the whole affair was "just really weird. There was something in the air that day."