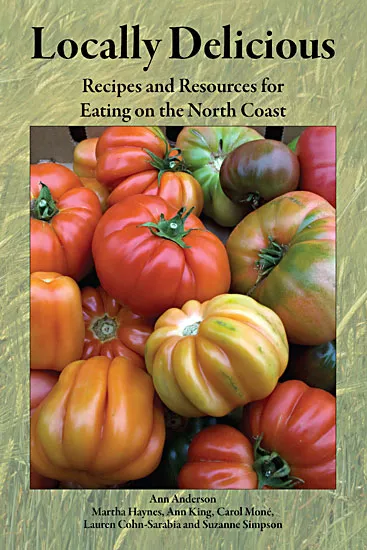 Eating is our most fundamental link to the natural world, and by looking to local sources we become attuned to the abundance and the limits of the soil under our feet and the climate we dwell in. - Eddie Tanner (quoted in Locally Delicious)
I grew up in a city in Italy, living in an apartment with no garden. However, thanks to frequent visits to relatives and family friends in my parents' villages, I had enough connections to the countryside that it was clear to me how different foods arrived on my plate. One thing that I remember is that many foods were associated with the name of their producer. We didn't have simply peaches, but Ilario's peaches; not any eggs for me, but Ottavio's eggs; and Angela's milk for my breakfast. A visit to one of the farms in our network of providers was always an adventure, mostly spent picking and tasting samples of whatever was in season. Another thing that was very clear to me from a young age was that certain foods were available only during a specific time of the year.
Eating local foods requires an awareness of what our environment can and does produce. The new book Locally Delicious: Recipes and Resources for Eating on the North Coast is an invitation to get to know the foods produced locally and the food producers around us. One term that is used to refer to our environment from the perspective of food production is foodshed, the local bioregion that "has the necessary active or potential food resources to sustain its population."
Locally Delicious is the result of the collaborative effort of an editorial team of six: Ann Anderson, Martha Haynes, Ann King, Carol Moné, Lauren Cohn-Sarabia and Suzanne Simpson. They worked together to bring to light a handy 320-page volume with color photographs that, in the authors' own words, is "More than a cookbook: A recipe for change through the re-localization of our food system, one tomato at a time."
The seeds of the book were sown at the 250-Mile Potluck, an event that took place the first time in 2006, then again in 2007, at the Bayside Grange. Participants were invited to share a dish made using ingredients produced somewhere within 250 miles (ocean included). The initial idea to produce a cookbook that would include recipes collected from the participants expanded beyond the cookbook nucleus to provide on the one hand a socio-economic and historical perspective to the idea of eating locally, and on the other hand some pointers that would help people obtain local foods.
The first three chapters of Locally Delicious address different aspects of the topic of eating locally. When we focus on food production and consumption at the local level, we look again at the community, in which the food producers have a place, together with the consumers. As in my childhood experience, they know each other and relate at various levels. As a result, food items have a name and a face associated with them, and the food chain includes links made of personal interactions. The impact of economic constraints on our choice of what foods we purchase is recognized and addressed in Chapter 3. A historical perspective of food production in our region is offered in Chapter 4, which marks the end of the first section of the book.
The second part of Locally Delicious presents over 200 recipes contributed by the authors and other members of the community, including food producers and restaurateurs. The recipes span the range from appetizers to desserts, and focus on using local ingredients. While looking at the recipes, just to give a few examples, I became acquainted with bay nuts, a type of nut unfamiliar to me, and with Colache (Aztec Stir-Fry), a dish I did not know. And I learned that local rabbit is available, a kind of meat I ate regularly when I was growing up and never had after moving to the U.S. A chapter is devoted to so-called basics, and includes, among others, a recipe for making butter at home, something I experienced (and enjoyed) relatively recently. Besides butter, as an added bonus, from the process you get true buttermilk, a great ingredient in a variety of dishes. The second part of the book is wrapped up by a section on food storage, containing not only recipes, but also an introduction to food preservation and suggestions on how to put the bounty of summer and fall onto the winter table.
As mentioned previously, the book ends with a set of appendices that detail resources to be tapped to obtain local foods, from farmers' markets to individual producers, from retailers of local foods to restaurant featuring local foods, and more. I chose the word "obtain" rather than purchase, because the book also covers topics like foraging, fishing, hunting and do-your-own growing.
I subscribe to the idea of starting your own little garden and have done so by planting a number of culinary herbs, a good introductory project for this black thumb. I enjoy using my own fresh herbs in the kitchen, and the success achieved has worked as an encouragement to expand my horizons - to leaf lettuce and kale. The latter is available in several different varieties, is grown easily in our area and is available year round, as you can see on the seasonal chart for vegetables in the Locally Delicious appendix. Kale is used in seven recipes presented in the book: for example, with leeks it goes into a flan, by itself it functions as the crust for a creative quiche, and toasted kale makes a "light and crispy" appetizer (with an interesting flavor, I will add, based on personal experience).
As Dr. Corey Lee Lewis says in Locally Delicious, "While it is common wisdom to recognize that 'You are what you eat,' we are also beginning to realize that 'You are where you eat.'"* *
I eat kale and that says something about me. But there is more: I eat kale grown here.
You'll find the authors of Locally Delicious at the upcoming book signing events:
Friday, Dec. 4, 7 p.m. at Northtown Books, 957 H St. Arcata.Saturday, Dec. 5, 3-5 p.m., Humboldt Artisans 29th Annual Craft & Music Festival, Redwood Acres Fairgrounds 3750 Harris St. Eureka (at the CAFF booth along with the CAFF Farm to Table Calendar)Saturday, Dec. 5, 6-9 p.m. at Eureka Books, 426 Second St. Eureka (during Arts Alive!) Wednesday, Dec. 9, 4-7 p.m. at Arcata Co-op, 811 I St., Arcata Friday, Dec. 11, 6-9 p.m. at Garden Gate, 905 H St., Arcata (during Arts! Arcata)Wednesday, Dec. 16, 4-7 p.m. at Eureka Co-op, 25 4th St., Eureka
Locally Delicious is published by the North Coast Co-operative. Profits from the book go to future projects to further the cause of local food.