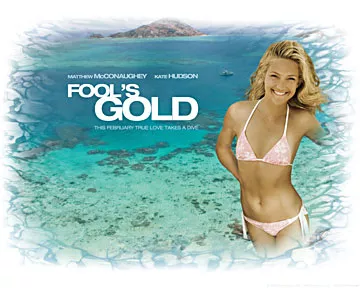 Fool's Gold: "The ads say, 'The action comedy is back.' But even by the absurdly low standards of that genre, this one sets new lows."
Previews
If it's Valentine's Day, it must be time for...new film openings. Four films open locally on Feb. 14, including the family-friendly The Spiderwick Chronicles from director Mark Waters (Freaky Friday; Mean Girls), an adventure story wherein Freddie Highmore plays twins Jared and Simon Grace, who find themselves transported to an alternate universe. As a bonus, at least for me, the wonderful Mary-Louise Parker plays the twins' mother. Rated PG for scary creature action and violence, peril and some thematic elements. 107 m. At the Broadway, Fortuna and Mill Creek.
Based on the novel by Steven Gould, Jumper is a sci-fi film about individuals who can teleport themselves anywhere they wish. Unfortunately, another group of people are trying to wipe out these people. I'm not sure what this has to do with Valentine's except some people would probably like to teleport away from this whole "holiday." Directed by Doug Liman (The Bourne Identity), the film stars Hayden Christensen, Rachel Bilsen, Diane Lane and Samuel L. Jackson. Rated PG-13 for sequences of intense action violence, some language and brief sexuality. 98 m. At the Broadway, Fortuna and Mill Creek.
A sequel to 2006's Step Up, Step Up 2 the Streets covers the same territory with different characters and actors. This time, the rebellious street dancer is Andie (Briana Evigan), who enrolls in the same Maryland School of the Arts as in the original film and forms a team to compete against her old street mates and probably finds romance too. Rated PG-13 for language, some suggestive material and brief violence. 107 m. At The Movies and Mill Creek.
In an actual fit for Valentine's, Definitely, Maybe is a romantic comedy/drama about an advertising executive (Ryan Reynolds, Smokin' Aces) on the verge of divorce who picks up his daughter (Abigail Breslin) at school only to be questioned by her about sex and his relationship with her mother. He responds with a tale where the names are changed, so the viewer has to guess which character is the mother. Most of the film is a flashback that constitutes the answer to the daughter's curiosity. Maya's mother is played by Elizabeth Banks (Spider-Man 3). Rated PG-13 for sexual content, including some frank dialog, language and smoking. 121 m. At the Broadway, Fortuna and Mill Creek.
Opening Friday, Feb. 15, is the French animated comedy/drama Persepolis. Based on the graphic memoir by Marianne Satrapi, this is a coming-of-age story of the young Iranian Mariane, whose family suffers under the Shah's regime and whose life is affected when the Islamic revolution brings regime change to her country. Mariane's mother is voiced by Catherine Deneuve. Nominated for an Oscar as Best Animated Film, Persepolis looks promising. In French, English, German and Persian with English subtitles. Rated PG-13 for mature thematic material including violent images, sexual references, language and brief drug content. 105 m. At the Minor.
Reviews
FOOL'S GOLD: Wow, what a stinker. I'm almost at a loss about how to begin to review this completely worthless excuse for a film. The ads say, "The action comedy is back." But even by the absurdly low standards of that genre, this one sets new lows.
The film begins with background "historical" titles that attempt, much like similar films from the '40s and '50s, to set the stage for the treasure search that constitutes the putative plot for this exercise that forgot to add the comedy and that makes the action elements both tedious and ludicrous. Now I'm sorry for all the nasty things I said about the most recent National Treasure; it's a masterpiece in comparison with Fool's Gold.
The plot? It seems that a Spanish galleon containing priceless treasure went down in 1715 off the coast of Florida and, unaccountably, it hasn't been discovered in previous action comedies. Treasure hunter Benjamin Finnegan (a continuously shirtless Matthew McConaughey, playing to his only apparent strength) thinks he knows how to find it but he's in hock to the bad guys who also want the treasure. And his wife, Tess (Kate Hudson, who leads with her abs), is divorcing him — great sex, but he won't move to Chicago with her so she can have an academic career. Meanwhile, Tess has a job as a steward aboard the obscenely large yacht owned by the obscenely rich Nigel Honeycutt (Donald Sutherland, who spends a lot of time looking embarrassed).
Then there's Nigel's daughter Gemma (the ab rival for Hudson, Alexis Dziena, Lolita in Broken Flowers) who is written and played as a total bimbo. I have to think the character of Gemma was added to help make Hudson look better, but it's overkill since Dziena's performance would even make Jessica Alba look good.
So, if you can answer these questions, you could skip the film although you'd have to imagine the bikinis and bare chest. Will the shirtless Benjamin (so I'm envious) get to the treasure before the bad guys? Will Benjamin and Tess have hot sex and reunite? Will bimbo Gemma actually contribute an idea before the end of the film? Does the "brief nudity" involve Dziena (a trick question)? Will Donald Sutherland ever watch this film?
There is one standout aspect for which I'd like to credit Fool's Gold: It has possibly the most awkwardly staged scene I've ever seen in any film. About one-third of the way into the story, Benjamin and Tess explain in tedious detail to Nigel and Gemma the same thing the opening titles did more succinctly. As the scene goes on, director Andy Tennant (who messed up the screwball comedy genre in Sweet Home Alabama) must have realized how boringly stupid the scene was, so he throws in extraneous contributions by Sutherland and Dziena in a mistaken attempt to enliven the scene. He should have stuck to the bikinis, the abs and the bare chest — who wants ideas in an action comedy anyway?
Those who go to this film deserve everything they get, just like me. Rated PG-13 for action violence, some sexual material, brief nudity and language. 123 m. At the Broadway, Mill Creek and Fortuna.
THE DIVING BELL AND THE BUTTERFLY: Thanks to this film, my movie-going weekend was not a total loss. Because of the popularity of the book and the film's academy award nominations, many people are aware that The Diving Bell and the Butterfly is based on the book written by Jean-Dominique Bauby (Jean-Do to his friends) following a debilitating stroke he suffered in his early 40s that left him with a rare condition called "locked-in syndrome." The editor of the fashion magazine Elle, Bauby (played in the film by Mathieu Amalric) suffered the stroke while giving his son a ride in his new car, and it left him able to hear, see and retain his memories but little else, as his body was otherwise paralyzed and he was unable to respond verbally to what he could hear. Shortly into his hospitalization, one of his eyes had to be sewn shut because the muscles did not work and there was a danger of infection setting in.
Thanks initially to the persistent help of speech therapist Henriette (in a wonderful portrayal by Marie-Josée Croze), Bauby learns to communicate by blinking his remaining eye when she speaks the letter he needs. Later, a transcriber named Claude (Anne Consigny) is hired and using the system begun by Henriette, Bauby is able to write his book with her assistance. He is also supported by his former partner and mother of his children, Céline (a very good Emmanuelle Seigner), a woman Bauby had ditched in favor of a young woman before his stroke (the new woman never comes to visit).
The film successfully depicts Bauby's trapped state visually; much of the film is from his post-stroke point of view, his condition simulated by having the camera go to black when he blinks and by using out-of-focus shots when his eye has trouble focusing. Voice-over is used to communicate his actual thoughts.
This is to some degree a biographical film, but more essentially it is a film about the human spirit and the triumph of imagination over extreme physical limitations. We also see what Bauby was like before the stroke in a series of flashbacks.
Happily this is a French film, not a Hollywood one, so there is no sentimentality in the telling of the story. Director Julian Schnabel (Basquiat; Before Night Falls), along with screenwriter Ronald Harwood (The Pianist), focuses as much on the constraints Bauby faces as on the triumphs, and he doesn't shy away from Bauby's human weaknesses before his stroke. But the end result is that the film's dominant mode is joy rather than pathos.
As it happens, local friends have a son who has the same condition as Bauby, although happily he is doing much better in his recovery. Now, thanks to this effective film, it is not as much a mystery to me anymore. In French with English subtitles. Rated PG-13 for nudity, sexual content and some language. 122 m. At the Broadway.
Continuing
27 DRESSES.Jane, an idealistic, romantic and selfless woman, re-examines her life when her little sister usurps her love interest. Rated PG-13. 111 m. At the Broadway.
ALVIN AND THE CHIPMUNKS.Based on the 1950s cartoon series about chipmunks Alvin, Simon and Theodore, who sing in three-part harmony. Rated PG. 91 m. At The Movies.
ATONEMENT.Dramatic British tale, set in 1935, of deceit and love, of wealth and privilege, based on novel by Ian McEwan. Rated R. 123 m. At the Broadway.
BUCKET LIST.A corporate billionaire and a working class mechanic, who have developed a strong bond while sharing a hospital room, embark on the road trip of a lifetime. Rated PG-13. 97 m. At the Broadway, Mill Creek and Fortuna.
CLOVERFIELD.Five young New Yorkers document their attempt to survive a huge monster attacking the city. Rated PG-13. At The Movies.
EYE.A concert violinist, blind since childhood, undergoes surgery to restore her sight, and then starts to become haunted by disturbing images. Rated PG-13. 97 m. At the Broadway.
HANNAH MONTANA AND MILEY CYRUS: BEST OF BOTH WORLDS CONCERT TOUR.Miley Cyrus, the teen singing sensation, performs as a solo artist and as her TV character, Hannah Montana. Rated G. 100 m. At Fortuna.
JUNO.An intelligent teen, Juno, deals with the consequences of an unplanned pregnancy by seeking out the perfect set of parents to adopt her unborn child. Rated PG-13. 96 m. At the Broadway, The Minor and Mill Creek.
MEET THE SPARTANS.Spoof movie features the heroic Leonidas, armed with nothing but leather underwear and a cape, commanding a Spartan force. Rated PG-13. 84 m. At the Broadway.
NATIONAL TREASURE: BOOK OF SECRETS.A man follows an international chain of clues to prove his great-grandfather's innocence when a page from the diary of John Wilkes Booth surfaces implicating his ancestor in Abraham Lincoln's death. Rated PG. 124 m. At The Movies.
NO COUNTRY FOR OLD MEN.Coen Brothers' adaptation of Pulitzer Prize-winning novel by Cormac McCarthy touches on themes as varied as the Bible and this morning's headlines. Rated R. 123 m. At The Movies.
PIRATES WHO DON'T DO ANYTHING.Three moping misfits turn heroes in the battle to rescue a royal family from a tyrant and themselves from living the life of common couch potatoes. Rated G. 91 m. At Fortuna.
RAMBO.Rambo returns to the big screen in grisly, violent tale written, directed by and starring Sylvester Stallone. Rated R. 93 m. At the Broadway.
SWEENEY TODD.Sweeney Todd, a man unjustly sent to prison, becomes the Demon Barber of Fleet Street when he seeks revenge on those who wronged him via his barbershop. Rated R. 117 m. At The Movies.
THERE WILL BE BLOOD.Epic set in Cali's turn of the century oil boom chronicles a down-and-out silver miner's rise into a self-made oil tycoon. Rated R. 158 m. At the Broadway, Mill Creek and the Minor.
WELCOME HOME ROSCOE JENKINS.RJ Stevens, a Hollywood success story, gets called on his big city attitude when he takes a trip back home to Georgia. Rated PG-13. 114 m. At The Movies.