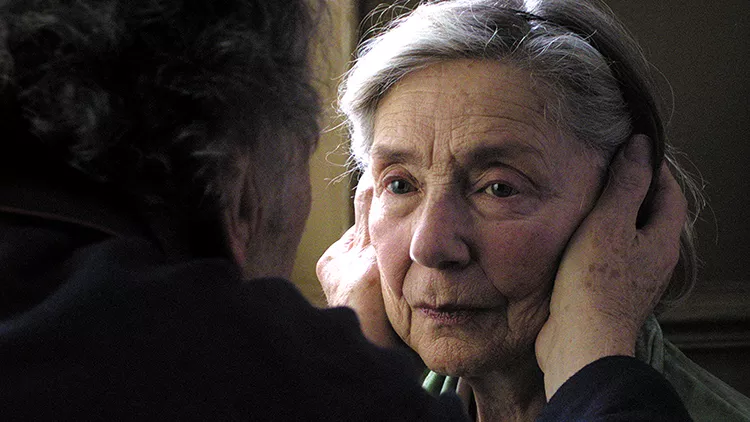 Jean-Louis Trintignant and Emmanuelle Riva in Amour.
Reviews
AMOUR. An open letter to the loud-voiced guy (and his giggling companions) who attended Sunday's matinee at the Minor and responded as such: "Three hours for no resolution?! Yeah, French films RULE!" (I've added caps and italics to indicate sarcastic emphasis, possibly also eye-rolling.)
First off, writer-director Michael Haneke is actually Austrian. Pointing this out is, on my part, nerdy and myopic. I acknowledge this. But there is some validity in it as I think *Amour* approaches the subject of love (and aging and death) in a distinctly un-French way, cinematically; more on this in a minute.
Perhaps more to the point, the movie opens after one of the two main characters has already died. That is, we first see her as a corpse. The narrative then jumps back many weeks to detail her gradually declining health. By my loose, shifting standards, death is one of the few concrete resolutions we can look forward to in life, much less in the movies. So there's that.
What internal void or excess compels certain people to pop-off with ill-timed remarks in the least appropriate circumstances? Everyone is entitled to their opinion, but a theater, especially in the silence following a movie as thought-provoking and emotionally resonant as Amour, is for me a sacred space. When we're in there, we should be granted the rare opportunity to quietly consider the effects art can have on us. Should be; seldom are.
My experience with the loud guy notwithstanding, Haneke's latest is a challenging, delicate thing. Jean-Louis Trintignant and Emanuelle Riva play Georges and Anne, retired music teachers living the quiet life of an elderly Parisian married couple. But when Anne has a stroke, and surgical treatment is unsuccessful, she returns home, insisting that Georges promise never to take her back to the hospital. Their elegantly threadbare apartment thus becomes the setting for an unflinching but never undignified examination of love at the end of life.
Haneke eschews lyricism or visual poetry, instead filming his subjects with strikingly Teutonic precision. His camera avoids invasion and ugliness but unflinchingly shows us the stuff of day-to-day life in this scenario, with often troubling completeness. There's no score or background music. The camera rarely moves, almost becoming a piece of furniture, in front of which the characters can live out the dramas of their life un-self-consciously.
This stylistic approach makes for tough going at more than a few points. For the most part (and also thanks to uncannily honest performances), it gives Amour the feel of a meticulously composed documentary. Haneke takes the time to tell the half of love stories we never see in movies -- wherein a lifelong love affair boils down to the existential commitment at its center, where one of the lovers is forced by circumstance to watch the beloved become unrecognizable.
Tough stuff, and Haneke won't let us look away. But his respect for his characters and their bond never wavers. So they retain their dignity, even in the most undignified of moments. For this attribute, for its simple visual beauty, for its truly unique narrative voice, Amour is a remarkable, challenging, unusual movie and an important work of art. PG13. 127m.
JACK THE GIANT SLAYER doesn't depress me with any of its own faults, per se. The CGI is clunky, the story drags and the leads underwhelm, but all in all it's no worse than the average early-in-the-year Hollywood release -- except that it reportedly cost about $200 million to make.
What depresses me is how this and other recent fairytale retreads highlight the tremendous disconnect between creative people and the people with money. Now more than ever, original content abounds. It's become cool to write and tell stories, and thanks to the internet everybody who does so can almost instantly exhibit it for an audience and almost as quickly get a reaction. Between YouTube, DIY indie films and television, it seems like we're in the early stages of a low-rent Renaissance.
But for whatever reason, Hollywood seems to think there aren't any new stories to tell. So we get lame, colorless retellings of centuries-old folktales that are too familiar to have any sort of resonance. And to that group, Jack the Giant Slayer is the latest, unfortunate addition.
Long-suffering orphan Jack (Nicholas Hoult), tasked with selling his uncle's horse and cart, instead ends up with a bag full of beans. Enter a princess (Eleanor Tomlinson) on the run from an arranged marriage. Before they can even develop a relationship, the beans have sprouted, and everybody has to deal with the prospect of an invasion by giants. I'd take the Disney version (1947) over this one every time. PG13. 114m.
-- John J. Bennett
Previews
OZ THE GREAT AND POWERFUL. In this big-budget, 3D Disney prequel, director Sam Raimi (The Evil Dead, Spider-Man) follows a cut-rate circus magician (James Franco) who gets whisked away to a far-off land with witches, munchkins and flying monkeys. Place could use a wizard! PG. 127m.
DEAD MAN DOWN. Colin Farrell and Terrence Howard star in this action-thriller from the guy who directed the original (Swedish) The Girl With the Dragon Tattoo. The preview promises brooding slo-mo and stylized violence galore. R. 110m.
SEARCHING FOR SUGAR MAN. Academy Award winner for best documentary, this film explores the mysterious career of musician Rodriguez, who recorded an album in the '70s that flopped in the U.S. but found an audience in apartheid South Africa. But whither the man? PG13. 86m.
Continuing
21 AND OVER. The dudes who wrote The Hangover recycle the premise (drunken morons breaking stuff) with characters who are barely legal. R. 93m.
ARGO. Ben Affleck helms a thrilling and surprisingly funny account of the 1979-'80 Iran hostage crisis -- winner of Best Pic Oscar. R. 120m.
DARK SKIES. The suburban Barrett family witnesses a series of disturbing events because -- wouldn't you know it? -- they're being targeted by an unimaginably terrifying force. PG13. 95m.
ESCAPE FROM PLANET EARTH. A nerdy, risk-averse alien must save his heroic astronaut brother in this poorly reviewed CGI cartoon comedy. PG. 89m.
A GOOD DAY TO DIE HARD. Bruce Willis is back for the fifth time as wisecracking supercop John McClane, this time going to Russia to rescue his son. R. 98m.
IDENTITY THIEF. A long-suffering everyman (Jason Bateman) hunts down the crazed throat-puncher who stole his identity (Melissa McCarthy) in this "comedy." R. 111m.
THE LAST EXORCISM PART 2. So, wait. Are you telling me that the first Last Exorcism was really the second-to-last exorcism? That rascally devil! PG13. 98m.
PHANTOM. Ed Harris, David Duchovny and William Fitchner star in this Cold War-era submarine suspense thriller. R. 97m.
SAFE HAVEN. Another sappy adaptation of a Nicholas Sparks romance novel (see A Walk to Remember, The Lucky One -- or don't). Staring Julianne Hough and Josh Duhamel. PG13. 113m.
SILVER LININGS PLAYBOOK. Bradley Cooper and Jennifer Lawrence deliver Oscar-nominated performances (Jen won!), with a twist of mental instability, in this bipolar dramedy. R. 122m.
SNITCH. Dwayne Johnson stars in this action-thriller as a man who goes undercover with the DEA in order to save his son. PG13. 112m.
WARM BODIES. Teen rom-com based on the Bard's Romeo and Juliet -- with zombies. Nicholas Hoult and Teresa Palmer are R and Julie, the star-crossed lovers. PG13. 97m.
-- Ryan Burns