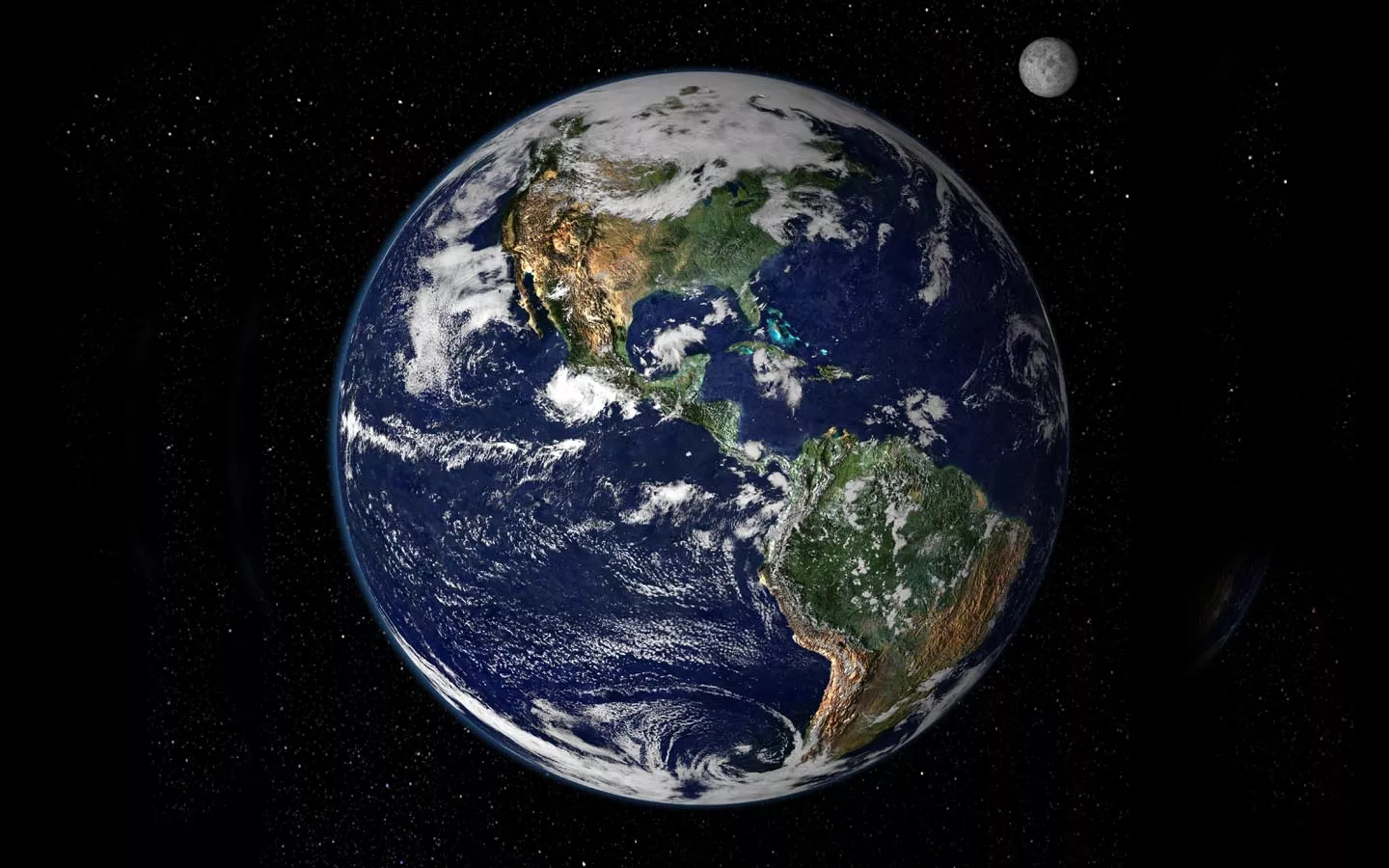 courtesy of NASA and Wikipedia
Earth
This weekend marks the first ever Gaia Festival at Black Oak Ranch, a music and sustainable-living fair drawing performers and attendees from all over the world. The Hog Farm commune organizers describe it numerically: "five stages, four directions, three days, too much fun, one love."
The Hog Farmers trace the history back to "24 years ago when Wavy Gravy asked Jerry Garcia if he would do a concert to raise funds to help with the mortgage payments at Black Oak Ranch." That resulted in the first Electric on the Eel at French's Camp, original home of Reggae on the River. But you can also follow the roots deeper, to 1969 and the "three days of peace and music" at Woodstock, where Hog Farm commune members provided food and security, and Gravy famously announced, "Good morning. What we have in mind is breakfast in bed for 400,000..."
Suffice to say the folks at Black Oak Ranch have a long history with music festivals. When Electric on the Eel had run its course, in 1992 they moved the party to the Ranch, first calling it Electric Off The Eel, then the Hog Farm's Rock 'N' Roll Pignic. That was another fest that eventually ran its course. In 2001, the Ranch became home for the Kate Wolf Memorial Music Festival.
The next year Earthdance took root on the site. It flourished and grew until, as Hog Farm resident Suzie Barsotti explained in a conversation last summer, in recent years the "global festival for peace" outgrew the venue, overwhelming the town of Laytonville.
The Black Oak folks decided to downsize and produce a festival of their own, not a difficult thing given their past experience and the fact that Suzie's husband Bob Barsotti worked for Bill Graham Productions for 30 years. Back Roads Productions was formed with Barsotti, Cloud Moss of Cumulus Presents (producer for the Kate Wolf fest) and another BGP vet, Danny Scher -- and a new festival was born.
They see the gathering as "more than a music festival," as "a celebration of our interconnection to each other and to Mother Earth," with workshops and discussions of communal living, green living, human rights, healing arts, indigenous cultures, shamanism and spirituality.
Of course for most, music is the main draw. Organizers have come up with an amazingly broad spectrum of high quality acts for the first time out. The soulful India.Arie and Idan Raichel serve as headliners closing the show on the main stage Sunday night. The notion of "four directions" is taken seriously with artists bringing sounds from around the world including reggae by The Wailers, Sister Carol and The Mighty Diamonds, African variations by Albino, Toubab Krewe, Zili Misik and Afromassive, Cuban music by Bobi Cespedes, the Indian/Celtic/dub/electro mashup of Delhi 2 Dublin, indigenous rock by John Trudell and Bad Dog, and a heavy New Orleans contingent including Aaron Neville, The Funky Meters and Galactic. And that's just a taste of the three dozen acts spread throughout this new take on three days of peace, love and music.
The Gaia Festival runs from Friday, Aug. 5, through Sunday, Aug. 7, at the Black Oak Ranch, just north of Laytonville on Hwy. 101. Weekend tickets are available for $180 (includes camping) or single day (Friday $60, Saturday or Sunday $70, one night camping $10) with deals for teens 13-16 ($50 for three days), and kids 12 and under free with adults. For a full music and workshop schedule and much more information, go to thegaiafestival.com.