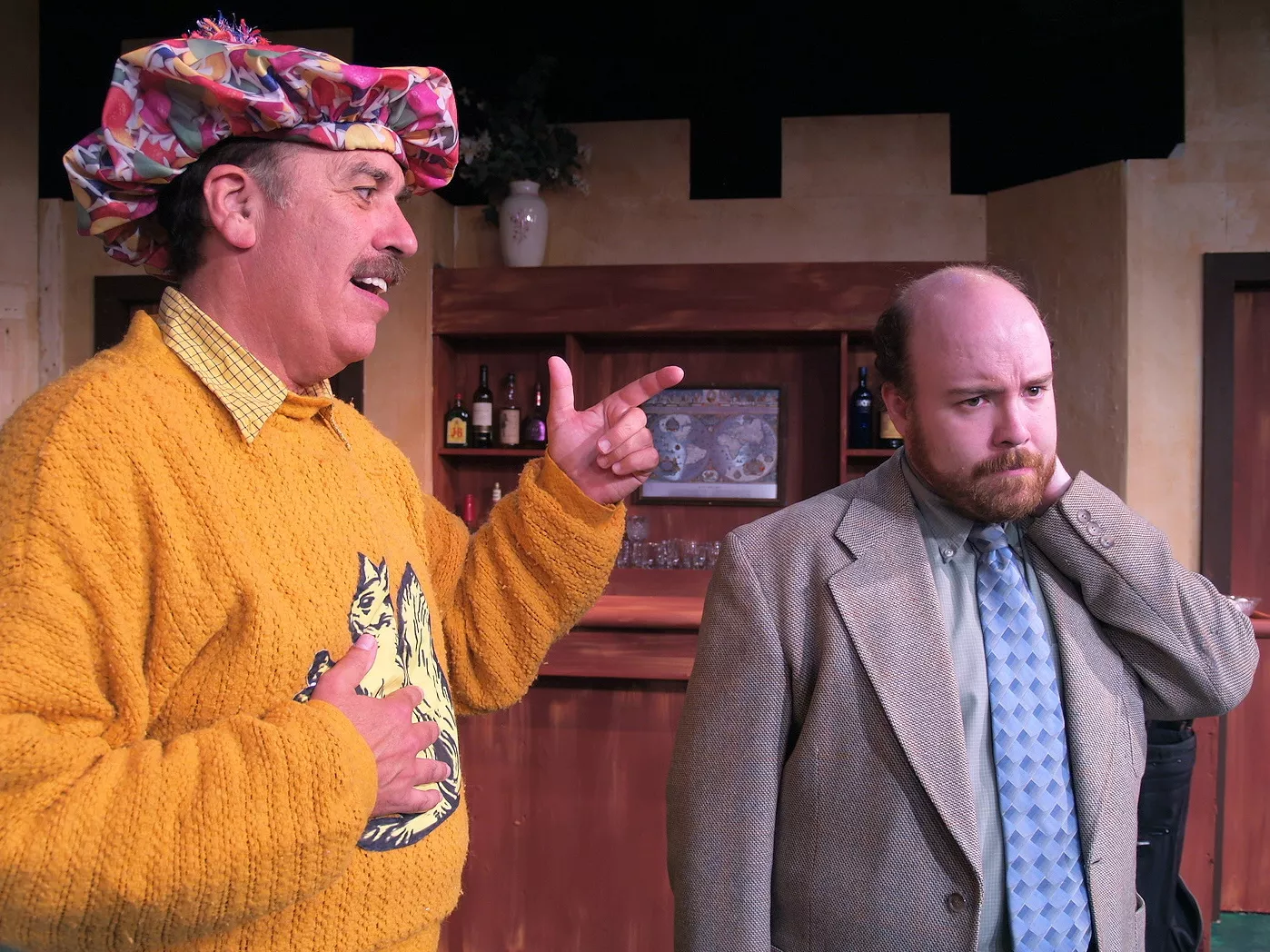 courtesy of NCRT
Phil Zastrow as Dickie, Anders Carlson as Bingham in NCRT's The Fox on the Fairway
It was a chilly summer here on the North Coast but the early autumn is warm and sunny, so maybe it's appropriate that the North Coast Repertory Theatre in Eureka has begun its 29th season with a summer stock comedy about golf, The Fox on the Fairway.
This 2010 play by Ken Ludwig is given the full farce treatment by director David Moore, especially with lots of doors entering onto scenic designer Calder Johnson's set. (Though the game is golf, the action is inside.) People running in and out of doors, chasing and avoiding each other, entering unexpectedly and leaving inconveniently -- it's the signature of stage farce. It's also basically the same setup as in NCRT's 2009 production of Ludwig's more famous Lend Me a Tenor.
In this story, Bingham (played by Anders Carlson) runs a country club that holds an annual golf tournament with a rival club run by "Dickie" (Phil Zastrow.) The two make a huge bet on the outcome. But the player Bingham was counting on has changed sides, and all seems lost until Justin (Michael Pietrelli), the callow young man Bingham has just hired as his assistant, turns out to be a golf prodigy.
But of course complications ensue, involving Bingham's business manager, Pamela (Jennifer Trustem), his wife, Muriel (Gloria Montgomery) and a club waitress and Justin's fiancé, Louise (Kyra Gardner.) These descriptions soon turn out to only scratch the surface of their tangled relationships. Their pasts are prologue to the quickly unfolding events.
Director Moore keeps it all moving fast whenever possible. The dialogue scenes depend on the comedic characterizations of the actors. Jennifer Trustem's Pamela is straight out of a 1940s movie, the sweetly hard-drinking and wittily sensual woman with an innuendo for every occasion. Michael Pietrelli is the energetic movie juvenile and Kyra Gardner the winsome ingénue: Mickey Rooney and Judy Garland, but with modern neuroses.
At the center of the action and the story is Anders Carlson. He had a key role in Lend Me a Tenor but this production completely revolves around his performance. He plays Bingham with a controlled, rolling frenzy, as a man of constant outrage reminiscent of "the boss" character in TV sitcoms from the '50s onward. It's a physical and vocal tour de force, and the wonder isn't just that he pulls it off, but that he does it without becoming insufferable.
This seems to be accomplished partly by his genuine interactions with the other actors. Together they manage to make something human out of a cascade of contrivances. That includes the contributions of the always believable Gloria Montgomery in her few scenes, and Phil Zastrow, who seems to play Dickie as an affected pretend Englishman breezily unaware of his malapropisms or terrible taste in sweaters.
The pleasures of the production and the wit of the script (with contrivances from Oscar Wilde as well as I Love Lucy) must race past basic credibility problems, like everything hinging on a bet for very high stakes witnessed by nobody. (And who exactly is the fox of the title?) Some of the revelations are at least foreshadowed (pretty obviously), but some developments seem like a child's improbable improvisations while inventing a story with dolls or action figures (possibly waving golf clubs). The appeal of Pietrelli and Gardner as the young lovers, and the older four as the love springs eternal ones, mostly overcome the clichés.
As a farce, this play adds nothing new except perhaps greater latitude in naughty talk. For farce that actually expands the form, something from early Tom Stoppard or Joe Orton's What the Butler Saw more nearly fit the bill. But there are enough laughs here, plus charm and skill in this production, to extend a summery mood.
Jenneveve Hood designed the strange and striking costumes. Michael Thomas designed the inventive sound, which is crucial to the story. The Fox on the Fairway continues at North Coast Rep Fridays and Saturdays through Oct. 13 at 8 p.m., with a Thursday evening performance on Oct. 11 and Sunday matinees at 2 p.m. on Sept. 30 and Oct. 7.
Coming Up:
The San Francisco troupe called the Pi Clowns returns to the Arcata Playhouse with a new show, The Good the Bad and the Stupid, a Wild West romp with acrobatics, high speed horse races, dramatic duels, juggling, eccentric dance and live music. Members of the Pi Clowns include Bruce Glaseroff from Arcata and Tyler Parks from Fortuna.
Performances of this all-ages show are at 8 p.m. on Friday and Saturday, Sept. 28 and 29, and 2 p.m. on Sunday, Sept. 30. Arcata Playhouse impresario David Ferney cautions that last year's shows sold out, so better advance tickets than sorry, at Wildwood Music, Wildberries, or 822-1575.
The Laramie Project is onstage in the Eureka High Auditorium starting on Thursday, Oct. 4, and running weekends until Oct. 20, with shows at 7:30 p.m. (except Oct. 13, which is a matinee due to homecoming). The play by Moises Kaufman and members of the Tectonic Theater Project is about reaction to the 1998 murder of University of Wyoming student Matthew Shepard, who was beaten and left to die for being gay. This production by Eureka High School's EHS Players honors his memory, and the efforts towards hate crime legislation.