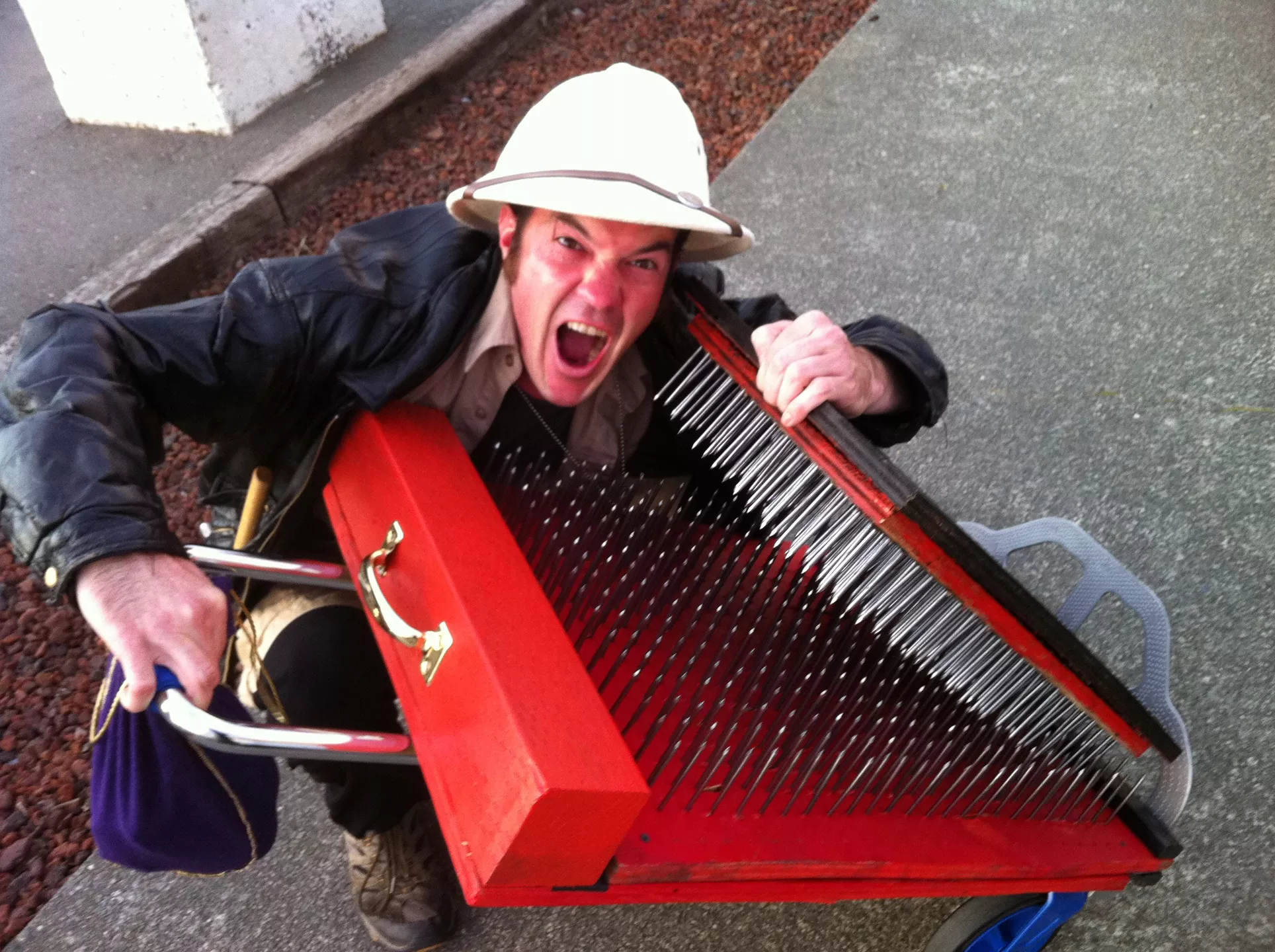 photo by Bob Doran
Shea FreeLove with his bed of nails
If you've ever hung out at the Arcata Farmers' Market after the band is done playing, you've probably seen Shea FreeLove, the Human Marvel. He typically sets up on the lawn with his act du jour, perhaps escaping from a straight jacket, walking barefoot on broken glass, or, an old favorite, having someone pound a nail up his nose with a hammer. He recently added a portable bed of nails to his repertoire, the sort of thing you'd see in an old-fashioned carnival sideshow.
This weekend FreeLove is teaming up with his friend Cat Sweet, The Painproof Girl, for something they call Freak'O'Rama. "Cat was raised by wolves after being abandoned by her Amish parents," according to Shea. "She does things like stapling herself, walking on glass and The Human Blockhead," which he explains is the proper sideshow name for the pounding a nail up your nose trick.
The plan for the weekend starts with a joint project with tattoo artist Damien DeNolf of Ancient Arts on K Street in Arcata. Damien and Shea both inherited some art pieces from the late Arcata artist Brian Sproul, the man behind The Horrible Spiders Gallery, a freaky space filled with dark sculptures made from doll parts and the like. Friday and Saturday a makeshift troupe will drift between Damien's tattoo shop and Shea's nearby Circus Emporium. "And Brian's art will lead the way," said Shea. "I'll be doing tours of the Emporium and Brian will be doing $20 piercings."
He explains that the Emporium is a collection of themed rooms in his house. "One room has taxidermy and displays of things like a jackalope. Have I told you about my polar piranha? I dug it up from an underground ice flow when the Klamath Dam broke. It has fur. It won't hurt you since it's safely encased in lacquer. There's the 'What is it?' booth, where we have 'The Strange Thing,' something I'm curating for my friend from Coney Island Side Show School. I went there in December."
What do they teach in side show school? Well, all sort of tricks, says Shea. "I actually learned most of what I know at the San Francisco Circus Center a few years ago, but I relearned a few things. Now I can eat fire better, and do the nail in the nose better. And I learned the 'Electric Chair Trick' and how to build a bed of nails."
Yes, he'll have the bed in action over the weekend (it has wheels so it's portable). "And we'll have a whole crew, so there will be jugglers and clowns, dancers and musicians."
Sunday he has another show planned, this one at Old Growth Tattoo in Eureka involving Enigma from the infamous Jim Rose Circus Sideshow, who has something like horns and has had his body tattooed head to foot with puzzle pieces. "He was in town in May for an under-publicized appearance; I arranged for him to return, so we'll do a show at 10 p.m. Sunday, July 3. We'll do a classic 10-in-1 show with 10 different dangerous stupid tricks, all in one sitting."
Last, the tireless performer and his troupe have a gig for Fourth of July. They were hired by the Arcata Chamber of Commerce to set up a relatively family-friendly circus-style show near the Plaza using some portable bleachers Shea owns. He won't be in that show; he'll be handling the side show in a nearby 10x10 tent with a barker outside, a "singalo" as it's known in the trade. For just a dollar you can go inside and see "The Strange Thing," whatever it might be.
Freak'O'Rama offers "the strange, the odd, the macabre and the bizarre" from noon-8 p.m. July 1 and 2 in Arcata on stages at Ancient Arts (1965 K St.) and Shea's Circus Emporium (1047 6th St.). For more information or to hire the freaky troupe call (707) 845-5842 or email freelovecircus@yahoo.com.