It was a Thursday afternoon in Courtroom Four of the Humboldt County Superior Courthouse and Deputy District Attorney Andrew Isaac was frustrated.
Isaac told Judge Timothy Cissna that a month earlier he had begun the process of trying to designate Drew Stonebarger, a 26-year-old Humboldt County man, as a sexually violent predator — a designation that could lead to a lifelong commitment to a state hospital. Stonebarger had just completed a six-year state prison sentence for the very sexual offense that could qualify him for the determination.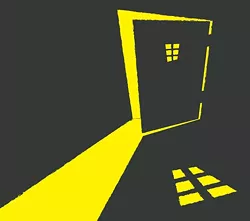 Artwork by Christian Pennington
The prosecutor needed three things: an order to transport Stonebarger to the Humboldt County jail, an order to commit him there, and a petition to begin the civil trial that would determine if Stonebarger would be committed indefinitely to a state hospital.
Two of those were signed by another Humboldt County judge. Stonebarger sat in the courtroom that day in May having been housed in the jail since his release from a state prison in the Central Valley on April 5. But the court had no record of a petition to begin the civil process to commit Stonebarger, despite Isaac's repeated declarations that he had submitted that paperwork as well.
"There has clearly been a deviance from the normal order of things and how the paperwork was processed," Isaac said. "But I know what I handed to the judge, and it's what I hand the judge every time. ... So the petition was filed. Apparently I can't prove that."
But the judge in question — Dale Reinholtsen — told Cissna he'd never seen the petition, much less signed it.
David Lee, Stonebarger's public defender, was also frustrated. State code governing the sexually violent predator (SVP) designation process says that it must begin while the prisoner is serving his or her sentence, Lee said. But the DA's office had petitioned for an extension, which allowed it to hold Stonebarger for 45 additional days while the proceedings were sorted out. Now, more than 45 days later, there still was no evidence the district attorney's office had filed the proper paperwork.
"They've got their 45-day grace period they asked for," Lee told the court. "They've got him in custody. They do not prosecute the case. They just don't do anything on the case. They don't even file the petition."
Isaac, the prosecutor, responded, "Is the paperwork in the condition it should be? No, it's not. ... There is a potential loophole here because, let's say, I got sloppy with my job. ... But this is serious business, and we should proceed on that basis, as opposed to saying, essentially, 'You forgot to dot an "i" here.'"
Judge Cissna, overseeing the proceedings, agreed it was important — psychologists had determined that Stonebarger posed a threat to the community, that he exhibited the signs of pedophilic disorder. "This is a really troubling case," Cissna said. "On the one hand, Mr. Stonebarger may get out of custody immediately. On the other hand, he may never get out of custody for the rest of his life. And that's a very important situation."
But the bottom line, Cissna said, was that no petition had been filed, despite Isaac's insistence. "I am aware of the seriousness of this matter and the seriousness of this ruling," he said. "But I have to follow the law, as I expect everyone else to."
Stonebarger had been sentenced to state prison in 2010 on one count of committing a lewd act upon a child. In a February interview with a psychologist, he said he feared release, afraid that he might again endanger children. Two psychologists determined him likely to re-offend but, on May 29, he walked out of the Humboldt County jail a free man.
Stonebarger's case highlights a number of issues with the state's sexually violent predator laws, as well as the way they're handled in rural communities like Humboldt County. For 20 years, California has been evaluating people convicted of certain sex crimes, assessing their risk of re-offending. If two psychologists agree that someone exhibits qualifying mental disorders — typically paraphilia or "deviant sexual urges" — the Department of State Hospitals can recommend the person be tried as a sexually violent predator.
It doesn't apply to all sexual offenses — the "vast majority" of sexual offenders are not considered SVPs, according to the Los Angeles District Attorney's Office. To be considered sexually violent, the underlying crime must be assaultive, involving "force, violence, duress, menace or threats of immediate bodily injury or threats of future retaliation against a person," or must be perpetrated against a child. Anyone who commits a sexual assault can be evaluated as an SVP — though in order for an evaluation to occur, he or she must be serving time in prison.
While relatively uncommon locally, the state seems overburdened with the process of evaluating, housing and treating people deemed SVPs. The civil process for SVPs is taxing for small communities. And public defenders say the system is problematic: Often, people who have completed a sentence for their crimes find themselves committed to a state hospital, likely for the rest of their lives.
California's sexually violent predator law took effect in 1995, and has been amended several times since then, including by ballot initiative with the so-called "Jessica's Law" in 2006, which broadened the scope of crimes that would qualify someone for the SVP designation.
The law outlines a civil process to commit offenders determined to be sexually violent predators to a state hospital. Toward the end of a prisoner's sentence for a crime, he or she (there is only one female SVP in the entire state system) is evaluated by two state-contracted psychologists. If they agree that the person is at risk to reoffend — if he or she exhibits signs of mental illness associated with sex crimes — that recommendation is sent to the district attorney in the county where the person was originally convicted.
Then, at the district attorney's discretion, the county can hold a civil trial to determine if the person should be designated an SVP. If a jury finds that's the case, the defendant is held indefinitely at Coalinga State Hospital, pending completion of a treatment program or a ruling that he or she is no longer a threat to the community.
It's an imperfect process, as illustrated by the Humboldt County DA's office's recent mishap and statewide statistics.
Right around the same time District Attorney Maggie Fleming was notified about Stonebarger's pending release, her office received word that another man convicted of a sex crime in Humboldt County, Delbert Derryberry, was due to be released from prison on a coming Sunday. Fleming's office was notified on a Thursday, effectively giving attorneys one day to compile and have a judge sign off on the necessary paperwork: orders to commit and transport the prisoner, and a petition to begin the SVP trial process.
Derryberry's paperwork was completed, Fleming said, and he awaits civil trial.
It's unclear why Deputy DA Isaac's petition for Drew Stonebarger never made it into the court record. He insisted, according to court transcripts, that he followed the same petition process he has every time. And Fleming, more recently, confirmed that the petition was indeed presented, according to her office's record-keeping system. (How the system could be at odds with the court file and Reinholtsen's recollection is unclear.) In any event, without a file-stamped copy with a judge's signature in court records, and with an overdue release, Stonebarger was freed.
Whatever misfired in the Stonebarger case, Fleming said the bigger problem is that the state hospital's department is often late in notifying district attorneys' offices that an SVP qualifying prisoner is due for parole.
Artwork by Christian Pennington
From now on, Fleming said, her attorneys handling SVPs will go through the court clerk's office to get paperwork OK'd, rather than going to the judge directly (which is how the process is supposed to work to prevent these types of situations). The DA's office will compile a comprehensive list of everyone it has ever sent to prison on an SVP-qualifying offense, so that Fleming can notify the state hospital system well in advance to begin the evaluation process. Those convictions could go back decades, she said, and it will be time-consuming to create the list. "That's the only other process I can think of to make sure that this never happens again," she said.
She said SVP prosecution in her office will now fall to Deputy DAs, Zachary Curtis and Brie Bennett, because Isaac used up his part-time allocation as a retired annuitant attorney for the year.
The state district attorney's association will also take up the issue of late notices with the department of corrections, Fleming said, particularly on behalf of small, rural counties like Humboldt, where it creates a particular burden. "Why we would have two-to-three day's notice is absurd," she said.
The state's SVP framework is complicated and overwhelmed, creating stresses on nearly everyone involved: the departments of corrections and hospitals, psychologists who perform evaluations, public defenders, prosecutors, prisoners awaiting potential commitment and those already incarcerated.
From 2010 to 2014, the state Department of Corrections & Rehabilitation referred more than 25,000 inmates to the departments of Mental Health and State Hospitals. Of those referrals, officials said 6,859 prisoners warranted full evaluations by psychiatrists, resulting in 194 civil commitment trials and 63 individuals committed, according to numbers provided by the Department of State Hospitals.
It's unclear why so few referrals end up in hospitalization, considering how difficult critics say civil SVP commitment trials are to defend. But there are still hundreds of people serving indefinite sentences under the law.
The entire population of SVP detainees in California is 576, nearly every one of them housed at Coalinga State Hospital, a maximum security facility, where they're offered a voluntary treatment program. Five of those detainees were convicted in Humboldt County. Ralph Montaño, a spokesperson for the Department of State Hospitals, said there are two ways that SVP detainees can be released.
One is by judicial review — Coalinga's prisoners are legally entitled to annual reviews, which involve more psychological evaluations. If a judge decides one of them no longer meets the qualifications of a sexually violent predator, he or she is released "practically immediately." That is rare. Sixty-three people have been released unconditionally in the last five years, according to Montaño.
Also rare is release through the voluntary treatment program; just 32 in the 20 years the program's been operating. Nine of them later broke the conditions of their release and were re-committed to the hospital or prison.
The voluntary treatment program consists of a variety of pro-social trainings and exercises. "[Department of State Hospitals] offers a diverse program that includes group therapy and individual therapy as well as physical, social and creative opportunities," Montaño said. The Department of State Hospitals website says the treatment program's practitioners don't seek a "cure", but try to teach patients to manage their risk of re-offending.
Currently, only 15 of the 576 people at Coalinga are enrolled in the treatment program, according to Montaño. The rest languish there, with, if the statistics continue to hold, little hope of ever being released.
The program is not without controversy. In 2008, the Los Angeles Times reported that the state payed $24 million to contract psychiatrists who were churning out SVP evaluations after the passage of Jessica's Law. The state said it would bring in more employees and use fewer contractors.
Just a few months ago — shortly after a psychologist evaluated Drew Stonebarger and recommended him for SVP designation — California's auditor released a report criticizing the Department of State Hospitals, saying its SVP evaluations are inconsistent.
"The audit also found that evaluators lack clinical supervision and training, and that Coalinga has a 'significant backlog' of annual evaluations that violates the rights of patients," a March article in the Times reads.
The state is still having difficulty attracting staff psychologists, according to the audit, and may again turn to contractors, the Times reported. As to the inconsistencies, the audit found that "the protocol does not give guidance on specific risk assessment approaches or list specific risk assessment instruments evaluators may choose to use," leaving much to the interpretation of the individual psychologists, increasing the potential for vast variations in evaluation methods.
That's one of the main concerns of Kevin Robinson, Humboldt County's public defender, who wrote an article in 2008 for the California Public Defender Association's journal saying SVP law was "creating havoc" in the criminal justice system. He said it was destroying the idea of determinate criminal sentences and blurred the distinction between criminal and civil law, eroding civil liberties. He also wrote that it was harming the credibility of forensic psychiatry and creating an "unfunded and unending" pool of inmates who weren't receiving treatment.
The law, Robinson wrote, shows "California is in the process of creating its own class of incarcerated persons without any rights or privileges, similar to the enemy combatants housed at overseas facilities."
Robinson railed against the risk assessment employed by psychologists, saying the risk doesn't need to meet the legal standard of being proven beyond a reasonable doubt, and that general recidivism statistics shouldn't be used to determine the risk an individual poses to reoffend, as the background and mental health of each offender is unique.
David Lee, the county conflict counsel attorney who represented Stonebarger, declined to comment specifically on that case but echoed many of Robinson's concerns. "My personal view is that it is junk science; predictability cannot be quantified sufficiently to make it a humane or just process," Lee wrote in an email.
Robinson's opinion on the subject hasn't changed much since he wrote the 2008 report. Despite the fact that less than 1 percent of CDCR referrals for SVPs typically result in committals, he said it's difficult to defend SVP civil trials.
While in criminal cases prosecutors can be forced to refer to a defendant by his or her name, Robinson said prosecutors in SVP cases can refer to the defendant as a "sexually violent predator" — because of the state evaluation — during much of the proceedings, including jury selection.
That just adds to a jury's fear of releasing a "predator" into the public, which is already difficult to overcome, Robinson said.
"That's always what we fight with," Robinson said. "[The defendant] might have a presumption of innocence, but when you talk to people they say, 'Where there's smoke there's fire.' That whole presumption is very compelling and hard to deal with. Especially with terms like 'sexually violent predator.'"
Lee said he represents SVP defendants once every two or three years, though he used to do it more often, and he agreed that it's difficult.
"Juries necessarily hear terrible things about our clients' past behaviors and then are asked to free them over a state's expert saying they will offend again," he wrote. "More defense victories probably result from procedural oversights or technicalities than on the merits."
Fleming, who took over as DA in January, is a staunch supporter of the state SVP program. "I think the welfare and institutions code that governs the SVP convictions is a very good law," she said, adding that amendments making it more powerful have been positive for public safety.
Fleming said the purpose of the SVP process was to ensure treatment, though there are shortcomings, considering the large population of SVP inmates not participating in programs designed to prevent them from reoffending. "I think, like with any other treatment program, the person has to be willing to participate in order to alter the behavior that makes them a danger to the public. Having done these trials, I can say it's individuals who don't think they have a problem. And that's really at the root of the problem."
"It's important, too," Fleming added, "that while we receive evaluations done by two experts, ultimately it's a jury that determines beyond a reasonable doubt that an individual should be classified as an SVP."
But how does one determine a risk — or the likelihood of something happening in the future — beyond a reasonable doubt?
Drew Stonebarger's SVP evaluation, which consists of risk assessments and two interviews with psychologists, is at turns sympathetic and chilling.
Born in Arcata and raised in Blue Lake, Stonebarger didn't appear to lead a noteworthy childhood. Then he began getting into trouble. He was accused of vandalism and trespassing at age 11 or 12. At 14, he was suspected of sexual misconduct with a 4-year-old girl, an allegation that investigators deemed inconclusive.
At 16, he was arrested and accused of sexually molesting "at least one of his stepsisters and step nieces," according to the evaluation by psychologist Dale Arnold. He was made a ward of the court and underwent a two-year sex offender treatment program for juveniles in Redding, which he successfully completed.
But by then he was adrift. His crime "undoubtedly contributed to his estrangement from his family," according to the report, and he had a string of short-lived attempts at jobs and school, as well as arrests for public intoxication and petty theft. Homeless at 21, he befriended a family who let him stay at their house a couple nights a week. It was there, after a night of drinking, that he was accused of touching the family's sleeping 6-year-old daughter briefly before she woke up and asked him to stop. He stopped and apologized, but her brother reported the incident to their parents, who turned Stonebarger in.
In 2010, he was convicted of one count of committing a lewd act upon a child and sentenced to six years in prison. He would serve about five and a half.
Stonebarger's crime qualified him for a sexually violent predator designation because it was committed against a person under the age of 14, and his evaluator opined that Stonebarger meets the diagnostic criteria for pedophilic and alcohol-use disorders.
In his interview with the psychologist, Stonebarger comes off at times thoughtful and overwhelmed. He told Arnold it was stress that caused him to lose his way with attempts at school and jobs.
He feared leaving prison and the structure it provided, telling Arnold "being dropped on the street would be incredibly stressful" and reiterating "how worried he was about being able to successfully transition into the community," according to the evaluation. "On top of the fact that Mr. Stonebarger's last performance on community supervision was quite poor, he will now have to register [as a sex offender] and will be subject to community notification. Mr. Stonebarger is at a complete loss as to how he will manage these additional stressors that he [did] not have to face in the past."
Stonebarger's case represents the problems that the state's lawmakers, voters and law enforcers have in dealing with the perpetrators of sex crimes. As it stands, there seems to be little middle ground between lifelong incarceration and a largely unstructured release into society.
Stonebarger told Arnold he was "quite content" at Soledad State Prison during the first several years of his sentence, because he could play Dungeons & Dragons with friends in the yard for seven hours a day. Though the Central Valley Correctional Facility is considered a "preferred facility," Stonebarger was apparently less happy after he was transferred there in 2013, because he lost that friendly community.
He told Arnold he wanted help reintroducing to the community outside prison, but feared a lifelong hospital commitment. And, in the report's perhaps most telling moment, Stonebarger expresses a combination of self-awareness and doubt.
Artwork by Christian Pennington
"He said he was confused because he had undergone two years of intensive therapy and that the problem was solved. He said, 'I don't believe I should be around children, I fear for children when I am around them. There are things I do and I can't explain why.' He opined he believes he needs therapy to help with his problems. He stated, 'I need to make myself safe for other people.'"
The Journal was unable to reach Stonebarger. Lee, his appointed attorney in the SVP case, did not have contact information for him, and the state parole office said it does not set up interviews with parolees. It's unclear where he is now. The state's sex offender database lists him as a transient.
Fleming said her office notified the victim's family that Stonebarger was recently released. If he violates parole — a condition of which is to obey all laws — the SVP proceedings can be resumed, even if the violation of parole was non-sexual. That's another provision of the law that bothers Robinson — that once you've committed an SVP-qualifying sexual offense, you're marked for life — and he ends his 2008 report with a suggestion for his fellow public defenders:
"For the criminal defense lawyer defending a person charged with a sexual offense ... [he or she] probably should advise his or her client that he may spend the rest of his life involuntarily confined if convicted and at some later time sent to prison, no matter [whether] the prison commitment is determined appropriate for the underlying offense."
Any sort of perceived latitude for sex offenders — particularly those deemed pedophiles or predators — is political poison in California. Perhaps that's why lawmakers acted quietly when they recently softened restrictions in Jessica's Law that prohibited sex offenders from living near community fixtures, making it difficult for them to live in many cities.
Lee said sex offender laws that give an "aura of fairness" are unassailable.
"These kind of offenders are widely despised and are thus subjected to emotionally charged overreaching and piling on by legislators, voters and even appellate courts," he wrote. "Truly cynical observers might say it's a scam to add years (usually a lifetime) to a sentence after a defendant pleads or is convicted. The net effect is that imprisonment is extended far beyond what was expected or even allowed at the time of the offense or conviction."
Still, it's clear the state needs an effective way to treat or commit people who, sometimes by their own admission, are a danger to their communities. Stonebarger, for example, craved a structured re-entry into society, but no such thing existed. Of course, lacking evidence, there's no guarantee that re-entry programs would be sufficient to protect communities from potential predators. Through commitment, the statistics show, Stonebarger was unlikely to get the treatment that would allow him to ever leave the state hospital in Coalinga. Instead, due to a clerical error, he's been shown the door to a world he fears will lead him to re-offend.