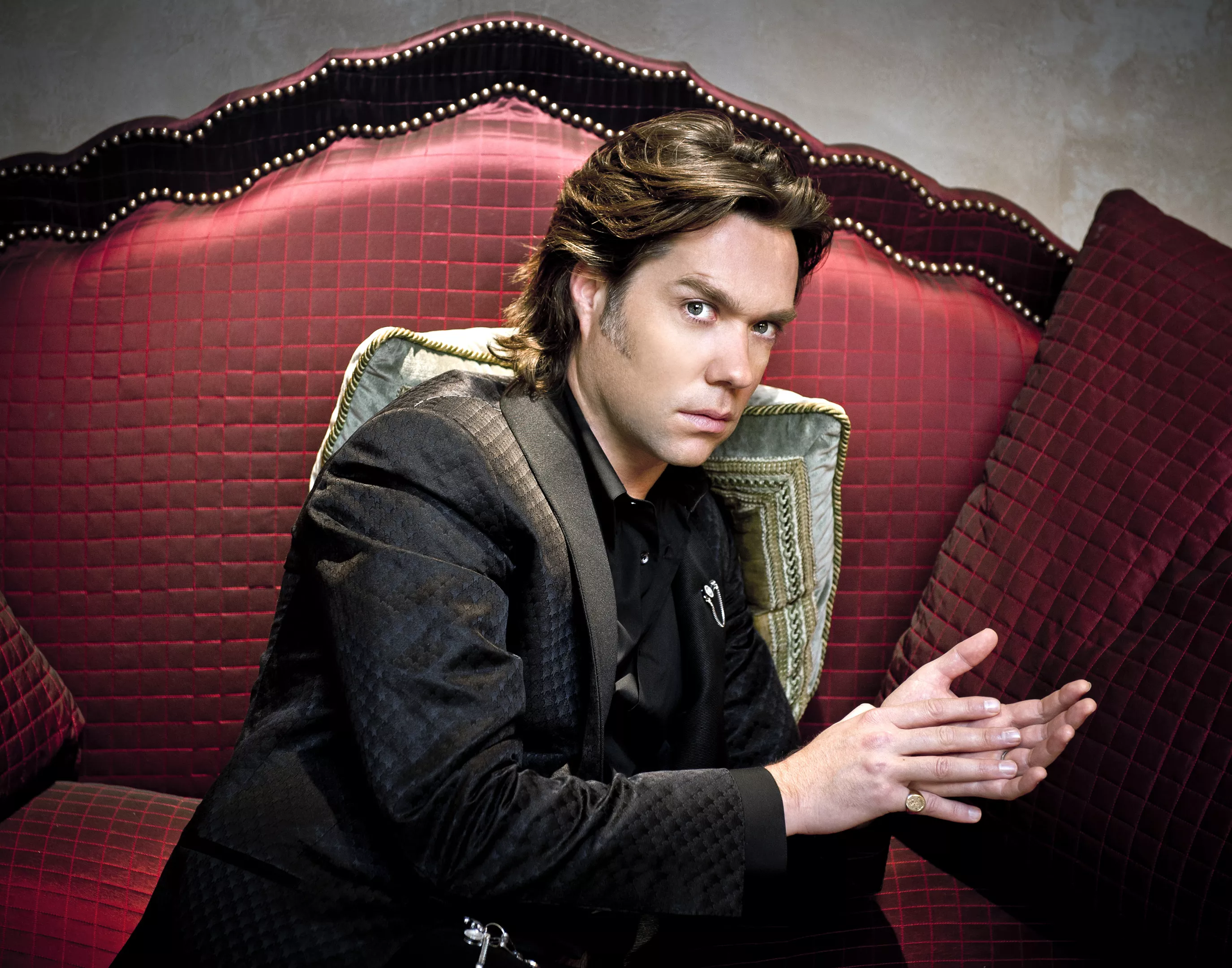 When we caught up with neo-pop songwriter Rufus Wainwright, he was staying at the Henry Miller Library in Big Sur. "They gave us this beautiful house in exchange for a concert, so my new husband and I are on our honeymoon," he explained. (Wainwright married his longtime companion Jörn Weisbrodt in August.)
At the end of this month he's part of an all-star concert, Freedom to Love Now! in New York City, a benefit for a group working to get same-sex marriage legalized in all 50 states. "It's an important time to state your allegiances, right before the election. In all this questioning of Obama, I have no qualms supporting him at all as a gay man. He's really stepped up to the plate for us, both on gay marriage and 'don't ask, don't tell,' so I have confidence in him, for my needs anyway. So it's important to keep the home fires -- or the homo fires -- burning," said Wainwright with a laugh.
What will it take to shift consciousness on gay freedom issues? "I have to say I'm impressed with how America is doing in that department ... [but] you can't expect a puritanical nation to just flip all of a sudden. This is a major national issue, something they're always talking about on CNN or whatever. There seems to be some sort of ripple effect going on. So, overall, I'm pretty positive about where America is right now."
While he says it does not relate to his recent marriage, the title track for his latest album is a song called Out of The Game. "Oftentimes I'll write a song and think it's about one thing, but I'm told otherwise. I tend to think of [the song] as being more about the music business. I think it's about being in your late 30s and on the cusp of the next stage of life, shall we say. On the one hand you're full of knowledge and perspective, and also with envy," he said with a laugh.
Your opportunity to hear Wainwright's music comes Thursday when he plays solo at the Van Duzer Theatre.
Guitar wizard Steve Kimock brings his liquid melody lines to Humboldt Brews Tuesday night, jamming with organist Bernie Worrell from Parliament/Funkadelic, percussionist Wally Ingram and bassist Andy Hess from Gov't Mule. Yes, it will get funky. "You know the music sort of takes the shape of the container," said Kimock cryptically. "So playing with Bernie, I make more use of the funk. It's different. I'm a big reggae fan too, and Wally and Andy are into that, so we go there naturally, too."
Speaking of reggae, J-Boog, a Samoan singer (via Long Beach) brings his Hot Rain Band to the Arcata Theatre Lounge Thursday for a funky reggae party.
Meanwhile the Capleton controversy flames on, generating way too much nastiness on the Internets. IMHO everyone needs to take it down a notch or two. Hate + hate = more hate.
The venerable DJ Red celebrates his birthday at Humboldt Brews Friday night with a "Strictly 45s" dance party with "fellow 45 junkies" Missing Link Adam, Gabe Pressure, Jaymorg, King Maxwell, Mantease, Spaceman Spliff and Zephyr. Red notes, "For those who are too young to know (or too old to remember), 45s (also known as the 7-inch) are those flat, round, black objects, which, through the magic of technology, produce music when played on a turntable." The show starts late (10:30 p.m.) since HumBrews is hosting a Humboldt Beer Week "Beer and Buffet" brew 'n' food pairing dinner earlier that same night.
Twang time Friday at the Jambalaya with Buckskin Wallets featuring Kaleb, Steve-O and Joey from the Bucky Walters playing what they call "old-timey honky-tonk club-grass."
Drifter Killer plays psychedelic grunge that night at Central Station in McKinleyville with Macktown rockers The Hudson Hound Dogs (ex-Shay's Rebellion).
Electro/folk/pop vocalist/songwriter Shana Halligan brings silky sounds to Six Rivers Thursday.
Friday, classical music fans have a tough choice. That's opening night for the Eureka Chamber Music Series at Calvary Lutheran Church with Borealis String Quartet playing an intriguing program including Taiwanese folk songs, something by Canadian composer Michael Conway Baker and Beethoven's "Quartet in C Major, Op. 59, No. 3." Friday is also opening night for a new season for the Eureka Symphony, with Shakespeare-inspired music by Dvorak and Shostakovich at the Arkley Center. Fortunately, the symphony also plays Saturday evening, so one could attend both shows.
Fall festivals abound. Friday's Garberville Town Square Fiesta (4-10 p.m.) has music by The Fabulous Resinaires, Twango Macallan and SoHum Girls (taking a break from recording a new album). Smokin' Moses will have the barbecue smokin'; there's fun for the kids and local beer and wine for grownups.
Saturday's Hoptoberfest at Perigot Park in Blue Lake has music by Big Forgive, River Valley Mud, Speakeasy Saints and The Miracle Show and plenty of beer, with proceeds going to Blue Lake Elementary's sports and arts programs.
Also on Saturday (starting at 6 p.m.) Coastal Grove Charter School presents D.C. Dance Fest at Humboldt Brews, a field-trip fundraiser with music by young rockers UFO8 (also playing at Six Rivers Friday night) plus a performance by Redwood Coast Bellydance Troupe (the Redwood Coast Bellydance Festival is at the Arcata Community Center that day). DJ Knutz closes, spinning discs into the wee hours.
Freshwater Fall Festival at Freshwater School is more family oriented with Latin music by Angel Fargas and friends, a cakewalk, carnival games for the kids and food from Pachanga.
There's also the annual Fieldbrook Fall Folk Fest all weekend at Fieldbrook Market. Sierra Rose Band kicks things off Friday with some lively stringband music. Saturday (1-9 p.m.) the lineup includes Jeff Kelley, the duo Guilty Apple, Josephine Johnson, Sam Whitlatch, The Pilot Rock Ramblers, Michael Stewart and Delta T. Sunday (1-7 p.m.) it's Turtle, Ras Tony, Joe Garceau Trio and The Moonsong Band.
World Famous has a couple of big EDM things coming this week: First, on Thursday, Shpongle brings "The Masquerade" to the Arcata Community Center. British electro-shaman Simon Posford is a showman who presents his music on an amazing set with swirling lasers, projections, dancers in elaborate costumes -- a full-on sensory overload for raving dancers. Phutureprimitive opens the show. Then on Wednesday, Oct. 10, it's Big Gigantic, an electro duo out of Colorado with Dominic Lalli on sax and production and Jeremy Salken on drums and an extra-large sound. B.G. is on tour with Canadian dubsteppers Christian Srigley and Leighton James, aka Adventure Club, whose Twitter page says they are "part time lumberjacks." Opener is Grant Kwiecinski, aka GRiZ, another saxophonist/knob spinner.
The Hackensaw Boys, originally from Charlottesville, Va. are another raised-on-rock string band pumping out what they call (on a couple of records) The Old Sound of Music. A seemingly endless tour brings the boys to Humboldt Brews on Monday.
Tuesday CenterArts presents another in the "Acoustic Africa" series, this time with an emphasis on women. There's vocalist/dancer Dobet Gnahore and bassist/vocalist Manou Gallo, both from Ivory Coast (Gallo was bassist for Zap Mama) plus Kareyce Fotso from Cameroon, all of them offering modern African takes on pop, blues, funk and traditional music.
Diamondback is at Nocturnum that Tuesday with (hed) PE, a hardcore rock/punk/hip hop amalgam from Huntington Beach. Also on the bill: the NW alt-metal quartet Lacero and local melodic-rockers Angels Cut.
Same Tuesday at the Jambalaya: Mount Eerie, the alt. lo-fi drone project of Phil Elverum (formerly known as The Microphones). Based in Anacortes, Wash., Phil operates something he calls P.W. Elverum & Sun, Ltd. producing unique LPs, singles, books, CDs, etc. (Expect a cool merch table.) He's on tour with Bouquet from L.A. described by band member Carolyn Pennypacker Riggs (from The Finches) as a "darker-leaning pop group, proggy without being wanky, gothy without being affected." The local psyche/noise outfit Servile Sect opens.
As Election Day gets closer, Spirit Vibrations takes over the Jambalaya Wednesday, Oct. 10, for a night of "musical political comical fun" with Don Husman of In Human Creation as your host. There's a bunch of music -- Silent Giants, Gunsafe, The Plumb Uglies, Eddy Arnold Jr. and Burning Sage and Josephine Johnson for starters. And there's an open mic for political commentary in one-minute sound bites -- candidates, here's your chance. And if you haven't done so yet, you can register to vote at the event.