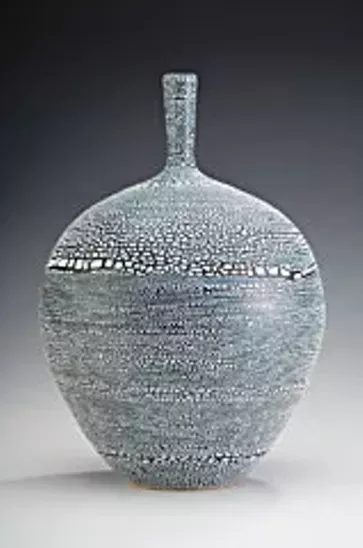 6 slides
The hardest prose to write is a short story. I never have trouble filling up my column space; I have trouble trimming it down to my allotted number of words. Getting to the essence of a subject, removing extraneous material and making every word work is the tricky part of writing. The same is true for any medium.
That said, Peggy Loudon's ceramic work is the equivalent of a haiku. It's the simplicity of her work that's striking. She uses muted colors. Her pots, vases and bowls are relatively small, not flashy or extensively decorated. She has shape and proportion nailed. "It's important to me," she told me when I went to visit her studio. She takes the time to experiment with different shapes, pushing each piece to see just how thin she can make the neck of a vase, how tall it should be, how wide she can make the body to create the most sensuous shape. "It's a constant learning experience."
There are no hard and fast rules regarding the perfect shape or the correct proportions, although many have tried to come up with definitions, most notably the Greeks, who agonized over the proportions of the human body. There are theories like the Golden Mean, based on the mathematical Fibonacci Sequence. But really what it comes down to is that you know it when you see it. The shapes of Peggy's vases and bowls are simply gorgeous. They are elegant, sinuous and serene, the result of her 30 some-odd years of throwing clay on a wheel, looking carefully at the results and refining them, and her continuing study of the interactions of shape and color.
Her success is undoubtedly attributable to that hard work and attention to detail. Her work has been shown in a number of prestigious art shows including the Smithsonian Craft Show, the American Craft Show and the Sausalito Art Festival. Her pottery is instantly recognizable as something special, as evidenced by the fact that she was accepted into the Smithsonian show on her first application. In light of that, we are fortunate to have her here, where she has participated in the Humboldt Artisan's Craft Show since its inception over 25 years ago.
The appeal of clay is universal and practically irresistible, especially to kids. I brought my four-year-old along when I went to Peggy's studio, after checking with her. "Sure," she said. Having raised two boys of her own, she's used to having kids around. And while her work is fragile, there are certainly no concerns about tidiness. Clay is on everything. The phone near her wheel is encrusted with it, as is the remote control for her stereo system. We pondered over what she will do when she has to change the batteries to it. Needless to say there was clay all over my son Slate by the time we left. (Happily, I did manage to keep it off of my camera.)
Slate busied himself making sculptures for Peggy while she and I talked about her career. She said it became serious after a trip to Europe years ago, where she and a friend talked about what they wanted to do when they got home. He wanted to become a writer and she wanted to become a potter. They both succeeded.
It was Jim Crawford at Humboldt State that taught her to look at her work with a critical eye and strive for perfection. The tediousness and inevitable failures have been overwhelmed by the joy she finds in handling clay and coaxing a supple shape out of a lump of it.
Over the years she has consistently attended to her craft. She tries new shapes and new glazes, looks at decorating magazines to see what colors are current. She also talks directly to collectors and gallery owners seeking ideas. She understands and caters to her market, but keeps that in balance with her own ideals.
When I first became aware of her work in the late '90s, she was working with dark glazes, adding subtle touches of metallic gold and silver. I admired her pots then, and have enjoyed watching them evolve. Her work now is typically characterized by a white crackle glaze over translucent porcelain, resulting in vases that glow when a light is shined through them. The shapes also have evolved, incorporating very narrow necks of varying heights.
Peggy's work can be seen at the First Street Gallery during the month of December, where she'll be participating in a group show. You can also find her and her work at the Humboldt Artisan's Craft Fair at Redwood Acres (the first weekend in December, as usual). I personally recommend this and other local holiday fairs — the annual Ink People's Holiday Fair is coming up this weekend at the Adorni Center — for Christmas shopping. With all of the wonderful talent we have around here, there's no reason to send away gifts to out-of-town relatives that are not uniquely Humboldt. And, as Peggy says, "it's important to have handmade things in your home."