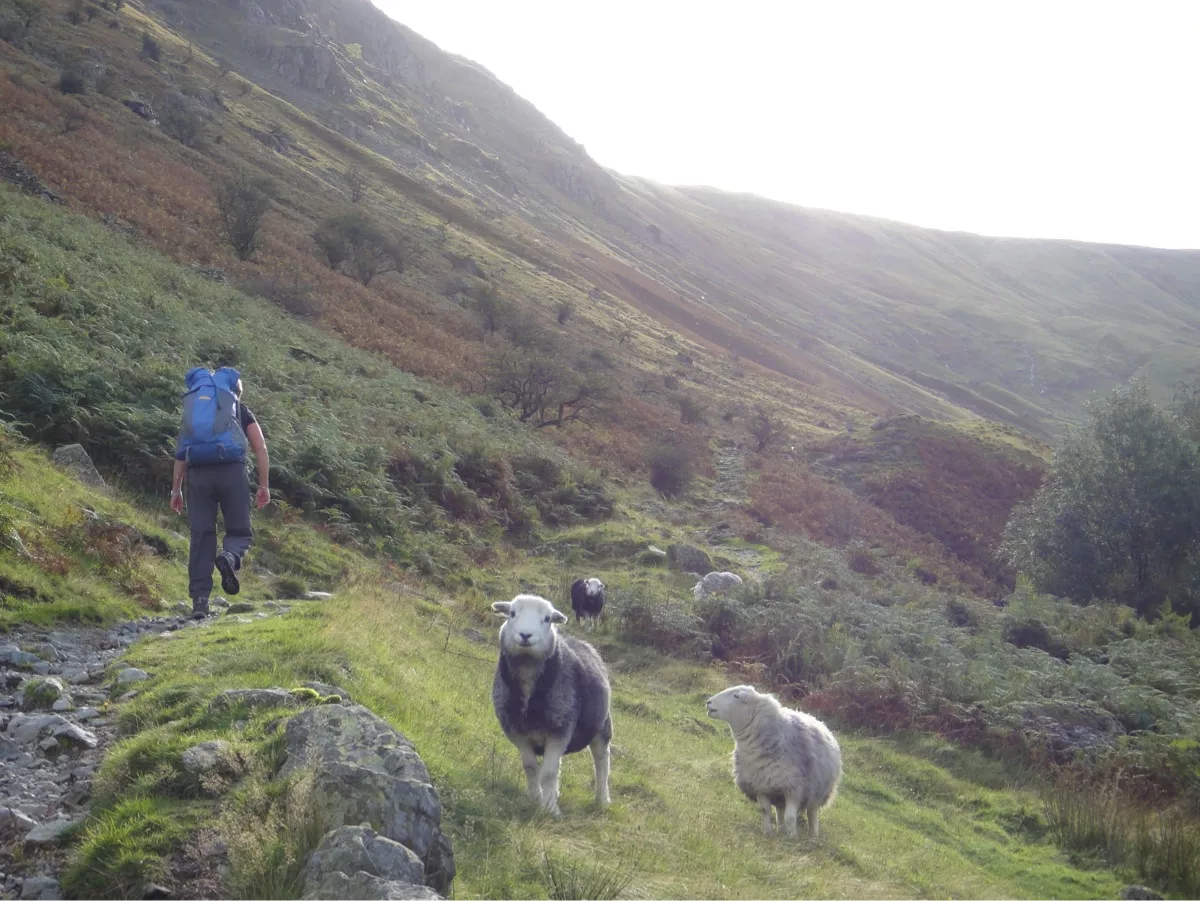 photo by Barry Evans
Above Borrowdale heading up Stonethwaite Beck, Lake District.
Standing on Kidsty Pike (2,559 feet), a prominent fell, or peak, in England's Lake District three weeks ago, I reflected that for such a small country, the United Kingdom has a dazzling array of hiking opportunities. England itself is less than a third the size of California, has one and a half times our population, yet boasts 10 national parks and dozens of long-distance walking trails ranging from 50 to 500 miles. Many of these take walkers along the coast or over the gentle hills of southern England, but several are tough, mountainous challenges, including the UK's most popular trail: the "Wainwright" coast-to-coast path.
Accountant Alfred Wainwright (1907-1991) was a crusty eccentric who sought the solace of England's northern fells and dales to escape a loveless marriage. In the 1960s and '70s, he wrote seven hand-lettered, self-illustrated hikers' guides before turning his feet and pen to a 200-mile cross-country trail whose route runs through some of Britain's wildest, least-populated land. Three of those 10 National Parks sprawl west to east across the north of the country, and Wainwright took advantage of their proximity to cobble together existing paths that route walkers through parkland most of the time. First published in book form in 1973, Wainwright's route is now traversed every year by tens of thousands of hikers.
In Britain, the weather generally comes from the Atlantic Ocean, courtesy of the Coriolis Effect (see Field Notes for 8/19/2010), so virtually all coast-to-coasters walk as we did, from west to east, keeping the wind and rain at their backs. Our odyssey started with the ritual dipping of boots in the Irish Sea on a rainswept stony beach at the Cumbrian resort of St. Bee's. It ended 15 walking days later at Robin Hood's Bay in North Yorkshire (just south of Whitby -- Dracula fans take note), where we baptized our bare feet in the North Sea. After spending most of the first week high in the rugged and notoriously wet Lake District National Park, followed by a couple of days trudging across barren uplands, we reached the country's loveliest national park, the Yorkshire Dales. Wainwright's route led us through thick-with-sheep Swaledale, where remains of 19th century once-prolific lead mines abound in the hills.
Beyond the Dales and the city of Richmond, we soon entered our final park, the North York Moors, characterized by long and lonely swaths of heather moor and peat bog, not to mention biting wind and rain. Four days later we reached Robin Hood's Bay as we started, in the rain.
While Britain's national parks are mostly privately owned, walkers are granted right of passage. Thus our path took us through dewy fields of sheep and cattle, past farms, barns and unspoilt villages, while navigating countless stiles and "kissing gates." I suspect that Britain's enlightened "Right to Ramble" law will echo long after the more famous legacies of her Empire have been forgotten.
Barry Evans (barryevans9@yahoo.com) followed his wife as she coast-to-coasted to celebrate her 60th birthday.