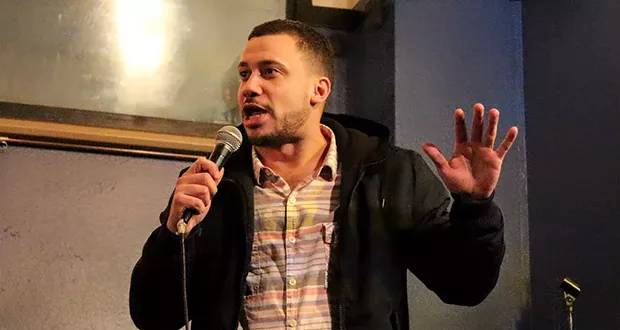 Photo by Héctor Alejandro Arzate
Luigi Diaz performs at the Savage Henry Comedy Club.
A modestly-sized audience listened attentively before cracking into applause at the Savage Henry Comedy Club. Bursts of laughter filled the back room after a joke in Spanish about the difference between Guatemalans and Mexicans.
"En México tienen el taco, el burrito, la tostada," Nando Molina, a fixture in the Eureka comedy scene, said. "En Guatemala tenemos tenedores, cucharas, platos." Translated into English, Molina's joke goes: In Mexico, they have tacos, burritos, tostadas. But in Guatemala, we have forks, spoons and plates.
On Feb. 16, Savage Henry hosted its first ever comedy show entirely in Spanish, titled ¡Noche de Comedia! The lineup featured mostly local standups of Guatemalan, Honduran, Puerto Rican and Mexican descent. Peter Nelson, who runs event production and promotion at the club, felt it was important to host an event that included all members of the local community, even if that meant a smaller crowd.
"I'm not ashamed at all for thinking it was a good idea and trying it out," Nelson said. "Complete inclusion and diversity is what the best, most sustainable business model could be. I just love the idea of having the whole community involved in our comedy scene because it's important as a vision for a company."
Despite being the first of its kind, the Saturday night show saw a good amount of local interest and turnout. To Alex Luna and his family, it was worth checking out. "We don't see this in Spanish that often, it's something different," Luna said. "I've been to comedy shows back in Mexico, but not up here. ... When something like this comes up, people will show up."
The audience was a mix of folks of all ages. Leon Coello, one of the performers and originally from Honduras, thought it was important to showcase comedy for the younger generations. "Es muy importante, para que también los niños pueden ver que la comedia es algo que ellos pueden hacer," Coello said, meaning it was really important for kids to see that comedy is something they can do, too.
For Monica Jarquin, an HSU student who came to the show with friends, it was an opportunity to try something new that also felt familiar. "I've never been to a comedy club before, especially in Spanish. I thought that was really awesome to see some representation," Jarquin said. "As Mexicans, we joke around a lot. It's just part of the culture. It's a part of every day. There's rarely a moment where you're not laughing at home ... we're very passionate people, so you're either laughing hysterically or angry, you know?"
As comedians who are used to performing in English, it was a freeing experience to tell culturally relevant jokes that weren't mired in self-deprecation.
"It's a different experience in the way I tell jokes. I would never be derogatory towards brown people," Molina said. "I'm confident that there are racists in the crowd at any given time. I have to think about that when I perform in English."
The sentiment resonated with Luigi Diaz, a Puerto Rican stand-up comic based in the Bay Area. "It's a different type of freedom," Diaz said. "You have to be comfortable. The jokes are more about looking at ourselves than laughing."
With fluent English and Spanish speakers in the line-up, it didn't feel as though the humor was lost in translation. "It's just like in English," said Mariana Nava, a newcomer to the comedy scene and host of the show. "But words can be funnier in Spanish."
Although it was an experimental first, the promoters at Savage Henry plan to host their next Spanish-language line-up in May, as well as other inclusive comedy shows in the coming months. "I hope to do them regularly," Nelson said, "and have everyone feel like no matter what walk of life they come from, they can come by the comedy club and have a good time."