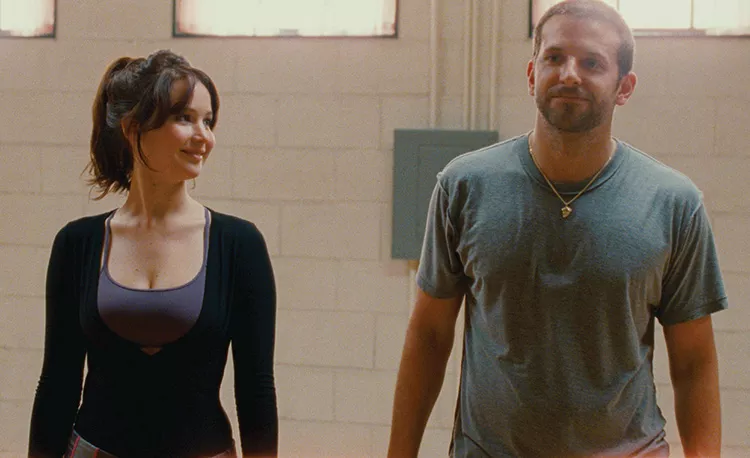 Rehearsing for the no-pants dance: Jennifer Lawrence and Bradley Cooper in Silver Linings Playbook.
Reviews
SILVER LININGS PLAYBOOK. There are two ways to watch Silver Linings Playbook. You can view it with an open mind and generous concern for the human condition or you can have a background in psychology. I tried my damnedest to achieve the former, but eventually the latter could not be ignored. Despite brilliant performances by every actor involved, the misrepresentations of mental health (and the accompanying industry) were distractingly histrionic. If it weren't being lauded as a great depiction of bipolar disorder, this would be more easily forgivable.
Let's not throw the baby out with the bathwater, though. In the competitive Oscar-driven atmosphere of this season, accuracy isn't as vital as drama. Silver Linings Playbook is brimming with drama, just oozing the human condition all over the place. Pat Solitano (Bradley Cooper) leaves a mental health facility in Baltimore against medical advice and returns home with a delusional plan: prove to his ex-wife that he is no longer the "undiagnosed bipolar" man who once beat her lover to within an inch of his life. He's better now. He's changed. He doesn't need meds. He's got this under control.
Of course, Pat's plan goes astray when he meets Tiffany (Jennifer Lawrence), a girl with mental health issues of her own. A darkly comedic romance develops and follows the generally predictable rules of quirky romantic comedies. Pat's family and friends all serve as generous enablers to Pat's manic behavior, providing a series of speed bumps on his road to recovery. His obsessive-compulsive father, played brilliantly (duh) by Robert De Niro, is one of the largest hurdles in Pat's lane.
The chemistry between De Niro and Cooper bolsters the otherwise hokey premise, and may be responsible for most of the Oscar-related attention the film is receiving. Both actors deserve their nominations, as does Jacki Weaver for her portrayal of Pat's mother. Less Oscar-worthy, but still fairly incredible, is Chris Tucker's performance as Pat's hospital-escapee friend. Give this man more work, please ... just no more Rush Hour sequels.
The slow pace provides an awkward juxtaposition to the manic behavior of the characters, and makes the ending seem unworthy of such a build-up. It's doubtful that Silver Linings Playbook will beat the other contenders for Best Picture this year; the competition is fierce, with heavy-hitters like Lincoln and Argo in the forefront. But the when it comes to acting accolades, this film deserves some statues. R. 122m.
MAMA. Guillermo del Toro's name is synonymous with the modern creature-feature. From Hellboy to Pan's Labyrinth, the beasts that leap from his imagination are at once disturbing and fascinating. Universal Pictures was obviously well aware of del Toro's reputation as a monster-maker, as his name is all over Mama, like an overzealous stamp of approval. But it's all a smokescreen; del Toro may have been there in spirit (as an executive producer), but his connection seems to end there.
Mama is really nothing more than an extremely basic campfire story; this becomes blaringly obvious once you watch the director's (Andrés Muschietti) original short film of the same name (available on the YouTubes). The plot is an afterthought; a sloppy structure meant to prop up the title monster.
A restless soul with unfinished business haunts an abandoned cabin in the woods of New England. When two young sisters are abandoned in the woods, Mama takes them under her blackened, wispy wings. Once the girls are rescued and put into the care of their Uncle Lucas (Nikolaj Coster-Waldau) and his too-cool-for-school, bass-playing girlfriend (Jessica Chastain), Mama wreaks poltergeistian havoc. There are tiny, pointless subplots, but they are completely ignorable.
Chastain (Zero Dark Thirty) gets most of the screen time, adding an extra layer of frustrating boredom to a film that already had a tenuous hold on my attention. Truly, the most notable performances come from the children, Megan Charpentier and Isabelle Nélisse. Theirs are the only characters in the original short, and they could easily carry the story on their own.
In defense of director Andrés Muschietti, Mama is his first full-length film. It's brimming with potential but falls short of living up to the standards generally guaranteed by the name Guillermo del Toro. With practice, Muschietti could become something much greater. For now, he falls somewhere between mundane and mediocre. PG13. 100m.
--Dev Richards
Previews
HANSEL & GRETEL: WITCH HUNTERS. The Brothers Grimm tale gets updated/defiled in this action-adventure, which finds the resourceful German siblings all grown up and making a career out of vigilante witch slaughter. Starring Jeremy Renner and Gemma Arterton. R. 100m.
MOVIE 43. Here's an odd duck -- a dozen interconnected short films, each with its own director, center on a low-brow premise (three kids scouring the Internet to find the world's most banned movie) and feature one of the most impressive casts ever ensembled, including A-listers (Hugh Jackman, Emma Stone), D-listers (Johnny Knoxville, Snooki), Oscar winners (Kate Winslet, Halle Berry) and J.B. Smoove. R. 90m.
PARKER. Since breaking onto the scene in Guy Ritchie's Lock, Stock and Two Smoking Barrels (1998), Jason Statham has built a résumé of cinematic ass-kicking to rival the likes of Charles Bronson and Chuck Norris. Here he gets a quasi-prestigious director in Taylor Hackford (An Officer and a Gentleman, Ray) and a sultry costar in Jennifer Lopez, but this is still Statham's vehicle. R. 118m.
The cheeky Brits behind zombie parody/homage Shaun of the Dead (2004) returned three years later to give buddy-cop movies the same treatment in Hot Fuzz, which comes to the Arcata Theatre Lounge Friday at 8 p.m. R. 121m. The theater's leisurely Harry Potter retrospective continues Sunday evening with the sixth installment, Harry Potter and the Half-Blood Prince (2009). PG. 153m. And finally, next Wednesday's Sci-Fi Pint and Pizza night trades camp for gloss with the 1999 insta-classic The Matrix. 6:45 p.m. R. 136m.
The Humboldt County Library's latest based-on-the-book film series, called "Sin in Soft Focus: Pre-Code Hollywood," will wrap up next Tuesday with Baby Face (1933), in which "a young woman (Barbara Stanwyck) uses her body and her sexuality to help her climb the social ladder." Scandalous! 6:30 p.m. at the Eureka main branch. 75m.
If you're looking for a film series that puts sin into sharper focus (and on a much larger scale), check out Climate Justice Movie Nights, a trio of hard-hitting environmental documentaries that will be screened over the next three Friday nights. Hosted by the Rhizome Infoshop, 47 W. Third St. in Eureka, the series kicks off this Friday at 7 p.m. with Crude, a 2009 doc about the lawsuit filed by 30,000 indigenous Ecuadorians against Chevron for dumping toxic waste into the Amazon. Organizers say the $5 suggested donations will benefit the Tar Sands Blockade, a coalition of landowners fighting to stop the Keystone XL pipeline.
Continuing
ARGO. Ben Affleck helms a thrilling and surprisingly funny account of the 1979-80 Iran hostage crisis, starring alongside Alan Arkin, John Goodman and Bryan Cranston. R. 120m.
BROKEN CITY. A shady mayor (Russell Crowe in a tux) hires an ex-cop-turned-private Dick (Mark Wahlberg) to follow his wife. R. 109m.
CIRQUE DU SOLEIL: WORLDS AWAY 3D. Now you can watch the renowned performance troupe contort, trapeze and twirl from the relative comfort of a theater seat. PG. 97m.
DJANGO UNCHAINED. Quentin Tarantino's violent Blaxploitation fantasy about an avenging slave in the antebellum South is the most audacious and entertaining film of the year. Starring Jamie Foxx, Christoph Waltz and Leonardo DiCaprio. R. 165m.
GANGSTER SQUAD. Despite a talented cast that includes Josh Brolin, Ryan Gosling, Emma Stone and Sean Penn (as the notorious Mickey Cohen), this picture is all style, no substance. R. 113m.
A HAUNTED HOUSE. A Scary Movie-style parody of the found-footage sub-genre, this crude comedy (think ghost sodomy) aims low and still misses. R. 86m.
THE HOBBIT. Exploiting the riches of Middle Earth once again, Peter Jackson's bloated Lord of the Rings prequel (part one of three) looks beautiful but sags. PG13. 169m.
JACK REACHER. Tom Cruise stars as an Army major turned vigilante drifter who gets pulled into a mass-shooting case that's not what it seems. Slick if forgettable. PG. 130m.
THE LAST STAND. The Austrian steroid balloon who used to be our governor goes back to what he does best: mumbling one-liners and blowin' shit up. R. 107m.
LES MISÉRABLES. Director Tom Hooper (The King's Speech) brings the mega-selling Broadway musical (based on Victor Hugo's French historical novel) to the screen with corny bombast. PG13. 157m.
LINCOLN. Daniel Day-Lewis delivers a bravura performance in Steven Spielberg's handsome and rousing biopic, which portrays the deft political wrangling of our 16th president. PG13. 149m.
ZERO DARK THIRTY. Director Kathryn Bigelow (The Hurt Locker) crafts a taut thriller that follows a young CIA agent's (Jessica Chastain) dogged 10-year pursuit of Bin Laden. R. 157m.
-- Ryan Burns