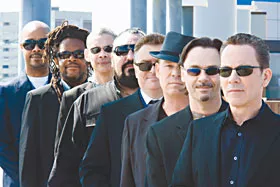 UB40
Back in the days when my main income came from restaurant work, the sound system of choice in the kitchen was a food-encrusted boombox, typically with auto-reverse so the music would play on when things got going and the stoned dishwasher's attention was elsewhere. I turned one such dishy into a reggae fan starting with a homemade cassette of UB40. On one side: their hit album Labour of Love. On the other: a mix of the band's earlier, more politically charged albums, Signing Off and Present Arms, along with a couple of newer faves like "Rat in the Kitchen" (which was something we actually had). The lilting synth lines and high harmony vocals cut through the clamor of kitchen work and became a dinner shift staple. Sometimes the tape played all night.
I told him the mythic tale of the British band's founding by mates who'd met in a line at the employment office — the name, UB40, borrowed from the unemployment benefit form filled out when they went on the dole; their instruments purchased with the settlement lead singer Ali Campbell received after a bar fight. As I said, the tape served as an introduction to reggae for my dishwasher, and it did so for many others, as record sales in excess of 55 million attest. A couple of decades and 23 albums into their career, the band is still going strong, still speaking up on issues of the day with songs like "Plenty More" and "War Poem," from the most recent album, Who You Fighting For.
UB40's '80s Britpop take on Jamaican reggae is not exactly roots stylee, but it has the feel and the consciousness of classic reggae, and the band has always drawn heavily on reggae's past in their repertoire, mixing covers of favorite Jamaican tunes with originals. "Red Red Wine," UB40's biggest hit stateside, was in fact a cover of a cover, although the band did not know it when they recorded it. They'd only heard the version by the Jamaican singer Tony Tribe, and didn't realize Tony borrowed it from Neil Diamond.
Speaking of covers, the band is seeking to distance itself from a copyright dispute involving heiress and media darling Paris Hilton. You may have missed it, but Paris released a record last year with a single, "Stars Are Blind," whose melody sounds a whole lot like an old UB40 hit, "Kingston Town." Here's the deal: While it's more than likely that whoever borrowed the tune heard it on a UB40 record, it's not their dispute, since theirs was a cover and they hold no copyright claim. Following media reports that the band was suing Paris, an official press release was issued stating, "UB40 are in no way associated or party to any legal action being brought against Ms. Hilton in relation to the song 'Kingston Town.' Any speculated legal action taking place against Ms. Hilton would be entirely at the instigation of the original songwriter's music publisher ... UB40 wish to make clear that they are not involved with this legal action." The statement went on to add, "However, UB40 have always acknowledged, respected and supported the rights of songwriters and their vitally important contribution in the musical process."
I imagine there might be some red, red wine on hand when UB40 makes its first Humboldt appearance on Tuesday, August 14, at Benbow Lake State Recreation Area. Come early if you want to hear Elan, a Cali reggae singer who did a stint as lead singer for the legendary Wailers.
Need I mention that this concert (which BTW is produced by People Productions) follows pretty closely on the heels of that other big reggae concert down SoHum way? For those who were expecting some sort of Reggae review, well, I had big fun, and the music was great aside from the fact that there was too much of it. (I slept through a couple of sets.) And from what I saw, everything was irie, production-wise. My saying so will undoubtedly continue to raise the ire of the Reggaetista troll army who now have me pegged as an "embedded reporter," perhaps because I missed the Truth flotilla float-by. Sorry, I was having a good time and lost track of time. But I'll see you online. (More on Reggae at rotrblog.blogspot.com, when I get to it.)

Those who just can't get enough of that one-drop beat have a coupla other options this week: The inimitable Twinkle Brothers are at Mazzotti's Friday with Ishi Dube and Massagana opening. (Ishi and company killed at Reggae Sunday.) Then there's Afro Omega, a reggae/dub/rock outfit from Salt Lake City, of all places, playing Monday at the Indigo Lounge. Vocalist/songwriter Elisa, aka Miss Omega, takes the lead. They're on their way south after playing the Northwest World Reggae Festival up in Oregon, an event that a few local Rising boycotters will attend.
Up from L.A. for a show Thursday, Aug. 9, at Six Rivers, a très cool duo called Bitter:Sweet. Beatmeister Kiran Shahani lays down trip hop grooves bordering on lounge pop, creating a lush platform for sultry vocalist Shana Halligan. A track from their debut disc, The Mating Game, made it onto the soundtrack for The Devil Wears Prada. Album two, The Remix Game, is, you guessed it, a remix collection, with Thievery Corporation among those enlisted for mixology. This could be the sleeper show of the week.
Also on Thursday, another Bad Kitty psychobilly joint at the Boiler Room with Three Bad Jacks from L.A. and The Sick Shooters straight outta Ukiah.
Thursday at an undisclosed location, local drone mavens Starving Weirdos host a potluck for Philly psyche/folk band Fursaxa and Family Underground, a group of Danes who erect a wall of drone. Sound interesting? Send an e-mail to starvingweirdos@yahoo.com for further details.
For some reason I still don't understand, many 20- and 30-somethings are like totally into '80s nostalgia. You may find some of them at Blue Lake Casino Friday to hear the Tommy Tutone Duo (unplugged) playing hits like "867-5309/Jenny" and ... Well, I know they'll play that one.
The Red Fox Tavern is back in action after a summer hiatus imposed by your friendly neighborhood ABC. Thursday it's the return of jazz-punky vibraphone player Mike Dillon (from Hairy Apes, BMX, etc.) and his band, Mike Dillon's Go-Go Jungle. Next Wednesday, Aug. 15, it's an evening of underground hip hop with 2-Mex, Life Rexall, Existereo and Pickstur-One plus Itchie Fingaz on the wheels of steel ($12/$8). Coming soon: a return engagement by Marc Ford from the Black Crowes on Aug. 18.
Accident Gallery goes hip hop this month. On Friday, get schooled as movie night features Freestyle: The Art of Rhyme, a doc on freestyle rappers, and Wild Style, a seminal flick from 1983 about graf artists, breakdancers and rappers in the Bronx. Saturday is MC Night with J the Sarge (who rocked the mic during Sub Sab's excellent set at Reggae) plus Nac One, Callous and too many others to name.
Friday at the Jambalaya, it's the psychedelic/roots/rock/soul jamband Izabella headlining and Nucleus/Sub Sab drummer Pete Ciotti opening with his singer/songwriter thing. Sunday at the Jam, catch crazy-ass bass monster Freekbase, a protégé of the supremely funkadelic Bootsy Collins. He shares the bill with local slapbass master Chris Matheos and his band. Chris and co. are back again Monday to lead the new Jambalaya Funk Jam. Then on Tuesday at the Jam, it's Sweet Crude Bill and the Lighthouse Nautical Society, a rockin' country punk outfit founded on a Virginia art commune, on tour with songster Ian Thomas. Local Rasta-folk/punk combo Henpecker opens the show. Sweet Bill is also at Six Rivers Wednesday.
Another local kid makes good: Tuesday morning Eureka-born "pop soul" singer/songwriter Sara Bareilles sang her hit song "Love Song" on The Today Show and talked with the host about writing "honest" music. The song was given away on iTunes, leading to a No. 1 slot on the download site for her Epic album, Little Voice. Check the vid of her Today performance at today.msnbc.msn.com/id/20161429 and you'll find that she does not have a little voice at all — on the contrary. Bigger things are surely coming for Sara. She's 25, so "kid" is maybe a misnomer, except for the fact that her proud dad called me when her album came out. The question: When is she coming home to sing? I promise I'll let you know when I find out.