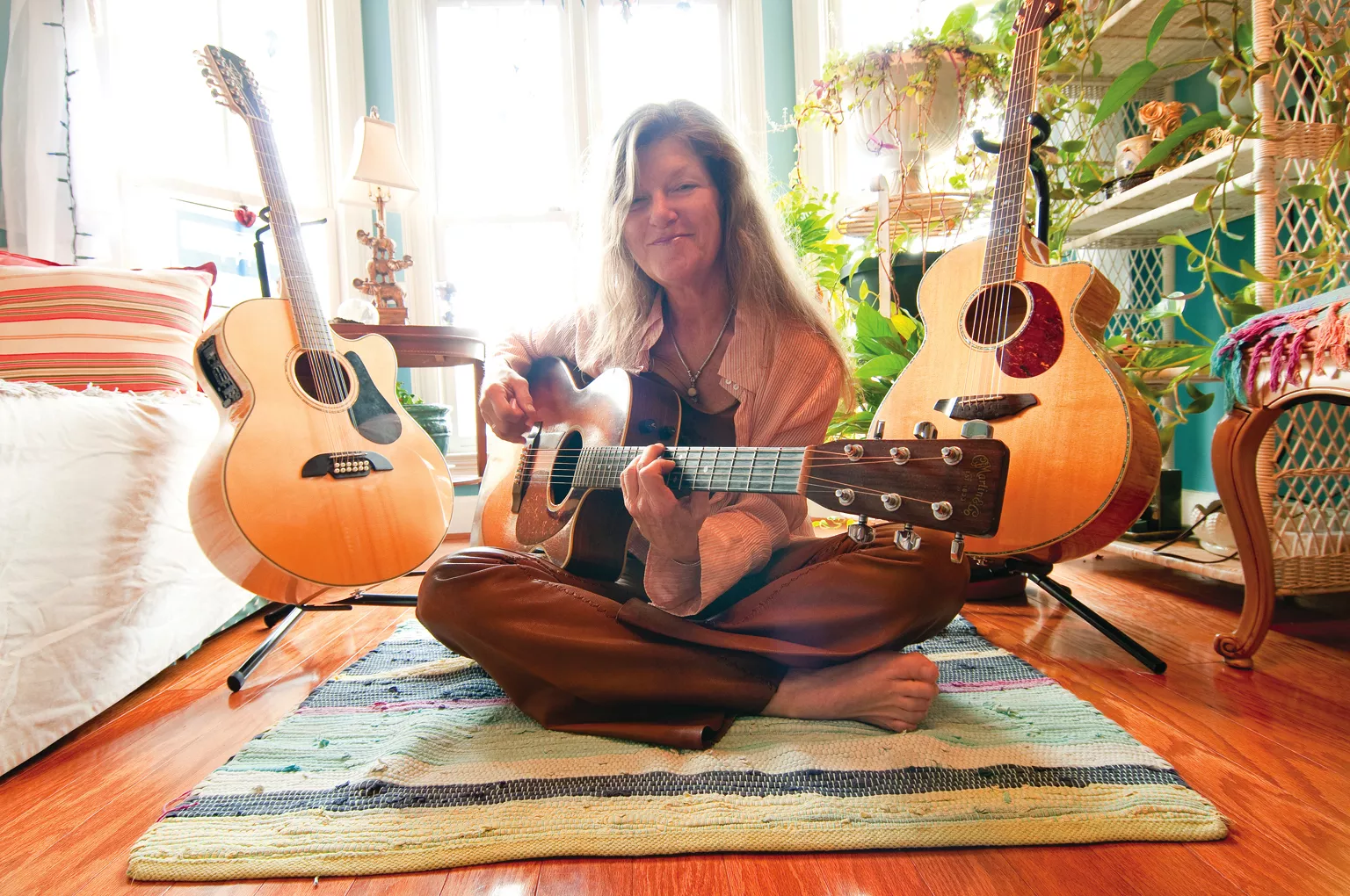 photo by JP Bond
Caroline Aiken
About a month ago Georgia-born songwriter/guitar picker Caroline Aiken loaded a few of her guitars and her dogs, Chula and Ita, into her truck and headed out from her home in Athens, Ga. She made her way to the Southwest and played a couple of shows there with another Georgia peach, Arcata-based songstress Joanne Rand, who describes Aiken as "a hero of the highways," adding, "She's the real deal; authentic." Aiken's tour then took her up to Seattle, and she began working her way down through Oregon headed for California. She'll be in the Golden State a couple of months, playing her songs at house shows, coffeehouses, bars, festivals -- wherever there's an audience.
Aiken has been singing as long as she can remember (her nanny was one of the famed Georgia Sea Island Singers), and she started playing guitar at 10. She joined her first rock band at 14, then ran away from home at 15, hitchhiking with her guitar on her back to the West Coast, looking for others like her. It's not all that different from what she's doing today, except now she has a truck, a lot more songs and usually a stage.
She says time on stage in front of a crowd makes all the driving, schlepping gear and sleeping in motels worthwhile. "I look at it as a cottage industry," she said, calling from Eugene where she played a few gigs. "I feel fortunate to have these beautiful house concerts, opening act gigs, sometime my own gig with 100 people or 500, or some festival. It's pure pleasure." Aiken's real forte is connecting with an audience. With a guitar in her hands, she's totally relaxed, without fear. She actually teaches a class on "Zen and the Art of Performance."
"When you're on stage you have to realize that's what you're supposed to be doing," she said. "You know, this is what I've worked on all my life, to get to this spot, this stage, right here tonight. What a joyful place that can be." Listening to her music, you feel that joy.
Caroline Aiken's long, winding tour brings her to Humboldt Brews Friday night where she'll once again share a bill with her friend Rand. Rand will be backed by keyboardist Tim Randles and bassist Marla Joy from Rand's "Hurricane Party" band, with special guest drummer/percussionist Claudia Paige, founder of Celtic/Afro tribal gypsy band Druid Sister Tea Party. It should be joyous.
Splinter Cell bassist Little Jimmy Forbes, who serves as president of the Humboldt Council of the Blind, has assembled another HCB benefit compilation CD, Vision & Sound, with 25 tracks by local bands. Splinter Cell plays two shows this weekend to celebrate (and sell) the new disc: Friday at Blondie's it's an all-ages thing with The Bandage. Saturday's show at Lil Red Lion includes heavy rockers The Hard Ride and self-described "Trans Am garage psyche" band Drifter Killer. (Yes, all of them are on the CD.)
Friday night at the Jambalaya, post-Arts! Arcata, you are invited to "come celebrate the glory of this year's Kinetic Grand Championship '80s-style," with racers, volunteers and Rutabaga Royalty at the "Offishul Kinetic Wrap Party." DJs Gabe Pressure, Anya and Zephyr will be spinning all vinyl '80s New Wave, pop, punk, hip hop, etc. Admission is free to Kinetic folk presenting 2012 lammies; civilians, $5.
Some of the local fire art folks are throwing a benefit Saturday night at the D Street Neighborhood Center: "Stand Up and Be Amazed!" features "Reality Thief" Brad Barton, a performer out of San Francisco who's kind of a modern version of one of those mind readers you remember from old movies, delivering magic tricks with a spiel that's part sideshow barker, part standup comic, part motivational speaker. The fundraiser for Ancient Forest International's Los Cedros Biological Reserve starts with a tapas-style dinner, but you can eat at home and just see the show for a bit less of a donation.
As you may have noticed, The Placebo is back in action full-force, particularly since Billiam Allyn, a prime mover in the local house show world, took over as executive director and started booking the Ink Annex. Saturday night they have an evening of punk pop with a couple of Midwestern bands, Delay and The Sidekicks (not to be confused with the local folk duo with the same name), Spraynard from Pennsylvania with local punks Ratus Ratus, plus DJ Gabe Pressure (who helped book the show). Tuesday, Placebo hosts Brooklyn Goth/psyche electronica band Røsenkøpf with a couple of ambient electro artists from Arizona, Angelo Harmsworth and Good Amount, plus like-minded locals Shultz from Ferndale and Project Sunlight from Scotia. Wednesday, June 13, it's crust punk by Napalm Raid from Halifax, Nova Scotia, with hardcore and noise from Kom(A)tose, Aleister Christ and Ratus Ratus, all from Arcata. All three shows are all-ages and all start early, 6-ish, at the Ink Annex in Old Town. Expect lots more to come as word-of-mouth spreads among bands about this happenin' all-ages venue.
Sorry, adults only Thursday at the Shanty, when girl garage supergroup The Lost Luvs (closely related to Monster Women) hosts a pair of touring bands from Seattle: disco garage duo Pony Time and neo-no wavers Stickers. Sunday at the Shanty it's a blast of psyche/garage with Pierced Arrows, featuring guitarist Fred Cole, formerly of The Rats and Dead Moon, plus local psyche warriors White Manna and Don't, from Portland, a band that includes legendary drummer Sam Henry of The Wipers (and The Rats).
Got a Facebook invite to "like" a new local "melodic rock" band, Indianola, "made up of three handsome musicians/friends that have known each other since childhood" -- specifically, guitarist Ben Allen, bassist CJ Stewart and drummer Graham Miller. (I like them.) Indianola plays Saturday at the Alibi opening for Speed of Darkness, an herbal metal combo out of Whale Gulch.
A new Rio Dell bar, Club NightShade, celebrates its grand opening Friday night and kicks off a summer-long "Battle of the Bands." Plans for the new venue are laid out on several GoDaddy websites: As www.TheBookOfMoney.us, it's "Remember When," a daytime beer and wine bar "reminiscent of days gone by" with a classic rock soundtrack. As TheBookOfMoney.org, it becomes the Rio Dell Community Center with flea markets, auctions and club meetings. TheBookOfMoney.info takes you to the weekend music venue, Club Nightshade, and the lineup for Battle of the Bands sessions Fridays and Saturdays in June. Three acts per night, 24 total, are competing for a $1,000 grand prize and "a permanent paid gig at Club NightShade." Opening night, Friday, pits Joe Dominick Band against Liquid Kactus and The Hill Band. Saturday, it's an eclectic battle between DJ Marv, songwriter JD Jeffries and a band called Wanna.
Battle rules explain how you make it to the finals: "The winning band is the band that has the most people come to see them perform, so if you have a decent following, you can easily earn $1,000." The club's suggestion to the bands -- "Invite everyone you know" -- will probably lead to some furious Facebook action. Added attraction: The Nightshade Girls, who, based on the YouTube link supplied, seem to be some sort of blacklight-lit go-go dancers.
Incidentally, NightShade's Facebook page describes all this as "a project of friendship" for owner Ben Payne," who is recovering from brain cancer surgery, recently lost his wife to a stroke and had his home condemned. Now, says the FB "about" section, "Down and out, sick, dying and lonely -- broke and broken -- his final days, months are to be filled with music and a gift to the community." I'd say if you make it down to Rio Dell, you might want to buy that man a beer.