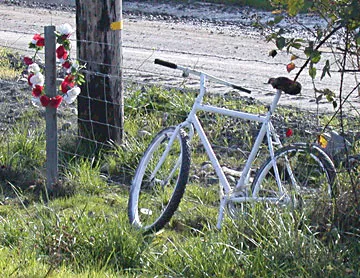 Ghost bike for Greg Jennings. Photo by Heidi Walters
As you drive east on Highway 299, nearing Blue Lake you might be startled by the white bicycle chained to the fence a couple dozen feet off the highway. Next to it someone has hung two wreaths.
The "ghost bike" marks the spot where Blue Lake resident Greg Jennings, 42, died on Aug. 25 as he was bicycling home from his office at the Bureau of Land Management in Arcata, where he worked as a forest ecologist.
Jennings had been commuting religiously by bicycle for three years, said his wife, Lisa Hoover, in an e-mail Monday. "He acted upon elements in his life that were important to him: independence, resourcefulness, physical well-being, noticing the change of seasons and having a low impact on the planet," she said.
But that day in August -- a clear day -- at 5:35 p.m., a pickup truck driven by Alan Bear, 27, of Hoopa, swerved onto the shoulder and struck and killed him.
On Tuesday, Humboldt County District Attorney Paul Gallegos said his office has decided to file criminal charges against Bear: felony vehicular manslaughter, and providing false information to a peace officer. The charges are similar to those recommended by the California Highway Patrol in its report to the DA's office on Sept. 20.
The news no doubt will be cheered by the local bicycling community, as well as by Jennings' friends and family.
"Greg was thrown about 170 feet," said Jennings' dad, Jim Jennings, on Monday, the day before the DA's decision; Jennings got a copy of the report from the CHP. "This driver went off the road to hit him. As far I'm concerned, he wasn't operating a truck at that point, he was driving a guided missile that weighed between two and three thousand pounds going 65 or 70 miles an hour. And he hit a defenseless person."
Jennings said his son was doing everything right. "Everything," he said. "The reflective gear and the helmet. He was on the shoulder of the road -- in fact, he was practically off the road he was so far over."
The report says Bear's truck crossed the 11-foot-wide shoulder and hit Jennings with its left front corner.
"In the report there's a diagram that shows where all of the scrapes are on the road where the bicycle was driven underneath the truck, and they're practically off the road," said Jennings. "That's where it begins."
The CHP report says Bear first lied about how the collision occurred -- he said he was distracted by putting a soft drink into a cup holder, and when he looked up the bicycle was in his lane. Later, he admitted he had crossed into the shoulder and hit the bicyclist.
"One [witness] said it appeared as though the truck was aiming for the cyclist, trying to hit him," said Jennings. "And another independent witness said the truck appeared to speed up as it approached the bicycle."
The report says Bear also told officers that his passenger -- who fled the scene in another car -- was a hitchhiker he'd picked up, someone he didn't know. Later, after officers located the passenger, who lives in Hoopa, she told them Bear had invited her to travel to Klamath with him that day.
"I want to know who was it who picked her up and took her away from the scene," said Jennings. "I want to know what she had with her when she left. I'd like to know what was going on inside the truck prior to its radically swerving off the road and hitting the defenseless bicyclist. There are unanswered questions."
The report also says Bear had marijuana in his system; Gallegos said a pending toxicology report will determine how much.
Meanwhile, says Rick Knapp, vice president of the Humboldt Bay Bicycle Commuters Association, Jennings' death has provided impetus for his group to host a forum to seek answers to the broader question: how to promote safety for cyclists.
"We're becoming like squirrels out there," Knapp said.
At the forum, questions will be put to a panel that will include DA Gallegos; Eureka Police Senior Traffic Officer Gary Whitmer; Arcata Police Chief Randy Mendosa; Caltrans Safety Chief Ralph Martinelli; Sgt. Hal Rosendahl, acting Commander of the CHP; Tina Manos, bike collision victim; and truck driving instructor Austin Dake from College of the Redwoods. It's on Monday, Dec. 8, from 6 to 8:30 p.m. at the Arcata D Street Community Center at 14th and D streets.