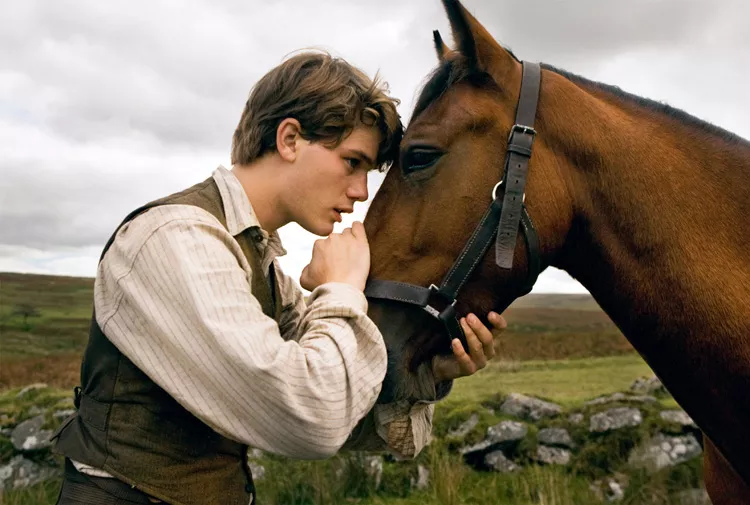 Reviews
WAR HORSE is a determined, almost defiant exercise in old-fashioned restraint by a director not especially known for it.
I'll give credit where credit is due: Steven Spielberg basically invented the summer blockbuster, and I love some of his early work (Duel, Jaws, Raiders of the Lost Ark), but his schmaltzy, maudlin middle-period coincided almost perfectly with the flowering of my latent cynicism. By the time he started making snazzy period pieces like Catch Me If You Can and Munich, I had started to get over myself and back on board.
War Horse opens on the eve of World War I, almost wordlessly depicting the birth of Joey -- the titular equine -- and the beginning of his bond to Albert Narracot (Jeremy Irvine), a sweet-natured farm boy from Devon. Circumstances, including a father's self-medicated emotional turmoil, economic distress and the looming international conflict, conspire to separate Joey and Albert before the war blooms in all its ragged horror.
The narrative primarily follows Joey as he moves across the continent, leading a British cavalry charge, bringing solace to a sickly French girl, hauling German cannon and eventually bolting across the cratered, spiked topography of no man's land.
The first third of the movie, which unfolds against the craggy verdancy of Devon, could have been directed by John Ford in the 1930s. Spielberg's precision behind the camera is astonishing. He doesn't allow himself any flashy camera moves or huge effects sequences to propel the action. Instead, he keeps his camera stationary and waits for the narrative to unfold within the frame.
As impressive as this method is technically, it sometimes feels stagy. For some of the modern audience, steeped as we are in camera and editing techniques that emphasize speed and spectacle (many of which Spielberg had a hand in pioneering), it might be a strain to hang with such a deliberately paced story. (Guilty admission: There were moments when I felt distracted and removed from the story.)
That being said, the final third of the movie contains two of its best scenes. I won't spoil them here; each is an impressive set-piece, though they couldn't be more different. And taken together, they very concisely describe some of the central motifs of the story: the futility of war, the inherent goodness in humanity, and the ability of animals to help humans transcend conflict. A little maudlin, sure, but when it works, it really works. PG13. 146m. At the Broadway and Mill Creek.
--John J. Bennett
Previews
TINKER, TAILOR, SOLDIER, SPY. John le Carré's classic Cold War espionage novel -- previously adapted into a 1979 British miniseries starring Alec Guinness -- comes to the big screen with an ensemble cast led by the chameleonic Gary Oldman. He plays George Smiley, a disgraced spy who gets lured out of semi-retirement when British Secret Intelligence suspects there's a double agent working with the Soviets. R. 128m. At the Minor.
MY WEEK WITH MARILYN. Michelle Williams (Blue Valentine, Brokeback Mountain) stars as the iconic Ms. Monroe in this biopic, which takes place during her 1956 honeymoon with playwright Arthur Miller. The couple's journey to England has another purpose: filming The Prince and the Showgirl with Sir Lawrence Olivier. In the process, Marilyn connects with a 23-year-old Oxford boy. Scandalous! R. 99m. At the Broadway.
THE DEVIL INSIDE. The grody poster for this film shows a catatonic-looking woman pulling down her lower lip to reveal two deep gashes in the shape of a crucifix. Shudder. Exorcism films are becoming a genre all their own. This one follows a woman to an Italian nuthouse, where her mom has been locked away since brutally murdering three people in 1989. Mom says demons made her do it, and it really sounds like she needs a lozenge. R. 83m. At the Broadway and Mill Creek.
The first Thursday of the month means it's Ocean Night at the Arcata Theatre Lounge. This week's fundraising wave will wash ashore two surf docs: Under the Sun, an Australian look at "the roots of surfing commercialism," and Manufacturing Stoke, which examines the paradox between surfers' eco-groovy ideals and the use of toxic materials in most of their gear. 6:30 p.m. Free for members of Ocean Conservancy, Humboldt Surfrider and Humboldt Baykeeper. $3 donation otherwise. Friday night the ATL brings another Roland Emmerich disaster movie (after last week's 2012): Independence Day (1996), starring Will Smith, Jeff Goldblum and Bill Pullman. 8 p.m. And on Sunday, the gelfling lives! Jim Henson's 1982 fantasy film The Dark Crystal will show at 6 p.m. And finally, Sci-Fi Pint and Pizza night returns next Wednesday with a B-movie double-feature of Abraxas (1990), a Canadian flick about a space cop played by WWF wrestler Jesse "The Body" Ventura, and The Alien Factor (1976), a low-budget tale of an insect-looking creature threatening an amusement park. 6 p.m.
-- Ryan Burns
Continuing
THE ADVENTURES OF TINTIN. Steven Spielberg's computer-animated, motion-capture adaptation of the classic Belgian comic follows a young reporter and his dog, Snowy. PG. 107m. In 3D at the Fortuna, 3D and 2D at the Broadway and Mill Creek.
ALVIN AND THE CHIPMUNKS: CHIP-WRECKED. People actually go to movies like this, which is why the rest of us can't have nice things. G. 87m. At the Broadway, Mill Creek and Fortuna.
THE DARKEST HOUR. Sci-fi thriller about a group of young Americans in Moscow who can't figure out how to stop invading aliens that feed on Earth's power supply. Guess that's what happens when you cut funding for science education. In 3D and 2D at the Broadway.
THE GIRL WITH THE DRAGON TATTOO. Director David Fincher adapts Stieg Larsson's brutal literary blockbuster, which follows a reporter (Daniel Craig in this film version) and a mysterious, Gothic waif (Rooney Mara) as they uncover the dark secrets of a wealthy Swedish family. R. 158m. At the Broadway, Mill Creek, Minor and Fortuna.
HUGO. Martin Scorsese's adaptation of Brian Selznick's novel The Invention of Hugo Cabret follows the adventures of an orphan boy living a secret life inside the walls of a 1930s Paris train station. PG. 127m. In 2D at the Broadway.
IMMORTALS. Armies of shirtless bodybuilders stab each other for the future of humanity while the Gods of Olympus, I dunno, nap or something. R. 110m. At the Garberville.
MISSION: IMPOSSIBLE -- GHOST PROTOCOL. Following a bombing at the Kremlin, the Impossible Missions Force is shut down because -- oh, whatever. Tom Cruise running, punching ... explosion! PG13 133m. At the Broadway, Mill Creek and Fortuna.
THE MUPPETS. It's time to start the music. It's time to light the lights. It's time to get nostalgic with a new Muppet delight. At the Broadway.
SHERLOCK HOLMES: A GAME OF SHADOWS. When the powers of deduction fail, my dear Watson, let us punch these fellows straight in their gobs, shall we? Pip pip! Cheerio! PG13. 129m. At the Broadway, Mill Creek and Fortuna.
THE SITTER. Jonah Hill stars as a craven college student coerced into babysitting the bratty kids next door. R. 81m. At the Broadway.
WE BOUGHT A ZOO. Following his wife's death, a dad (Matt Damon) tries to cheer up the kids by ... well, let's not give away the plot. PG. 124m. At the Broadway, Mill Creek and Fortuna.
YOUNG ADULT. Director Jason Reitman and writer Diablo Cody (Juno) reunite for a darkly comedic look at a predatory narcissist/teen lit author (Charlize Theron) who returns to her hometown to steal a married man. Great supporting work by comedian Patton Oswalt. R. 93m. At the Minor.