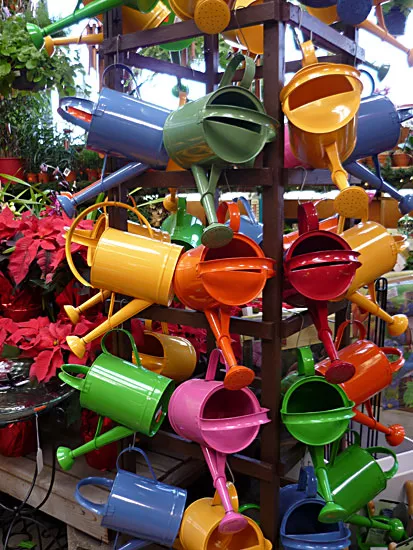 Watering has never been so beguiling. Photo by Amy Stewart.
I almost didn't write a garden gift column this year. This is my seventh year to write for the Journal, and I continue to wonder why they haven't fired me yet, what with my narrow horticultural interests and my general lack of expertise. If I turned in yet another round-up of holiday gift ideas that appeal only to me and about 10 other people, they might just give me the boot at last.
But then I remembered that last year, when I was doing my own holiday shopping in Arcata, I ran across somebody who actually had my column in his hand as he went around in search of gifts for the gardener in his life. And this year I've already had an e-mail from one freakishly early shopper who was waiting for the list. So -- here it is, written, as always, for the non-gardener who is out shopping for a gardener. Given the state of the economy, everything on this list costs under 50 bucks. And they can all be purchased from your local independent retailer. Ask nicely and they'll probably even gift wrap it for you.
Incredibly cool watering cans. These brightly colored watering cans are about the happiest thing I have ever seen. Don't worry about whether the gardener you're shopping for already has one. Of course we already have a watering can. That's not the point. These are so beautiful that they could work as an outdoor objet d'art, a flower pot, or even, I don't know, a martini shaker. For $28, you cannot go wrong. Add a pair of gloves, some seed packets, or a bottle of gin if you want to get fancy.
Clay sphere. Here's how this will work. You'll walk into the garden center and walk around for a little while, lost and confused, until some helpful employee walks up and asked you what you're looking for. You won't want to ask, because it sounds so weird, but eventually you'll have no choice but to say, "Uh -- do you have -- uh -- any clay spheres?"
The employee will light up and say, "Of course. They're over here." He or she will lead you to the section in the garden center where they keep flowerpots. There, among the pots, will be these things. Clay spheres. There's really no other way to describe them. You'll pick one up, feeling like an idiot, wondering if I'm playing a practical joke on you by making you pay $25 for a ball of clay. Then you'll have to figure out how to wrap it. Then you'll spend the next few weeks worrying that you've made the wrong decision, and you'll go out and buy a scarf or a picture frame as a backup, just in case you have to pretend that the sphere was only a joke and not actually the real gift.
But then the big day will arrive, and the gardener you love will open whatever oddly-shaped package you've managed to put together, and the sphere will sort of roll out into her hands, and then she will say, in a deep and sensual voice usually reserved for much nicer gifts than this one, "Ooooooh." She'll roll it over a few times, and then she'll wander outside with it, and maybe move it around once or twice before finding the perfect spot for it. If it's on the north side of the house, it will eventually get covered with a lovely green moss. If you pour buttermilk over it (or maybe eggnog -- I'm pretty sure leftover eggnog would work), it will soon sport a patina of mottled white mold. You may never understand why this is all so wonderful. That's okay. The important thing is that you did good. Just bask in the glory.
A purple garden hose. Or a red one. Or yellow one. If you live with the sort of gardener who believes that a coat of turquoise paint improves just about anything, I've got the garden hose for you. The Dramm ColorStorm not only comes in six brilliant colors, it's extra-heavy-duty, kink-resistant, and guaranteed for life. That's right, guaranteed for life. A hose.
I'm violating my $50 rule a little here, because you can only get them for that price if you find them on sale. Normally they run about $70 for a 50-foot hose. But really, this is the hose of a lifetime. And did I mention they come in purple?
Herbs. This is the ultimate cheap, do-it-yourself, slow food, organic, buy-local gift. Here's what you do. Go to the garden center and pick up one six-pack each of basil, parsley, cilantro and dill. Substitute mint or chives if you need to. Buy six clay flowerpots and a small bag of potting soil. Go home and assemble six little herb gardens, and give them as much light as you possibly can until the big day. You'll have six gifts for around $25 -- and everybody will love them.
Books. I don't care how many books a gardener has. We always want more. Here are two of the hottest garden books of the year -- and they're both new releases, so you don't have to go scurrying around checking your beloved's bookshelves before you buy them. John Greenlee's The American Meadow Garden (Timber Press, $35) is an exquisitely beautiful book on non-lawns. Greenlee is the owner of Greenlee Nursery in Chino, Calif., and he's known all over the country as an expert in meadows. Marin photographer Saxon Holt took the photographs, and they're gorgeous. It's a winner.
But if natural, breezy, rumpled meadows aren't your gardener's thing, then Anna Pavord's new book Bulb (Mitchell Beazley, $40) will be. At 544 pages, this is bound to inspire a dangerous and expensive level of bulb lust. Good luck with that. And happy holidays, y'all.