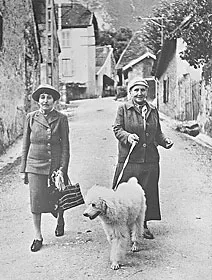 Alice B. Toklas and Gertrude Stein walk their dog in a village in southeastern France. Photo from the collection of University of California, Berkeley's Bancroft Library.
An early vernacular Spanish source for gazpacho -- probably 14th century -- says, "Gazpacho is a dish of rustic shepherds, or those who have nothing else to eat, because it is made up of garlic, vinegar, bread and water."
Well, gazpacho has come a long way from that. In fact, it's come a long way from when I first made it in 1960, when none of my guests had ever heard of it. These days, however, it is fashionable, though it has gradually lost touch with its roots. I'm looking at a recipe that includes shrimp, avocado and cream cheese, and has no garlic at all. These days, evidently, anything cold with tomato can be called gazpacho.
But getting no respect is hardly new for this ancient soup. In 1840, the French poet Th©ophile Gautier wrote of his Spanish journey, "All the serving men and maids had gone to the dance, and we had to be content with a mere gaspacho ... a recipe which would have made the hair of Brillat-Savarin stand on end. You pour some water into a soup tureen, add a dash of vinegar, some cloves of garlic, some onions, some slices of cucumber, a few pieces of pimiento, a pinch of salt, then one cuts some bread and sets it to soak in this pleasing mixture, serving it cold. At home, a dog of any breeding would refuse this. It is the favorite dish of the Andalusians, considered highly refreshing, an opinion which strikes me as rather rash, but, strange as it may seem the first time, one ends by getting used to it and even liking it."
The source of the dish's name is lost in the mists of the centuries, but the root seems to mean residue (with no particular negative connotation):

caspa , fragments or flakes, as in small pieces of bread -- Etruscan
caspia , apple residue -- Iberian under Rome
caspu , grape residue -- post-Roman Italian
gaspaille , grain residue -- Old French

So it's reasonable to assume that a room-temperature soup flavored with leftover bread and spiced only with garlic is the "mother" of modern gazpacho. And while tomatoes appeared in Spain in the 16th century, they are not always present. The venerable Alice B. Toklas Cookbook describes a particularly "suave" soup from Cordoba, containing garlic, minced cucumber, olive oil, water and cornstarch, which after cooling is enriched by two cups of heavy cream!
Among her four recipes, Toklas also cites an addictive gazpacho from Malaga with a base of veal broth. And my own gazpacho is descended from Toklas through her friend, the American composer Virgil Thomson, to whom I was amanuensis for two years in New York.
Alice B. Toklas and Gertrude Stein walk their dog in a village in southeastern France. Photo from the collection of University of California, Berkeley's Bancroft Library.
"Gazpacho is a liquid salad," Virgil decreed. "So it must always include oil and vinegar, salt and pepper. And an egg to enrich and balance the raw garlic, just as you would an aioli." Nearly 50 years later, other details have mingled with my own discoveries, but that much is basic.
And, as it happens, it is in line with the great cooks of the Mediterranean tradition. There are several gazpacho recipes in Elizabeth David Classics, a collection of three cookbooks by the great British food writer who focused on the region. Here is her favorite:

Make a fairly thick tomato soup with 1/2 lb. of onions and 2 lbs. fresh tomatoes (or 1 large can), salt, pepper, a little sugar and half a glass of red wine. Put them through a sieve.
In a mortar pound 3 cloves of garlic, add salt, pepper and a table spoon of paprika, and then 2 or 3 tablespoons of olive oil, drop by drop. When this mixture has the consistency of mayonnaise stir in gradually the cold tomato soup. Put in a cucumber cut in small cubes and a dozen stoned black olives. Stand in the refrigerator, and before serving put a cube of ice and a handful of chopped parsley in each plate.

This labor-intensive process is well worth the effort.
Many gazpachos feature finely chopped vegetables, which add flavor and texture. This is a fine thing to do with zucchini (raw) and fresh beans (blanched), as well as scallion, radish and even croutons.
Speaking of croutons, do you notice that bread, one of the historical ingredients, is missing from modern recipes? How did that happen? Well, if you have ever had the experience of making bread soup, you know that Old World breads, dense with flavor, can conjure magic. In Italy, bread, once it's no longer fresh, is called pane raffermo , meaning bread that has firmed up -- a nicer terminology than our "stale bread," with its negative connotation of bread that is no longer any good. Of course, that means you have to start with good bread.
Over the years, American cooks, doomed to tasteless commercial white bread, eliminated that element from gazpacho. But it need not be useless, and in a community like ours, with artisan breads from Brio and the Co-op, it's a viable alternative for vegetarians.
My recipe, however, uses a broth base. Not veal broth, which is enormously time-consuming to make (but when I tried it, produced an ethereal gazpacho), but chicken broth. I make my own stock; the best alternative is Kitchen Basics Chicken Stock (available at the Co-op and Wildberries).
Reminder: The 2nd annual 250-Mile Potluck takes place next Wednesday, Sept. 19, at 6 p.m. at the Bayside Grange. All locavores are invited to share a dish made from food produced somewhere within 250 miles of the Grange. (Yes, the ocean counts too.) Event hosts from Humboldt County Peak Oil Action Group, Democracy Unlimited, the Campus Center of Appropriate Technology and the Community Alliance of Family Farms remind you that Humboldt County imports 80 percent of its food and suggest that, " We can do better for ourselves, and our environment, by relocalizing and supporting our local farmers and economy."
Joseph Byrd's Gazpacho
(48 oz., serves 4)

Ingredients:
2 12-oz. cans Campbell's tomato juice (yeah, "from concentrate," so sue me)
1 can good chicken broth (or better, a small box of chicken stock, see above)
2 cloves garlic, chopped
1 cucumber, peeled and chopped (seeds included)
1 spring onion, or small sweet onion, chopped
1 large handful young celery leaves
1 large Serrano chile, seeded and roughly chopped
1/4 cup good red wine vinegar (if balsamic or sherry, reduce slightly)
1/2 cup really good virgin olive oil ( Olinda Valley Master Blend preferred)
1 egg
1/4 cup (or more) lemon or lime juice
several dashes Crystal Hot Sauce (if using red Tabasco, less)
good salt and fresh ground pepper to taste (optional)
1 pimiento or sweet pepper, oven-roasted, peeled and seeded
1/2 to 1 cup stale good bread, chunks or crumbs
1/2 to 1 cup good wine, left over from a recent meal
1 T Spanish paprika

Method:
Blend all these. Don't put too much in the blender -- start with about half full. Concentrate on liquefying the chunky stuff first. You will need to do it in batches, and mix them in a large bowl. Taste for seasoning balance, then chill until ready to serve, at least an hour.
Also chill the bowls in which you will serve it. Chilling the spoons as well is a nice added touch.
To make chunky gazpacho, slightly reduce the liquid ingredients. Then prepare and put into chilled bowls any combination of the following:
1 tomato, blanched quickly, peeled, seeded, and chopped
1 small zucchini or other baby squash, finely diced
1 sweet pepper or mild chile, roasted, seeded, peeled, and diced
1 bunch tiny scallions, finely sliced
2 slices good bread (if not in the broth), diced and fried in butter for croutons
Place bowls on the table and pour the cold soup over the mixture.