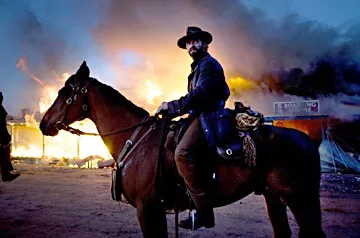 Hugh Jackman as Drover in 'Australia'
Previews
Somewhere people will be watching Milk or Frost/Nixon this coming weekend, or even Rachel at the Wedding, but in Movie Mudville (a.k.a. Humboldt County), we have one pathetic choice. Opening Friday, December 5 is Punisher: War Zone, a sort of follow-up to 2004's The Punisher with Brit Ray Stevenson (Titus Pullo on the defunct TV series Rome) replacing Thomas Jane as vigilante protagonist Frank Castle. Apparently Castle has to take on some villain named Jigsaw. Rasp away. Rated R for pervasive strong brutal violence, language and some drug use. 107m. At the Broadway and Mill Creek.
Reviews
FOUR CHRISTMASES: Someone must have thought this film was a great idea when it was pitched, and it may well have been, but Four Christmases got derailed somewhere along the way to release. I do need to admit that my favorite Christmas film of all time is 2003's Bad Santa with Billy Bob Thornton and that most holiday films are throwaway tripe. For a while, though, Four Christmases seemed as though it might be on-track to be a minor league Bad Santa.
When we first see relentlessly happy unmarried couple Brad (Vince Vaughn) and Kate (Reese Witherspoon), they are arrogantly sure that their relationship is perfect: They make fun of couples who have children and think marriage is the ruination of an enlightened relationship.
Unhappily, beginning with their being caught on news camera at a fogged-in SFO while trying to escape spending the holidays with their four divorced parents (as usual), the promising satire degenerates into a series of gimmicky, predictable scenes. Brad ends up rolling around on the floor with his brothers at his estranged father's (Robert Duvall) house, Kate has to suffer the slings and arrows of her mother (Mary Steenburgen) and pregnant sister (Kristin Chenoweth), Sissy Spacek is given short shrift as Brad's mother, as is Jon Voight as Kate's father, and so on.
The ending of the film sinks into the usual romantic relationship crap. Vaughn plows the same ground as always, but the film's one accomplishment is that it almost totally conceals the fact that Witherspoon is an accomplished actor. That takes determination. Rated PG-13 for some sexual humor and language. 82m. At the Broadway, Mill Creek and Fortuna.
TRANSPORTER 3: And then there's this film. There may have been worse films released this year, but happily I didn't see them. I expect sequels to be on autopilot, but Transporter 3 completely lost any sense of direction. You could begin with the tired, recycled plotline but in actuality, the incompetent editing should be forefronted, consistently garbling scenes that may actually have made sense.
Once again, Jason Statham is professional, ask-no-questions transporter Frank Martin. This time, he ends up transporting Valentina (Natalya Rudakova), who turns out to be the befreckled daughter of Vasilev (Jeroen Krabbé), Odessa's EPA chief, who has been kidnapped by a group that wants to dump toxic waste and needs Vasilev to sign a waiver (or something). Oh yeah, Frank and Valentina are both wearing bracelets that will explode if they get too far from the car.
What's a guy to do? Well, in addition to getting it on with the persistently willing Valentina (with the car nearby, of course), Frank gets a lot of CG help on the way to winning the day in the usual series of improbable (but previously enjoyable) cliffhangers.
The one slightly enjoyable element of the film was watching Robert Knepper (the really nasty T-Bag on Prison Break) be a really nasty bad guy. I was hoping he'd knock off Statham. Rated PG-13 for sequences of intense action and violence, some sexual content and drug material. 100m. At the Broadway and Mill Creek.
AUSTRALIA: I can see how Baz Luhrmann's Australia might polarize viewers and critics. The film is a mess, both in terms of genre and style. But for me, it was a mostly enjoyable mess.
It didn't appear that the film was going to be any fun initially, as the first half hour adopts a silly sort of comic sensibility, and I was thinking that it was going to be a long 165 minutes. But then, the film started to click as it got more serious.
The first segment of the story is a standard Western, complete with cattle drive, stampede and perfidy by the bad guys. Then Australia becomes a war film, climaxing with the Japanese air raid on Darwin on Feb. 19, 1942, with the usual separations, reunions and deaths. Of course, it's also a romance with Nicole Kidman and Hugh Jackman as the very handsome couple.
But within these stories, at its core the film really wants to deal with the relationship of the indigenous population and whites during the period of the film (1939-1942), specifically the mixed race "stolen children" who were removed from their families by the church and government agencies (for which an apology was issued by the Australian PM earlier this year). This aspect of the story is centered on the young Nullah (a nice performance by newcomer Brandon Walters) and his grandfather King George (David Gulpilil), who seems to possess magical powers.
This being Luhrmann, the ending is both sentimental and unbelievable, but I was able to put my brain to bed and swallow it. Some of you may be able to follow suit. Rated PG-13 for some violence, a scene of sensuality, and brief strong language. 165m. At the Broadway, Mill Creek and Fortuna.
THE BOY IN THE STRIPED PAJAMAS: I never imagined a holocaust film could leave me so unaffected, but that was the case with Mark Herman's The Boy in the Striped Pajamas. I am perfectly aware that every film is manipulative, but few so blatantly attempt to regulate the viewer's emotions at every turn. Instead of telling a story and letting the viewer's reaction determine the emotions, this film tries to determine the feelings for you. As a result, by the time the film came to its horrifying end, I was totally distanced from the action.
It's not that the film doesn't hit all the standard marks: denial that anything is happening, actual ignorance of the reality of what's going on in the camps, complicity with the Nazi actions towards the Jews and some resistance to Hitler's regime. It centers on a German military family (daughter 12, son 8) who are transferred from Berlin to a posting near a camp where the father (David Thewlis) is in charge of the camp.
The son, Bruno (Asa Butterfield), thinks the camp is a farm and befriends a boy his age on the wrong side of the barbed wire. And so the story plays out, everyone speaking with a British accent, to its moralistic ending. Others may well be more affected. Rated PG-13 for some mature thematic material involving the Holocaust. 94m. At the Broadway.
Continuing
BEVERLY HILLS CHIHUAHUA. Pampered dog winds up on the mean streets of Mexico. Rated PG. 91m. At The Movies.
BOLT. Canine TV star depends on his delusions of grandeur to make unexpected journey cross-country. Rated PG. 96m. At Mill Creek, the Broadway and Fortuna.
CHANGELING. Working class woman in 1920s Los Angeles faces uphill battle to find kidnapped son. Rated R. 142m. At the Broadway.
EAGLE EYE. People forced into dangerous situations while tracked and threatened by mysterious woman. Rated PG-13. 118m. At The Movies.
HIGH SCHOOL MUSICAL 3: SENIOR YEAR. Teen couple lives up their senior year lest they end their romance for college dreams. Rated G. 112m. At The Movies.
MADAGASCAR ESCAPE 2 AFRICA. Penguins marooned on Madagascar jerry rig a plane and head to Africa. Rated PG. 89m. At the Broadway, Mill Creek and Fortuna.
MAX PAYNE. Maverick cop forced to battle unnatural enemies in his quest for revenge. Rated PG-13. 100 m. At The Movies.
PRIDE AND GLORY. Incendiary case tests police family's loyalties to each other and their department. Rated R. 133m. At The Movies.
QUANTUM OF SOLACE. Latest installment in the line of James Bond movies. Rated PG-13. 106m. At the Broadway, Mill Creek, the Minor and Fortuna.
ROLE MODELS. Men arrested while on energy drink bender, then opt to mentor kids instead of doing jail time. Rated R. 99m. At the Broadway.
SAW V. Last person alive to carry Jigsaw legacy takes extreme measures to defend his secret. Rated R. 95m. At The Movies.
SECRET LIFE OF BEES. On hunt to discover late mother's secrets, teen girl finds solace in beekeeping. Rated PG-13. 110m. At the Broadway and the Minor.
TWILIGHT. Teen girl gets swept up in unorthodox romance with vampire. Rated PG-13. 122m. At the Broadway, Mill Creek, the Minor and Fortuna.
ZACK AND MIRI MAKE A PORNO. Lifelong friends develop romantic feelings when they make a porno for quick cash. Rated R. 102m. At The Movies.