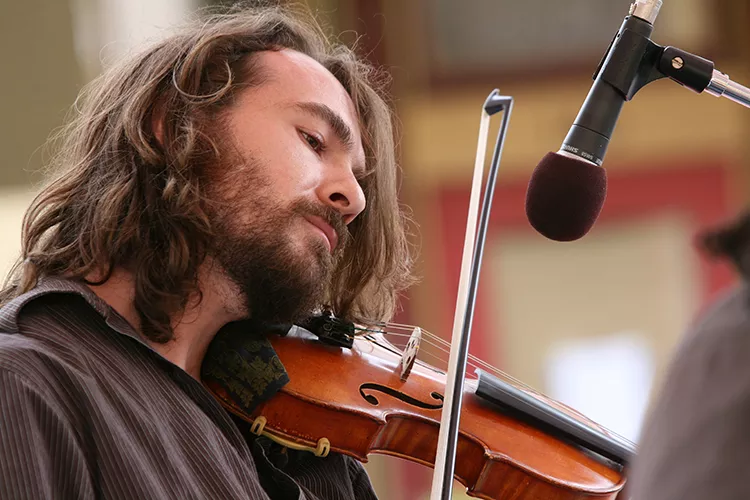 Photo by Bob Doran
Blake Ritter
Apparently there never were snakes in Ireland; nevertheless we still honor St. Patrick for driving them away. Along with advertising displays festooned with shamrocks and leprechauns, we have glasses of green beer, corned beef and cabbage -- and parties galore. Among them, a "Wild Irish Barn Dance" Saturday night at the Arcata Veteran's Hall, sponsored by the Humboldt Folklife Society.
Dance coordinator/caller Sue Moon is not Irish -- she's from Dorset in South West England -- but, she says, "My mum's a Celt," with Scottish blood, and she loves Irish music. "I grew up with a mother who called back home for English and Scotch country dances. In the summer we would go to country houses and dance on the beautifully manicured lawns. I'm pretty sure it was a long-held tradition, like the peasants being allowed to dance on the lord's lawn."
Since the dance is on St. Patrick's Day Eve, she'll be calling "specifically céilidh dances" -- céilidh being an Irish form of social dance, not unlike the English country dances she usually features at barn dances. "There are so many forms of Irish dance -- this one has to do with patterns," and definitely should not be confused with Irish step dancing. "Everyone's seen Riverdance and think they'll have to do funny footwork. This is easy, and doesn't require experience."
Matthew Marshall will call a few dances to give Moon a break. The music, all Irish tunes, will be provided by fiddler Blake Ritter with his former teacher Sam McNeil on piano, guitar and fiddle. "Blake's fiddling is the star of the show," says Moon. "Even if you don't like to dance, it's worth coming to hear his power fiddling. Sometimes I'll have him play 20, 25 minutes non-stop. He's technically brilliant, but he's also developed a soulful way of playing."
Equally soulful: the local trad Celtic band The Drones, who reassembled late last year for a session/wake for departed Drone Charlie Rudd. "We've been enjoying playing tunes together again after nine years," says George Ziminski. So the band is kicking off St. Pat's weekend Friday evening with some tunes at Café Mokka. You'll find many of the same players Sunday at the third annual St. Patrick's Day Bash at Robert Goodman Winery, with an Irish session, more soulful fiddling by Blake Ritter (around 7 p.m.), the Emerald Coast Irish Dancers (9 p.m.) and Drone-ish Irish jamming until midnight.
Gallagher's Irish Pub celebrates Sunday with Seabury Gould and friends (3 p.m.) followed by Humboldt's favorite Celtic quartet Good Company (6-9 p.m.).
The Knights of Columbus' Shenanigans Celebration Sunday afternoon at the Fortuna River Lodge includes step-dancing by the Emerald Coast Irish Dancers, a silent auction and a "pot-o-gold" drawing.
The Logger Bar is celebrating the green Sunday with free corned beef and cabbage and music all day, including fiddler Colin Vance (3 p.m.), The Rat's from The Black Brewery (5 p.m.) and The Vanishing Pints, a rockin' Irish-ish combo that draws equal inspiration from the Clancy Brothers and The Pogues.
Over at Mad River Brewery Taproom, the local Quebecois quartet Mon Petite Chou celebrates the French Canadian Irish (with Sue Moon on concertina).
Pressure Anya is at the Pearl Lounge Saturday and Sunday for a St. Patrick's Day weekend run. "We'll be spinning dance mixes of tropical bass and hip hop -- and some Irish-inspired tunes for good measure, and good luck," says Gabe.
Also on Sunday, St. Paddy's Day, but with no apparent connection to the Irish: Naive Melodies doing its Talking Heads thing at Humboldt Brews. There's also a laser-powered "St. Patrick's Day Dance Party" at Nocturnum with RazleDazle, Snoflake and DJ Fx. Deep Groove Society's Sundaze goes all vinyl for St. P. with DGS' resident DJs and special guest Mr. E.W. Perhaps you'd prefer the hip hop-themed St. Patty's Day at the Red Fox with LuckyIam Equipto, Mike Marshall, Z-Man and DJ True Justice, among others. And there's another all-day Moonstone Performance Outreach Music Festival at Trinidad Town Hall, including an open mic plus Jerry Thompson on grand piano, Ashanan, Tripwire and Eclectica.
Anaïs Mitchell and Jefferson Hamer play Sunday at the Arcata Playhouse. While the songs from their latest album, Child Ballads, come from the British Isles, the origins are Scottish and English, not Irish. And despite the name, they're not for kids: They come from a collection of often-twisted ballads, tales of incest and murder from the 17th and 18th centuries collected by American folklorist Francis James Child in the late 1800s. Mitchell is a songwriter in her own right, winner of the "New Folk" award at Kerrville awhile back. Hamer is an experienced sideman who, among other things, spent a few years in Vince Herman's Great American Taxi. Extra added bonus: an opening set by Frank Fairfield, a truly amazing fiddler, banjo/guitar picker and hollerer who sounds like he stepped out of a time machine.
"A good song has a way of speaking to everybody," says ace banjo/guitar picker Danny Barnes. "I have faith that more people are going to hear my songs, which is really what I have to offer. I'm not one of those virtuoso instrumentalists. I can't compete with those guys, but the one thing I can do is write really good songs." The humble Barnes may not be a virtuoso, but he's a damn good player -- and extremely influential. He founded the alt. country band Bad Livers in 1990; Paul Leary from the Butthole Surfers produced the Livers first record, inspiring countless young punks with banjos. At the turn of the millennium Barnes relocated to Washington State, where he teamed up with guitarist Bill Frisell among others, merging country and bluegrass with jazz in a trio called The Willies. More recently, he showed up backing Dave Matthews on Herbie Hancock's The Imagine Project, a collection of Beatles tunes. Barnes is currently on the road with mandolinist and multi-instrumentalist Matt Sircely of Hot Club Sandwich and New Forge. Barnes and Sircely are both truly fine songwriters; give 'em a listen Thursday at Humboldt Brews.
Remember EDM by the numbers? Sound Culture 003 brings together Psy-Fi, iBeat, DAT-1 and Treemeista at the Jambalaya Thursday night.
Kulica is back in action with a Friday evening show at The Mad River Brewery Taproom. The band still has guitarist Curtis Thompson out front with his wife Julie on bass and John Severn on sax; new additions are Tim Randles on keys and Tim Gray on drums. Groove on.
Six DJs (Mat 'n' Adam, Mantease, King Maxwell, JayMorg and Tanasa take you on a strange erotic journey from Milan to Minsk in Missing Link Soul Night 17, Saturday at Humboldt Brews. (They'll also be celebrating JayMorg and Tanasa's b-days.)
Saturday at Five Eleven, acclaimed alt. rockers Strix Vega are joined by "high energy, queercore, extraterrestrial, melodic punk trio" Space Biscuit and Blues for Carl Sagan, a one-man "Velvet Floyd acid boogie" machine powered by FX pedals and looping devices.
Meanwhile at the Logger Bar, Portland's "Mad Scientist of Song" Professor Gall lays down jazzy, theatrical junkyard folk from a steampunk perspective.
Even if you're not a blues fan, you probably remember Little Charlie and the Nightcats. The swingin' Bay Area jump blues outfit with Charlie Baty on guitar played here off and on for three decades. When Baty went into semi-retirement in 2008, frontman/harp player Rick Estrin took over the band and Charlie's place was filled by hot Norwegian guitarist Chris "Kid" Andersen, formerly of Charlie Musselwhite's band. Rick Estrin and The Nightcats are coming up Saturday night -- where else would the band play but Humboldt's home of the blues, the Riverwood Inn?
Ready for a road trip? Rooster McClintock plays its reverb-drenched, Bakersfield-style honkytonk music at the soon-to-close Mendo honkytonk the Caspar Inn on Friday night. Better book a room; you won't want to drive home.