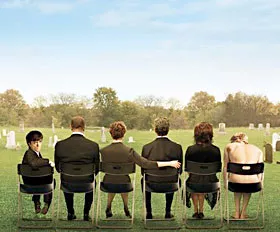 Previews
I'm expecting Jodie Foster to bring a lot more class to the revenge vigilante film than Kevin Bacon did recently. In The Brave One , opening Friday, Sept. 14, Foster is in her element as a woman bent on revenge after suffering a brutal attack, in a film directed by Neil Jordan. Terrence Howard costars. Rated R for strong violence, language and some sexuality. 129 m. At the Broadway and Mill Creek.
From South Korea comes Dragon Wars: D-War wherein some sort of Korean serpents ravage Los Angeles. Am I supposed to care? Maybe someone who cares will save the day. Rated PG-13 for intense sequences of violence and creature action. 110 m. At the Broadway and Mill Creek.
Billy Bob Thornton heads a big-name cast as a tyrannical high-school gym teacher in Mr. Woodcock . A former student (Seann William Scott) becomes upset when he discovers that his mother (Susan Sarandon) is to marry Mr. Woodcock. After all, look what happened to Angelina Jolie. Rated PG-13 for crude and sexual content, thematic material, language and a mild drug reference. 97 m. At the Broadway.
Directed and co-written by Steve Buscemi, who also stars, Interview is a promisingly intriguing film. Buscemi plays a political reporter who is forced to interview a film/TV star (Sienna Miller) after a falling out with his boss. Most of the film takes place in the actress' loft. Rated R for language including sexual references, and some drug use. 94 m. At the Minor.
Even more promising for documentary fans and critics of the Bush administration's conduct of the Iraq invasion, No End in Sight , written and directed by political scientist Charles Ferguson, offers a searing look at the mess Bush has gotten the country into. I can't be the only one who sees the film's title as depressingly prophetic. Not rated 112 m. At the Minor.
There will be a sneak preview of The Kingdom Saturday evening, 8:45 p.m., at the Broadway. Starring Jamie Foxx, Jennifer Garner and Chris Cooper, the film is about an F.B.I. team sent to investigate the bombing of an American housing complex in Saudi Arabia. Rated R for intense sequences of graphic brutal violence, and for language. 120 m.
Reviews

DEATH AT A FUNERAL: This British farce could only exist in the context of the standard film stereotype of the stiff-upper-lip Brit, in the same way that No Sex Please, We're British just wouldn't have the same ring if you substituted Italian for British.
The tone for Death at a Funeral is set in the opening scene when the funeral parlor delivers the wrong body to the memorial service. The son, Daniel (Matthew Macfayden, Pride and Prejudice ), who is hosting his father's memorial service, is upset only in the restricted way we come to expect in a British comedy, and we know there is worse to come for the correct corpse when it is delivered.
In fact, the whole film proceeds in expected farcical fashion, which makes it no less enjoyable, since much of the humor depends on those ever-dependable British actors hitting the proper beat with just the right gesture and tone of voice. A major through-line is set up very simply at the beginning: We see the drug-mixing Troy (Kris Marshall) drop some hallucinogenic pills in a Valium bottle, which in turn is nicked by Martha (Daisy Donovan), who gives the supposed Valium to calm her uptight fianc© Simon (a wonderful Alan Tudyk) because he is afraid of her father.
Throw in a short blackmailer (who else but Peter Dinklage?), a Full Monty display on the roof, noises emanating from the casket and other assorted farce elements and you have a couple of hours of easy enjoyment. Rated R for language and drug content. 100 m. At the Broadway.
SHOOT 'EM UP : The signs of trouble came early. There were only two women in attendance at the screening of Shoot 'Em Up and half of them, namely my partner, left after 30 minutes. The remaining audience thought that lines such as "Well, fuck me sideways" were hilarious. ( Ed. note: Who doesn't? )
Then there's the lucky actress (Ramona Pringle) who only makes it through the first scene. The viewer's last image of her is with a bullet in the head and a presumably lactating breast exposed, to be fondled subsequently by Paul Giamatti, who plays the film's lead hit man, Hertz, whose only other contact with women is with his wife, via cell phone.
Meanwhile, Clive Owen weighs in as Mr. Smith, who accidentally gets involved with the whole mess when he sees the hit squad going after the pregnant mother. The rest of the film he's saving the newborn from 50,000 bullets and consorting with a conveniently lactating hooker (Monica Bellucci), a fact that may explain why her cleavage is so prominently featured. The clever script has shootouts occurring during birth, sex and skydiving.
Giamatti is awful, Owen is awful, and I nominate this film for the "Brain Dead Guy Film of the Year Award." Other nominations solicited. Rated R for violence, language and the groping of a dead woman's breast. 100 m. At the Broadway.
3:10 TO YUMA:*3:10 to Yuma* is a good remake of a good 1957 film of the same title. Don't read the elegy yet for the Western, which keeps making a sporadic "comeback."
It is impossible to reasonably compare films from different eras; styles and tastes change along with the times. I am never one to lament that "they don't make films like they used to." In fact, from my 2007 perspective, Russell Crowe and Christian Bale are, arguably, better actors than Glenn Ford and Van Heflin ever were, and their performances in the current film make it a completely worthwhile viewing experience. Ironically for one of the quintessential American movie genres, Crowe is from New Zealand and Bale from Wales.
As in the best Westerns, 3:10 to Yuma is not essentially about good guys versus bad guys on the frontier. Rather, the film, based on a short story by Elmore Leonard, has a moral complexity that belies stereotypes about the form. While the plot may revolve around the attempt to get notorious outlaw Ben Wade (Crowe) to the rail station without being killed by his gang, its more meaningful subtext has to do with identity and the discovery that the good, hardworking family guy Dan Evans (Bale) has more in common with Wade than is immediately apparent. The film is also a father/son story, wherein Evans strives to redeem himself in the eyes of his older son, William (Logan Lerman, The Number 23 ).
As in most westerns, the female characters are marginalized. Gretchen Mol is somewhat wasted as Evans' wife. But in general, this is a well-acted, effective film. Rated R for violence and some language. 127 m. At the Broadway and Mill Creek.
GYPSY CARAVAN:*Gypsy Caravan* , written, directed and produced by Jasmine Dellal, documents a 2001 North American tour by five Gypsy bands from India, Macedonia, Romania and Spain that seem to have little outwardly in common, but who share a spiritual connection to their music and who gradually become a community by the end of the tour.
While there is concert footage, the film is much more interested in Gypsy culture; it is more Romani 101 than concert tour film. To that end, the film cuts back and forth from the tour locales to the villages where the various groups live and perform. As a very casual observer of Gypsy music, I did not connect flamenco and raga to "Gypsy music" before seeing the film.
The performers spend as much time talking to the camera as they do playing music on stage, and their stories are frequently fascinating. Shot by multiple cameras, the narrative occasionally gets a little repetitive or bogged down in details, but Dellal helps by focusing on a few of the many tour participants, particularly the outsized Macedonian singer Esma Redzepova and the elderly Romanian violinist Nicolae Neacsu, who supports his entire village by his performing.
The Journal 's Bob Doran reminded me that the Gypsy Caravan played a gig at JVD during the tour. An attentive viewer, Bob noted that there was a brief shot of the lobby of the Hotel Arcata and, sadly, the negative comment read by a hotel clerk about the musicians came from a local resident.
This is an enjoyable film that serves both as a music and culture documentary. Not rated. 120 m. At the Minor.
VITUS: Submitted by Switzerland for the 2006 Oscars, Vitus is the story of a young piano prodigy with an IQ of 180. When we first see Vitus, he is 12 and about to pilot a small plane for a takeoff. The film eventually returns to this image, which proves to be the film's controlling metaphor.
We see Vitus at age 6 (played by Fabrizio Borsani) and at age 12 (played by Teo Gheorghiu), and the film focuses on the pressures he faces from his parents and other adults, as well as his contemporaries, because of his unusual talent and his gifted intelligence. He doesn't always handle the pressures well, but neither do the adults, particularly his parents (Jalika Jenkins and Urs Jucker), who continually push him to excel.
The one exception is his grandfather (a wonderful Bruno Ganz), an eccentric inventor and frustrated would-be pilot, who provides a refuge for Vitus where he can just be a boy.
The story takes several unusual twists before arriving at its somewhat sentimental but totally satisfying conclusion. Both Borsani and Gheorghiu are effective in portraying Vitus, and Ganz shines with his typical precise yet warm acting style. Recommended. In Swiss German and English with English subtitles. Rated PG for mild thematic elements and language. 133 m. At the Minor. ENDS THURSDAY, SEPT. 13.
Continuing

BALLS OF FURY. Decrepit ping-pong champ recruited by FBI. Rated PG-13. 90 m. At the Broadway, Mill Creek and the Fortuna.
THE BOURNE ULTIMATUM. Jason Bourne (M. Damon) returns to America to seek out the baddies who scrambled his brain. Rated PG-13. 113 m. At the Broadway, Mill Creek and Fortuna.
HAIRSPRAY. J. Travolta, Q. Latifah, C. Walken reinterpret the John Waters classic, adding singing and dancing and such. Rated PG. 123 m. At The Movies.
HALLOWEEN. R. Zombie remake of seminal spook-slash flick. Rated R. 114 m. At the Broadway, Mill Creek and the Fortuna.
HARRY POTTER AND THE ORDER OF THE PHOENIX: In round five of the series, Harry and the gang buck government orders and found their own secret society. Rated PG-13. 148 m. At The Movies.
MR. BEAN'S HOLIDAY. Freakish Briton goes to Cannes, where hilarious mix-ups ensue. Rated G. 87 m. At the Minor and Fortuna.
NANNY DIARIES. Jersey girl (S. Johansson) experiences Upper East Side nastiness when hired as domestic assistant. Rated PG-13. 105 m. At the Broadway, Mill Creek and Fortuna.
RATATOUILLE: Pixar alert! An animated Parisian rat with a preternatural talent in the kitchen dreams of earning his Michelin star. Rated G. 120 m. At The Movies.
RUSH HOUR 3: Chan. Tucker. Polanski. Wacky crime-fighting duo take the show on the road to Paris. Rated PG-13. 88 m. At The Movies and the Fortuna.
THE SIMPSONS MOVIE. Gentle-hearted buffoon accidentally imperils the world. Rated PG-13. 87 m. At The Movies.
STARDUST: Young man travels to a magical word, seeking a fallen star that will capture the heart of his true love. With C. Danes, M. Pfeiffer, R. De Niro. Rated PG-13. At the Broadway, Mill Creek and the Fortuna.
SUPERBAD. Two awkward teen boys -- one crude, one shy -- set out to excise their boyhood in one night of partying. Rated R. 113 m. At the Broadway, Mill Creek and the Fortuna.
TRANSFORMERS: A poignant ode to '80s-era Saturday morning cartoons. Also, a bunch of shapeshifting robots blow each other up. Rated PG-13. 154 m. At The Movies.
WAR. Chinese mob battles Japanese yakuza ; FBI agent throws himself into the mix. Rated R. 99 m. At The Movies.