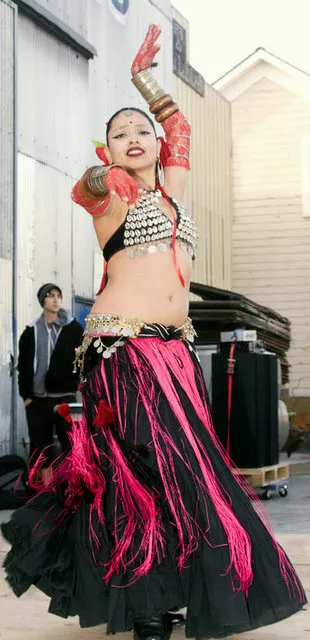 Synergy
Humboldt Finest Bellydancer
It's an impossible statistic to verify, but let's just go ahead and declare Humboldt County the nation's leader in "per capita artsiness." Why not? With monthly arts nights in Eureka, Arcata and McKinleyville, the fine work done by local organizations like the Ink People, the Humboldt Arts Council, the Main Street programs, the Mateel and multiple galleries throughout the county, it would seem that HumCo has little trouble expressing itself. Need more proof of Humboldt's healthy right lobe?
This Saturday and Sunday, May 15 and 16, marks the first ever Humboldt Arts Festival (first one specifically called that anyway). Centered around 9th and I sts. in Arcata, the event, organized by the Humboldt Arts Project, aims to be a celebration of Humboldt County art and culture and will boast over a hundred visual and performing artists. In addition to numerous artist and food vendor booths, five venues (Ironside Metalworks Gallery, Robert Goodman Good Wine tasting room, Humboldt Brews, The Jambalaya and The Scoop) will act as galleries showcasing Humboldt's creativity. Also, don't ask me how, but organizers have found a way to grow an outdoor sculpture garden specifically for event. Strong plant food. Amazing.
But the festival's "art" is not restricted to stationary visuals. Oh no! HAF will be full of live performances from some of Humboldt's most talented. Saturday is sure to be memorable when blues chanteuse Courtney Weaver opens the festivities at noon. Also slated to make Saturdays sounds, SambAmore (at 2 p.m.), The Bucky Walters (5:15 p.m.) and Strix Vega (6:30 p.m.). And make sure to check out dance performances from Samba Na' Chuva (at 2 p.m.), the Ya Habibi Dancers (4 p.m.) and New World Ballet (8 p.m.) The night closes in impressive fashion with Humboldt's Finest Fire Spinners at 9 p.m. Bring some marshmallows.
The good vibes keep flowin' Sunday with performances by West African Dance (at noon), the samba/funk of WoMama (1 p.m.), high-energy blues from St. John & the Sinners (2 p.m.), and "Something Different" with Shea Freelove (4 p.m.).
Ready to get your art on? Want to get involved? For more info on the Humboldt Arts Festival, check out www.humboldtartsfestival.com.