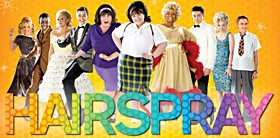 Previews
I suppose the major opening on Friday, July 20, is Hairspray , a film musical based on the successful Broadway musical that was, in turn, based on John Waters' 1988 campy film comedy of the same name. There is no John Waters in sight here, as the film version is directed by sometime choreographer Adam Shankman ( The Wedding Planner ; Cheaper By the Dozen 2 ) while the story involves a group of teens in early 1960s Baltimore and their involvement with a TV dance show in that city. In addition to a young cast of TV actors that includes Nikki Blonsky, Amanda Bynes, Zac Efron and Brittany Snow, the cast also includes a cross-dressing John Travolta, Christopher Walken, Queen Latifah and Michelle Pfeiffer. My hometown may not be on everyone's lips, but I'll always remember old P.S. 38 and I'm looking forward to the opening number, "Good Morning Baltimore." Rated PG for language, some suggestive content and momentary teen smoking, the latter representing a new category recently added by the MPAA. 117 m. At the Broadway, Mill Creek and the Fortuna.
The only other local opening is I NowPronounce You Chuck and Larry , featuring Adam Sandler and Kevin James (TV's The King of Queens ) as two macho Brooklyn firemen who have to pretend to be gay when their scam to get government benefits by claiming to be domestic partners becomes public. I'm guessing this is a comedy, and perhaps I'm supposed to think there is a saving grace here because Alexander Payne and Jim Taylor ( Sideways ) co-wrote the script (with Barry Fanaro). The cast also includes Dan Aykroyd, Steve Buscemi and Jessica Biel (who was very good in The Illusionist ). The film did get an MTV nomination for the Best Summer Movie You Haven't Seen Yet. Stay tuned for my own personal award. Rated PG-13 for crude sexual content throughout, nudity, language and drug references (re-rated; originally rated R). 150 m. At the Broadway, Mill Creek and the Fortuna.
Reviews
HARRY POTTER AND THE ORDER OF THE PHOENIX: In the previous film in this series, Harry Potter and the Goblet of Fire , teen hormones reared their playful heads and a significant part of the film dealt with budding romances or nascent flirtations. That aspect of the story has been marginalized in The Order of the Phoenix ; Harry (Daniel Radcliffe, of course, who branched out between films by playing the lead in Equus in a London stage production) has one somewhat lingering kiss with fellow student Cho Chang (Katie Leung, who also appeared in Goblet of Fire ), after which he doesn't talk to her again. So much for romance amongst budding teen magicians.
This film signals its real intentions in its first scene wherein Dementers attack Harry and Dudley in an underpass during a storm. Harry defeats the Dementers with his Patronus, but this leads to his possible expulsion from Hogwarts for using magic in the presence of a muggle. Thus, Phoenix presents Harry with two major challenges: dealing with the conservative Ministry of Magic, whose members don't believe there is any threat to Hogwarts or themselves, and the re-emergence of Voldemort (Ralph Fiennes), who threatens not only Hogwarts but Harry's very identity. Perhaps more than in any previous film in the series to date, Phoenix is Harry's film. Screenwriter Michael Goldenberg and TV director David Yates, in his first Potter outing, apparently decided that centering the narrative on Harry was one way to handle the longest book in the series (pending the final one), and I believe that it was a good decision, as this is also the shortest film so far and the most focused. Sure, all of the surviving characters fans have grown to love are present, including Harry's cohorts Ron (Rupert Grint) and Hermione (Emma Watson), but none seem to know how to handle Delores Umbridge (Imelda Staunton, a wonderful addition to the already fine complement of actors), who is sent by the Ministry to take over Hogwarts and bring it in line with the official ideology.
So what's a beleaguered Harry to do in order to save the world and his own soul? Well, what any resourceful wizard would. He starts his own underground class where he trains his sympathetic classmates in the practical side of the arts while they endure the theoretical approach of Umbridge, whose relentlessly cheery, pink-clad demeanor makes her very real threat all the more deliciously evil, in the regular classroom. In a nice touch, she has a multitude of proclamations posted all over the walls of Hogwarts, as though she can paper over both its spirit and the looming presence of Voldemort, whose name never passes her lips.
Radcliffe has become a very good young actor and in Phoenix he does a fine job of expressing Harry's very complex array of emotions. Radcliffe's development in this role alone would make me look forward to the final two chapters of the series. Mention should be made, also, of Helena Bonham Carter as Bellatrix Lestrange; she makes the most of a small role in a memorable over-the-top performance. Perhaps the most interesting new addition, though, is Evanna Lynch in a film debut as new Hogwarts student Luna Lovegood. I found her pale, eerie character fascinating and the 15-year-old Irish neophyte makes the role memorable. Forget Cho Chang, Harry, Luna's the one for you.
This is not a perfect film. Despite its relatively short length (138 minutes), much of the screen time was taken up with exposition that prepares the viewer for the final showdown and in some ways, this segment seems like a transitional part of the ongoing story. But within that parameter, it was an effective film. Yates is scheduled to direct the next in the series, Harry Potter and the Half-Blood Prince (already in pre-production), but if I had my choice, I'd try to coax Alfonso Cuarón, who did such an effective job with Harry Potter and the Prisoner of Azkaban , back for the final film. Probably won't happen; no one ever listens to me. Rated PG-13 for sequences of fantasy violence and frightening images. 148 m. At the Broadway, Mill Creek, Minor and the Fortuna.
CAPTIVITY: With a particularly sleazy billboard advertising campaign, a censure from the MPAA (those folks who so arbitrarily rate films for us ignorant viewers), no screening for critics and the refusal by my film-going companion Claudia to attend a showing of Captivity with me, how many clues did I need? Apparently a few more, because I went to the film anyway. Plus, nothing else had opened opposite Harry Potter . I tried to tell myself that it would be educational in a negative sort of way and, furthermore, there was the chance to see how bad Elisha Cuthbert could be, since I've been an avid follower of her acting career.
Well, there was one silver lining: not only is Captivity no doubt destined to be the worst film of the year, it may well be the worst film I've ever seen. This distinction, though, brought me little joy, as I gritted my teeth and stuck it out to the last dismal frame. Peter Bradshaw in his review in The Guardian on June 22 called Captivity "torture-porn." I wish I had thought of this phrase first, as it is a perfect description for this exploitation exercise. I wonder if Cuthbert has thought of getting a new agent? Since her less-than-stellar role as Jack Bauer's daughter on 24 , Cuthbert has traipsed through a series of films that include The Girl Next Door (2004), House of Wax (2005) and the "blood-splatter" film The Quiet (also 2005). Now she's back as Jennifer, a spoiled model whose apple martini is spiked at a nightclub charity event, resulting in her captivity by some deranged individual who gets off on torturing young women. That activity accounts for the rest of the film, although she is joined in captivity by really cute guy Gary (Daniel Gillies, Bride and Prejudice ). It turns out that torture is also a turn-on; who knew?
There is nothing even remotely inventive in the film even within its own genre, and the "twist" will be apparent very early on to all but the most clueless horror fans. I'll spare them by not revealing it. Director Roland Joff?© ( The Scarlet Letter with Demi Moore, and twice an Oscar nominee) has pretensions of artistry; he is fond of extreme close-ups and other cutesy shots, but that doesn't mask the utter awfulness of the film. Cuthbert has two upcoming films, one to be released later this year and the other in 2008. I've already marked my calendar. Rated R for strong violence, torture, pervasive terror, grisly images, language and some sexual material. 95 m. At The Movies and Mill Creek.
— Charlie Myers
Continuing
1408: Haunted-house novelist checks into spooky hotel room; spooky hotel room unleashes writer's inner demons. Based on a Stephen King horror short story, so it's more psycho than icky. Rated PG-13. 104 m. At the Broadway and Mill Creek.
EVAN ALMIGHTY: Unfunny Christian-lite treacle-comedy about suburban Hummer-dumbo who wants to pave over paradise. But Morgan Freeman — er, God — commands him to build an ark instead. Rated PG. 105 m. At the Broadway and Mill Creek.
EVENING: The harmonic convergence of chick-flickery. On her deathbed, an elderly woman (V. Redgrave) reveals a secret of her past to her two daughters (N. Richardson, T. Collette). Also: M. Streep, G. Close, C. Danes. Rated PG-13. 117 m. At the Broadway.
FANTASTIC FOUR: RISE OF THE SILVER SURFER: Weirdos with superpowers and tight-fitting costumes meet intergalactic surfer and — spoiler alert! — save Earth. Rated PG. 102 m. At The Movies.
KNOCKED UP: In J. Apatow's latest comedy of manners, no-account schlub makes gorgeous TV star pregnant. They marry. Rated R. 126 m. At The Movies.
LICENSE TO WED: The Rev. Robin Williams don't want them kids gettin' married till they've been through the pre-marriage wringer. Rated PG-13. 110 m. At The Movies and Mill Creek.
LIVE FREE OR DIE HARD: In the latest and perhaps last installment of B. Willis' "Die Hard" franchise, there's a bunch of computer stuff that's gonna asplode the world. Rated PG-13. 130 m. At the Broadway and Mill Creek.
PIRATES OF THE CARIBBEAN: AT WORLD'S END: The action moves to Singapore, where Davy Jones (Nighy) and Capt. Jack (Depp) continue their battle, with the profession of piracy in danger of extinction. Rated PG-13. 178 m. At The Movies.
RATATOUILLE: Pixar alert! An animated Parisian rat with a preternatural talent in the kitchen dreams of earning his Michelin star. Rated G. 120 m. At The Movies, Mill Creek and the Fortuna.
SHREK THE THIRD: When the lovable ogre is crowned King he tries to find someone more suitable for the role. Voices by M. Myers, C. Diaz, E. Murphy, A. Banderas. Rated PG. 102 m. At The Movies.
SICKO: Shock documentarian Michael Moore's latest takes on the health care industry. Rated PG-13. 123 m. At the Broadway and the Minor.
SURF'S UP: Penguins surf, kids delight. Animated blockbuster. Rated PG. 85 m. At The Movies.
TRANSFORMERS: Acclaimed auteur Michael Bay's masterpiece. A poignant, nostalgic ode to '80s-era Saturday morning cartoons. Also, a bunch of shapeshifting robots blow each other up. Rated PG-13. 154 m. At the Broadway, the Minor, Mill Creek and the Fortuna. •