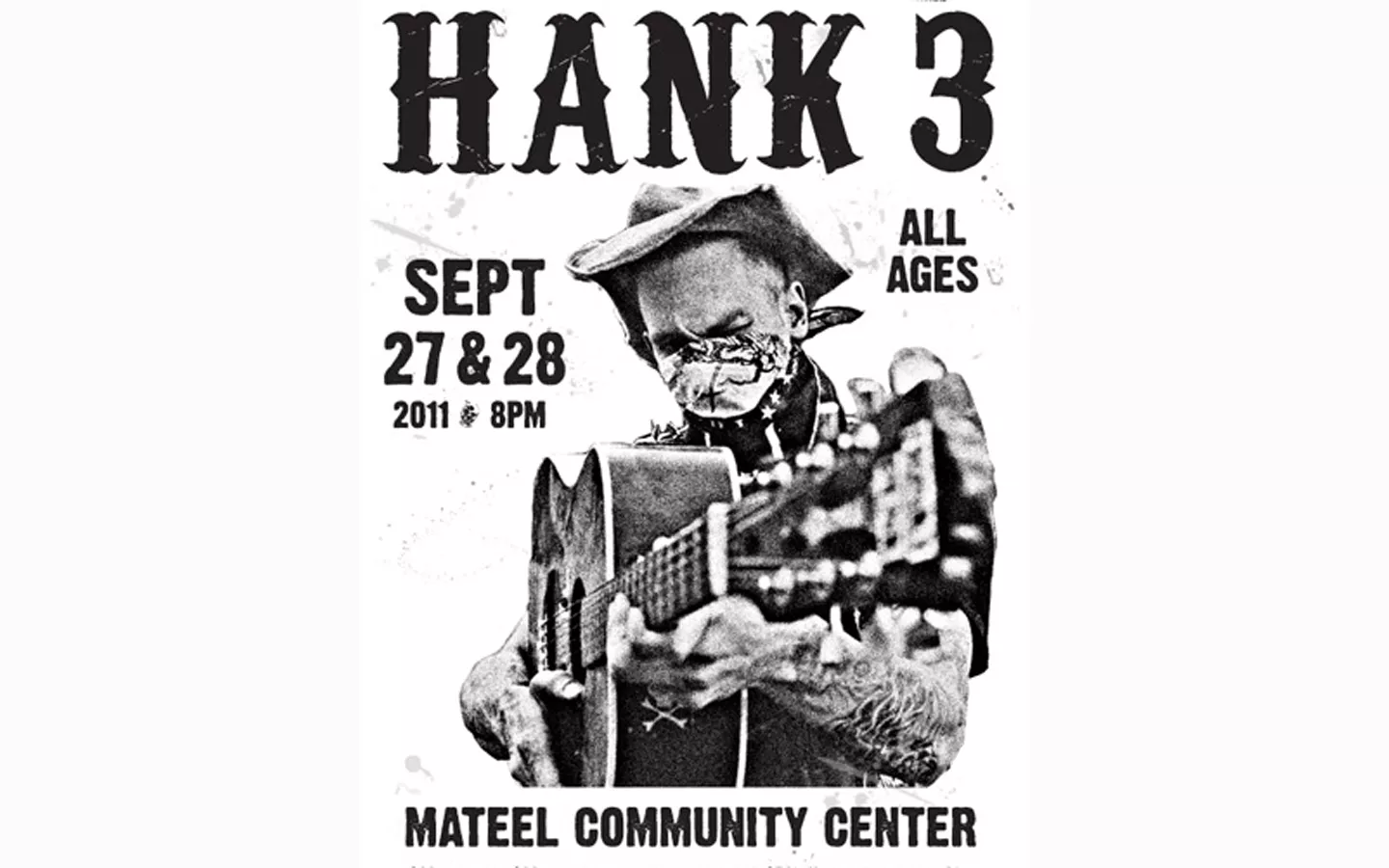 show poster from Diamondback
Hank3
Humboldt County plays host to a plethora of subcultures and niches. Occasionally, multiple groups have the opportunity to intermingle and merge into an eclectic mix of harmonious excellence. Hank3's performance at the Mateel was one such occasion -- and it was glorious. His versatility as a musician and his stamina as a performer drew a diverse crowd full of moxie and vigor.
Hank played for over four hours, doing three sets in total: alt. bluegrass, sludge and doom metal, and a metal/punk infusion with his band Attention Deficit Domination. In true marathon man tradition, he did this four-hour show for two consecutive nights, and at least on the second night, he did it without missing a single, punchy, toe-tapping beat.
The raucous, opening set featured a country sextet -- the crowd's reaction was exhilarating. From the balcony you could see dreadlocks moshing, hipster pompadours jigging and trucker hats bobbing. In the beer line, every type of moustache and beard was represented, from steampunk to ZZ Top.
The appeal of the Mateel is its ability to provide an all ages show while also hosting an over-21 social scene. The layout provides ample opportunity for multiple vantage points of the stage and the crowd. When the heat of the dancefloor becomes too extreme, you can move outdoors without losing contact with the performance. You get the versatility of a house party with the perks of a professionally produced show.
After the humidity of the all-inclusive hoedown hit its apex, Hank shifted gears. Following a brief intermission he returned to the stage sans his rebellious, hillbilly attire. Now decked out in all black, he began a slow, rhythmic dirge with an electric guitar that set the pace of act two. The stage was now dim. A large screen behind the stage was alight with '50s-era news and sci-fi reels, spliced with bizarre, public domain footage and the occasional clip from a semi-nostalgic film. This was a completely different show with a completely different energy; however, it was no less entrancing than the first act, though the dance floor grew considerably less diverse.
The band rounded out the evening with a livelier metal/punk set, once again invigorating the crowd. The music went from the intense swaying and mild thrashing of the doom metal to the full-out moshing and stage diving of hardcore punk until the midnight hour when the noise curfew brought things to a close.
If you missed Hank3's recent shows in Humboldt, fear not, he's sure to return. Humboldt provides him with an ideal audience, and Hank returns the favor with an incomparably awesome performance. It's a symbiotic relationship that's sure to endure for years to come.
*Devan King is a full-time student. When she's not freelancing, she's probably doing something else. *